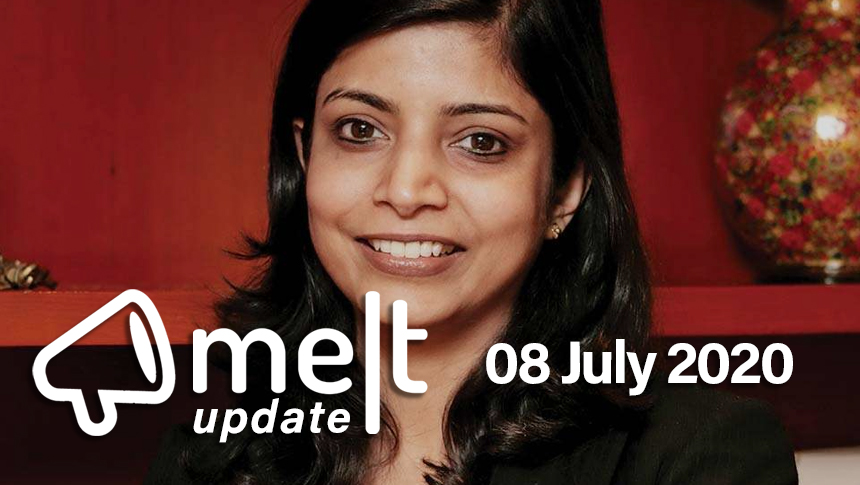 At Kyoorius, we're dealing with the coronavirus situation with the seriousness it deserves.
Therefore, we're doing what can be done remotely while keeping our followers informed on all that is happening in the world of media, advertising and marketing.
Consequently, till things improve, Melt in a Minute will change a bit.
The format will change from all video to a text-based post. A little more difficult to consume, but it's the best we can think of under the circumstances.
All of you, stay safe.
And stay informed with posts like this one.
Top Headlines Today:
1. Deepika Warrier To Join Diageo As Chief Marketing Officer
Deepika Warrier is set to join Diageo as Chief Marketing Officer after 20 years at PepsiCo. As reported by exchange4media, Warrier was helming marketing operations at NourishCo Beverages Limited, a PepsiCo-Tata Global Beverages joint venture since April 2019. She made the official announcement on her LinkedIn page, expressing gratitude to her team at Pepsico.
2. Mid-Roll Ads Will Now Appear On Shorter YouTube Videos
In a bid to make more videos eligible for monetization, YouTube is making a change to the way that it serves mid-roll ads, according to Tubefilter. Right now, only videos longer than ten minutes are eligible for mid-roll ads, which appear in the midst of videos as commercial breaks of sorts. However, beginning later this month, YouTube is changing that minimum threshold to eight-minute videos. The platform is turning on mid-roll ads by default for all eligible videos when the change goes live.
3. Tech Mahindra Launches Digital Platform, 'bCRMS'
Tech Mahindra has launched a new digital platform, branded as 'Blockchain-based Contracts and Rights Management System' (bCRMS) for the global media and entertainment industry. As per The Economic Times, this is built on open-source Hyperledger Fabric protocol and utilises techniques like content hashing and forensic watermarking to track and trace content. The technology is industry agnostic and thereby it could also be used across other industries like trade, finance and healthcare that have a requirement for intellectual property and secure digital content.
4. Instagram Launches Reels In India Today
Instagram is set to launch 'Reels' today in India from 7:30pm IST. As reported by campaign India, the platform offers a new way to create and share short 15-second videos on the platform. For public account users on Instagram, these videos will be made available through a new space in the 'Explore' tab. India is the fourth country, after Brazil, Germany and France, where this new format is being tested.
5. Gaana Launches New Short Video Platform, HotShots
Music streaming platform, Gaana has launched a new platform called HotShots, as noted by The Economic Times. HotShots will allow Indian content enthusiasts to create and share short viral videos and stories. The platform, which currently has more than 150 million users, will offer "challenges" across various areas in the performing arts like music, comedy and dance by influencers, celebrities and international artists, the company said in a statement.