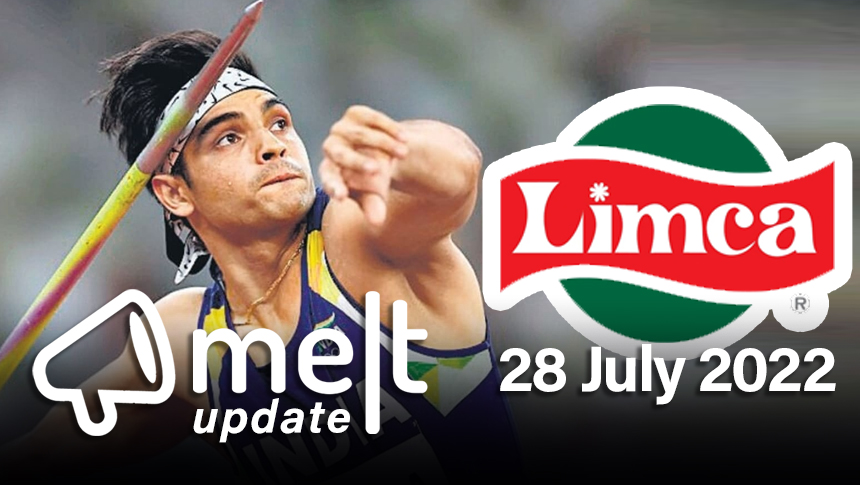 Top News:
1. Coca-Cola to introduce Limca Sportz
Coca-Cola will extend its lime drink Limca to the no-fizz, low-sugar category, for the first time, with a new brand Limca Sportz. Olympic gold medallist Neeraj Chopra has been roped in as brand ambassador..
2. Meta logs 1% decline in Q2 revenue
Meta's Q2 revenue has declined 1% to $28.8 billion. This is the first revenue decline for the social media giant since it went public. While total costs and expenses jumped 22% to $20.4 billion, income declined 32% to $8.3 billion. Net income saw a 36% dip at $6.6 billion.
3. Spotify reports 14% jump in paying subscribers
Spotify eported second-quarter revenue above analysts' estimates on Wednesday helped by a 14% jump in paying subscribers. Its monthly active users rose almost a fifth to 433 million, above expectations of 428 million.
4. YouTube: 2.7x growth in streams on CTVs in India
Highlighting the tremendous growth in Connected TV (CTV) adoption, Google India has said that its video streaming service YouTube was streamed by over 55 million people in India in December 2021 alone. This, the tech giant said, is a growth of 2.7X in six months.
5. Asia Cup relocated to UAE
The Asian Cricket Council (ACC) has decided to relocate Asia Cup tournament from Sri Lanka to the UAE. The tournament is set to be held from August 27th to September 11th, 2022.