At Kyoorius, we're dealing with the coronavirus situation with the seriousness it deserves.
Therefore, we're doing what can be done remotely while keeping our followers informed on all that is happening in the world of media, advertising and marketing.
Consequently, till things improve, Melt in a Minute will change a bit.
The format will change from all video to a text-based post. A little more difficult to consume, but it's the best we can think of under the circumstances.
All of you, stay safe.
And stay informed with posts like this one.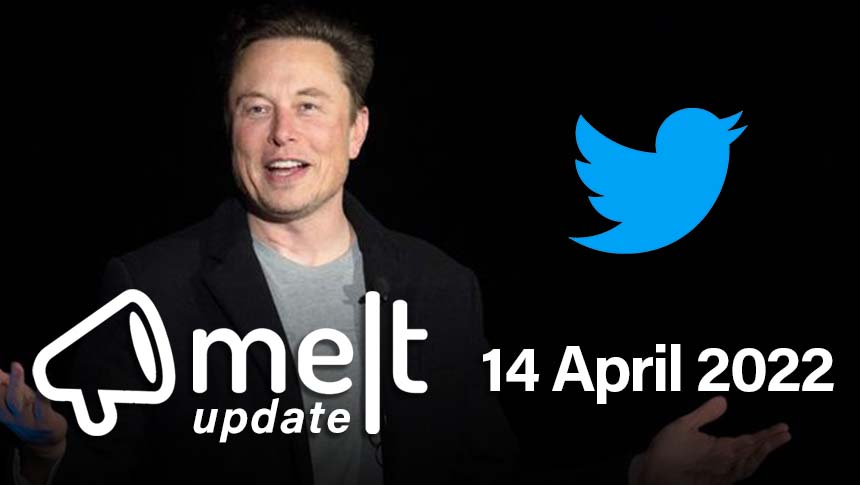 Top News:
1. Elon Musk offers to buy Twitter for $43bn
Elon Musk offered to buy Twitter for $54.20 a share, saying the social media company needs to be transformed privately, a little over a week after first revealing a 9.2% stake in the company. Musk's offer values Twitter at about $43 billion.
2. Publicis Groupe Q1 revenue up 10.5% to €2.8bn
Publicis Groupe revenue grew 10.5% on an organic basis to hit €2.8bn in Q1, media reports said. According to reports, all the regions witnessed growth with the US up 8%, Europe 14.9% and Asia 14.4%.
3. mSix&Partners elevates Subhamay Mukhopadhyay
mSix&Partners announced the elevation of Subhamay Mukhopadhyay as Managing Partner, India. Mukhopadhyay will be taking the baton from Saket Sinha who will take on the role of Chief Growth Officer, mSix&Partners APAC.
4. Microsoft India names Amrita Thapar as CMO
Amrita Thapar has joined Microsoft India as Chief Marketing Officer. According to her Linkedin profile that she has recently updated, she took the new role in the company in January 2022.
5. Snapchat introduces Dynamic Stories for premium content
Dynamic Stories is the newest and fastest way to publish premium content for the Snapchat community, and a way to highlight news and information from credible and trusted sources.