While Pepsi shows how the cola drink tastes better with burgers, Burger King invites people to get back their lost items which were left behind a day before the lockdown. Meanwhile, Mumbai Police finds a quirky way to educate and inform the public about safety during the pandemic. Here are the three distinct and clever print campaigns which Ritwika Gupta enjoyed this week.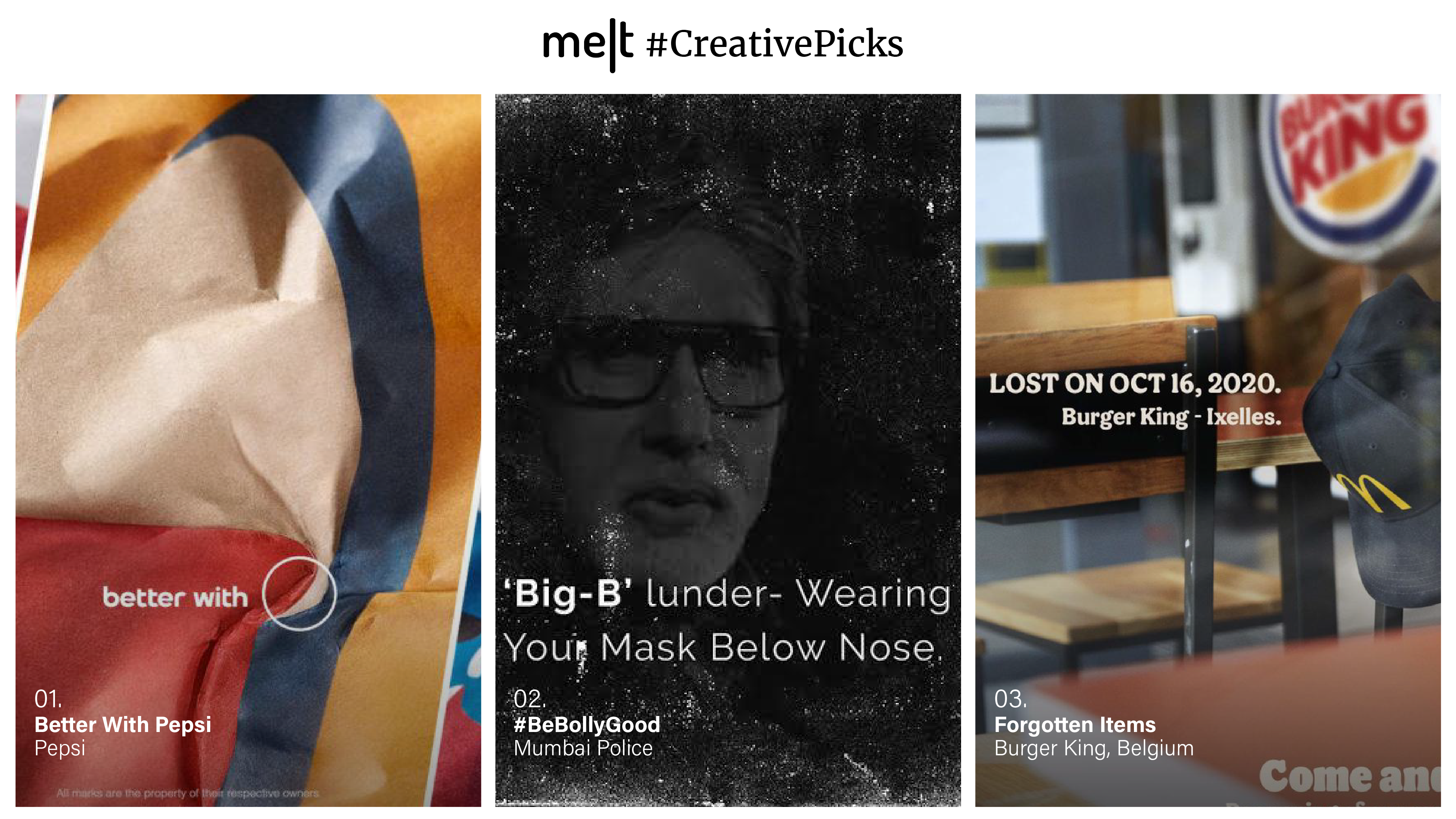 Ads of the week
1. Pepsi
For over three decades, the three biggest burger chains in the U.S. have not sold Pepsi at their restaurants due to exclusive deals with Coke. Hence, this year for National Hamburger Day, Pepsi released a cheeky print campaign to tell people what they are missing. The cola brand is claiming that it tastes better with burgers found at Wendy's, McDonald's and Burger King. Better than what? Of course, chief rival Coca-Cola. The brand hired an origami artist to fold its brand logo into wrappers from the three food chains. The food wrapper artwork is intended to show "while we're not on the menu, we're always in the picture". Pepsi will run the print ads in paparazzi-style publications such as The New York Post's Page Six to hammer home the theme of "scandal". To get the public involved, the brand is also handing out free drinks. All people have to do is post a photo of themselves drinking Pepsi while eating a burger from any restaurant of their choice on Twitter, Instagram or Facebook with the hashtag #BetterWithPepsi. Consumers will receive a rebate via Venmo, PayPal or a digital gift card up to $3.49.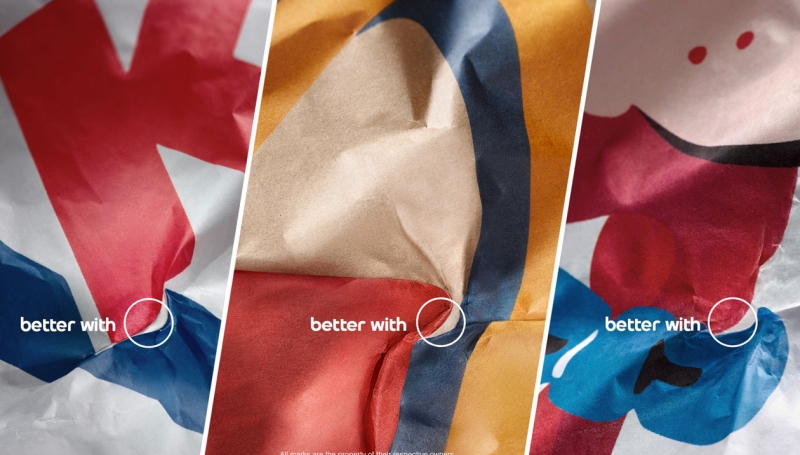 I think this entire marketing campaign is nothing short of brilliance. It is a very clever way to use the Pepsi logo and also make noise about being snubbed by restaurants. And definitely a smart way to encourage more people to have Pepsi with their favourite burgers. Coke is arguably a little more ubiquitous and it is fun to see Pepsi making light of its role as "the underdog" in these amusing print ads. I like the fact that the campaign is playful yet self-aware. But here's leaving you with a thought – if they circle the red and white bit of packaging, wouldn't that also be enough to show Coca-cola's reign over the burger chains? Waiting for Coke to fire shots now!

Campaign: Better With Pepsi
Agency: Alma and VaynerMedia
---
2. Burger King Belgium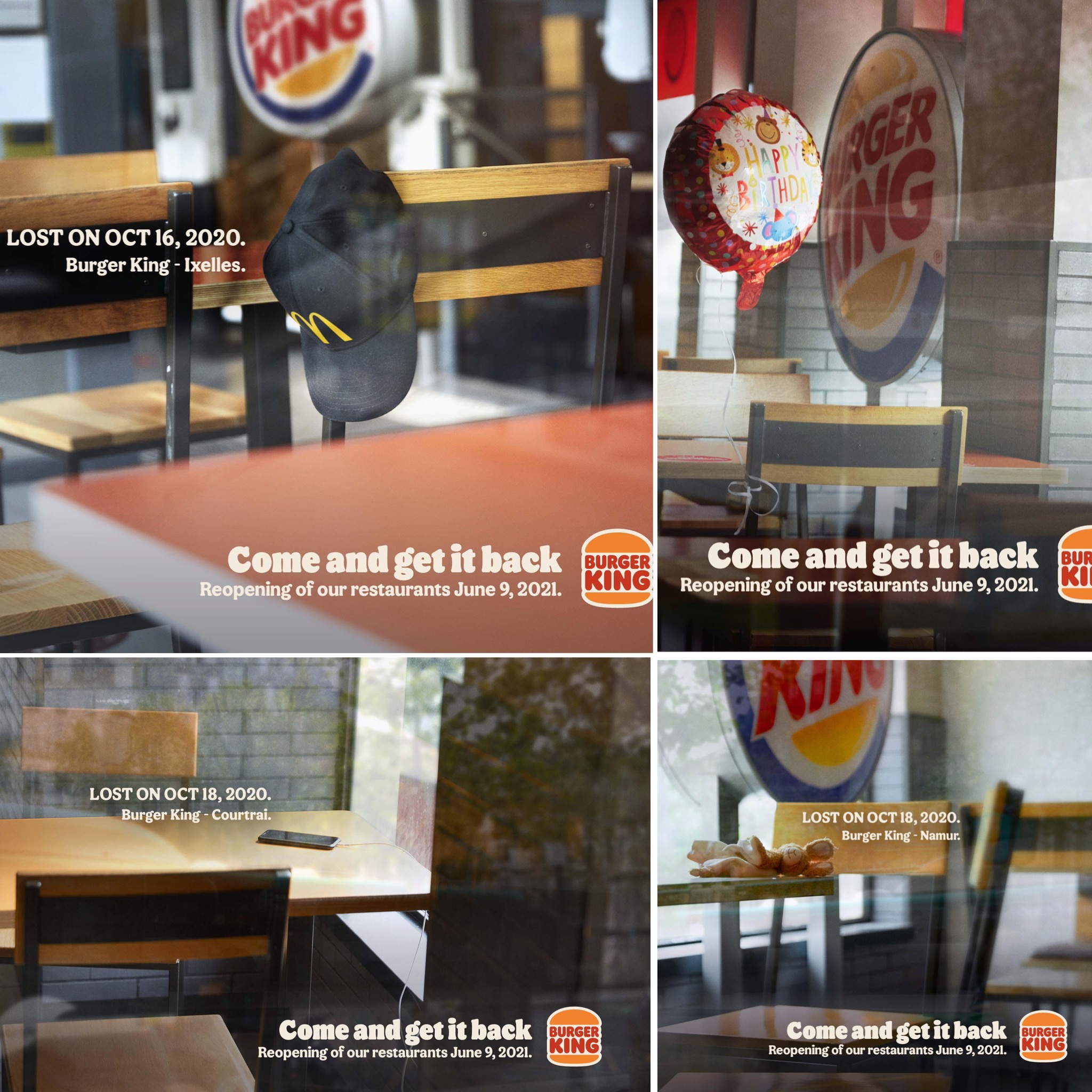 As Belgium sets to reopen on 9 June 2021 from Covid-19 lockdown restrictions, Burger King is inviting Belgians to come and collect their forgotten belongings that were left behind the day before the nationwide lockdown was implemented. To be precise, after seven long months. The fast-food restaurant brand created a series of print ads featuring lost items such as a mobile phone, a party balloon, a child's toy and even a McDonald's staff cap locked away in closed restaurants. "Come and get it back," the advertisements read. Disguised as PSAs, the clever graphics urge customers to head back to their local Burger King restaurant. This campaign is so impressive. Unlike other restaurants which will probably have an obvious "we are reopening" stance, Burger King is giving a legit reason for people to return. This may not be a popular opinion but honestly I think there's a sense of empathy in the campaign which is sweet. It beautifully drives emotions with the whole 'lost and found' theme, immediately connecting with their consumers. It's almost like saying "come and get your life back" after the lockdown. Having said that, the brand hasn't given up its audacious and cheeky personality. I wonder if the Mcdonald's staff cap was the item that inspired this campaign… because hey, it's not a Burger King ad unless it takes a dig at its competitor.

Campaign: Forgotten Items
Agency: Buzzman
---
3. Mumbai Police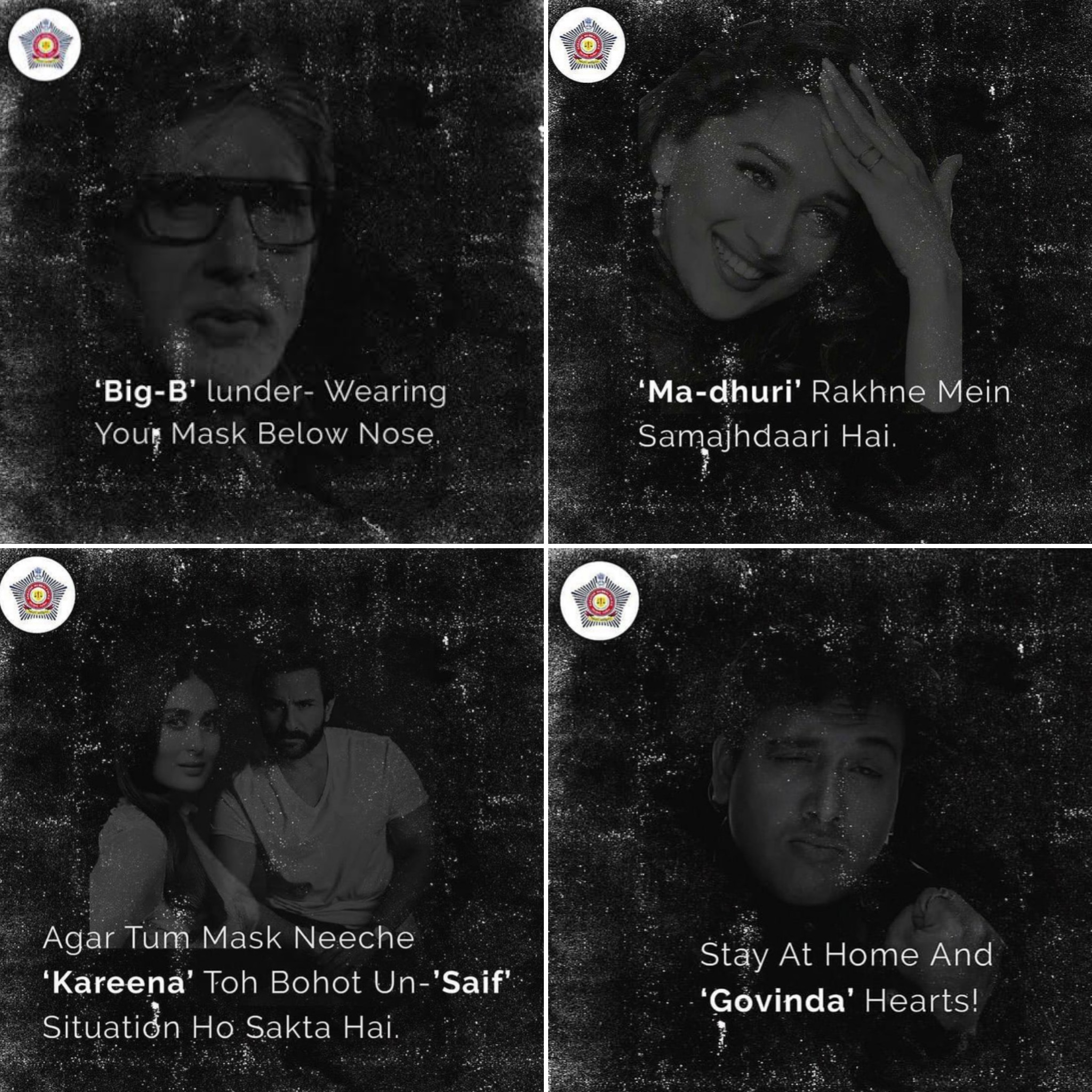 Mumbai has been under a lockdown due to COVID-19 for over a month now and city police has been posting regularly on their social media handles asking people to act like responsible citizens and stay home. This time, they've come up with an innovative campaign to educate Mumbaikars. They used names and dialogues of famous super stars to drive home safety or stay-at-home messages. For instance, one of the posters read: 'Big-B' lunder — wearing your mask below nose,", reminding citizens to wear their masks properly. In the caption, the Mumbai Police uses a reference from Amitabh Bachchan a.k.a Big B's film 'Mohabbatein', "Not wearing a mask properly is not your Parampara, Pratishtha, anushasan." The police force has also used actress Kajol's reference – "You can't 'Kajol' us into thinking that getting chocolates is essential". I personally enjoyed reading and "decoding" all the posts and hats off to the team for coming up with such witty word-plays! The Mumbai Police is known for its quirky ways infusing information with witty content . Not only are these posts funny, but they also get the point across. Do you have a favourite?
Campaign: #BeBollyGood