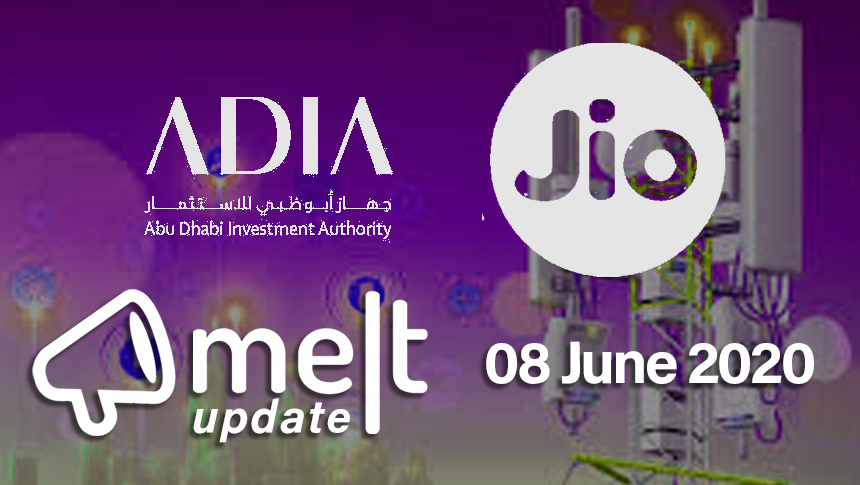 At Kyoorius, we're dealing with the coronavirus situation with the seriousness it deserves.
Therefore, we're doing what can be done remotely while keeping our followers informed on all that is happening in the world of media, advertising and marketing.
Consequently, till things improve, Melt in a Minute will change a bit.
The format will change from all video to a text-based post. A little more difficult to consume, but it's the best we can think of under the circumstances.
All of you, stay safe.
And stay informed with posts like this one.
Top News Of The Day:
1. Abu Dhabi Investment Authority To Buy 1.16% Stake In Reliance Jio Reliance Jio has announced that it will sell a stake of 1.16% for $750 million to Abu Dhabi Investment Authority (ADIA), continuing its eye-catching run of investments at the height of a global pandemic. As per TechCrunch, Reliance Industries has now secured nearly $13 billion from seven investors. Last Friday, Jio Platforms said it was selling $1.2 billion stake to Abu Dhabi-based sovereign firm, Mubadala. The company also announced that U.S private equity firm, Silver Lake, was pumping an additional $600 million to increase its stake in Jio to 2.1%.
2. Google Elevates Prabhakar Raghavan As Head Of Search and Assistant
Google has elevated Prabhakar Raghavan as the head of Search and Assistant. As per exchange4media, Raghavan, in his new role, will also lead the advertising and commerce business. Raghavan, who joined Google in 2012, will be taking over from Ben Gomes who is moving to a new role within the company. Prior to this, he was the head of Google's advertising and commerce business since 2018.

3. Swiggy To Shut Down Scootsy
Swiggy will shut down its independent delivery platform, Scootsy and integrate the offering into its existing platform. Swiggy had acquired Scootsy for about Rs 50 crore in 2018. Over the last month, the food delivery app has been focusing on premium 'curated' food deliveries, partnering with hotel groups-such as ITC Hotels, Marriott, Hyatt, KA Hospitality etc. According to livemint, Swiggy now plans to consolidate the premium segment on its own platform and redirect Scootsy's customers to the Swiggy app. It is however uncertain whether Swiggy will absorb Scootsy's employees.
4. Hero MotoCorp Launches 'eSHOP'
Hero MotoCorp has announced the launch of its digital platform, eSHOP, for vehicle sales and services which will eliminate the need for customers to venture into showrooms. As per Business Standard, the platform will allow customers to purchase their preferred motorcycle or scooter directly from the company website. Hero MotoCorp is also working with its dealers to provide services like vehicle repair and servicing to customers though the online portal.
5. Deccan Herald Launches News App
Deccan Herald has launched its news app for android and iOS mobile devices. As noted by exchange4media, this is a step in the revamp of the product portfolio at The Printers Mysore, the company that owns Deccan Herald. The app will carry breaking news, updates, analysis and opinion, across text, video and audio formats.