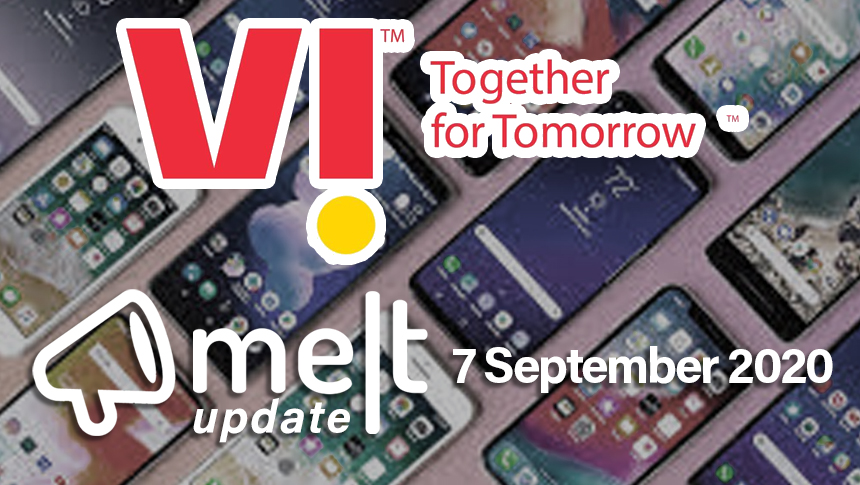 At Kyoorius, we're dealing with the coronavirus situation with the seriousness it deserves.
Therefore, we're doing what can be done remotely while keeping our followers informed on all that is happening in the world of media, advertising and marketing.
Consequently, till things improve, Melt in a Minute will change a bit.
The format will change from all video to a text-based post. A little more difficult to consume, but it's the best we can think of under the circumstances.
All of you, stay safe.
And stay informed with posts like this one.
Top Headlines Today:
1. Vodafone & Idea Launch Integrated Brand Identity – Vi
Vodafone and Idea announced the launch of an integrated brand identity – Vi (pronounced 'we') two years after the integration of services. The new brand is accompanied by the tagline 'Together for Tomorrow'. Starting today, Vi ads will be on TV and digital platforms, followed by a multi-media campaign.


2. Amazon Prime Video Appoints Sonia Huria To Lead PR & Communications For India
Sonia Huria, Head of Corporate Marketing, Communications and Sustainability for Viacom18 has been appointed by Amazon Prime Video to lead all communication efforts for its India operations. In her new role, Huria will be a part of the global communications team, leading PR &Communications for Amazon Prime Video in India. As noted by exchange4media, she will be reporting to Tobias Tringali – Head of Amazon Prime Video PR Asia Pacific & Canada who is based in Seattle.


3. Wavemaker India Announces Leadership Appointments
Wavemaker India has announced changes in the executive leadership roles, as per The Economic Times. Kishan Kumar MS is elevated and has taken on a larger role as chief growth officer, Wavemaker India. Premjeet Sodhi transitions into chief strategy officer, Wavemaker India from his earlier profile of chief growth officer. Vishal Jacob returns to Wavemaker India as chief digital officer after close to two years with GroupM. Sandeep Pandey, who leads product and strategy has been elevated as global head of analytics where he will be driving Wavemaker's global practice on analytics.


4. LIQVD ASIA Appoints Purnima Kathuria as National Director, Brand Strategy & Account Management
LIQVD ASIA has appointed Purnima Kathuria as National Director for Brand Strategy and Account Management, as reported by exchange4media. Prior to this, Kathuria served as the Director – Media & Digital Operations at Performics India. In her new role, she will lead the strategy and account management domain for LIQVD ASIA's existing and new client mandates.


5. Bayer Appoints Rachana Panda As VP & Country Head, Public Affairs & Sustainability, South Asia
Bayer has appointed Rachana Panda as Vice- President and Country Head for Communications, Public Affairs and Sustainability for South Asia. According to exchange4media, she will work across all of Bayer's businesses in the region, in addition to collaborating with global teams to provide impetus to the group's multiple initiatives in India.