At Kyoorius, we're dealing with the coronavirus situation with the seriousness it deserves.
Therefore, we're doing what can be done remotely while keeping our followers informed on all that is happening in the world of media, advertising and marketing.
Consequently, till things improve, Melt in a Minute will change a bit.
The format will change from all video to a text-based post. A little more difficult to consume, but it's the best we can think of under the circumstances.
All of you, stay safe.
And stay informed with posts like this one.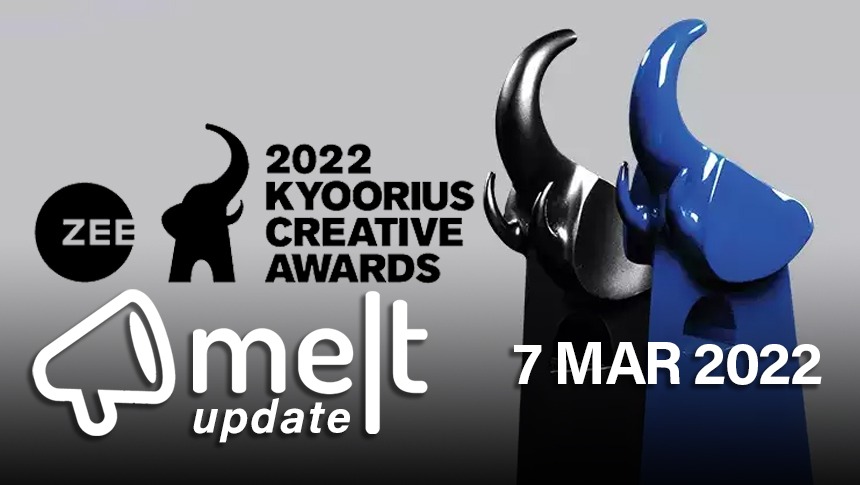 Top News:
Entries To 2022 Kyoorius Creative Awards Begin
The 2022 Kyoorius Creative Awards have announced its call for entries. The eighth edition of the awards will feature the return of the Kyoorius Media Awards, a re-calibration of the Kyoorius Digital Awards, and more. Details at awards.kyoorius.com.

ADK acquires Rage Communications; Forms ADK Rage
Japan-based ADK is set to acquire Indian independent Rage Communications. Post acquisition, the agency will be renamed as ADK Rage. Rage's founders, JRK Rao and Karthik Kumar, remain as minority shareholders.

Zenith forecasts 7.6% growth in ad spends for 13 OTC markets in 2022
In its annual 'Business Intelligence – OTC Healthcare' report, Zenith forecasts that over 13 markets in the OTC healthcare brands segment will expand by 7.6% in 2022 and 5.0% in 2023, with digital to account for 49% of OTC advertising.

BARC Think Report: +22% Growth In Ad Volumes In '21
As per BARC's recent Think Report, 2021 notched up 1824 million seconds of ad volumes during the year, resulting in a 22% growth over 2020. The Top 10 advertisers accounted for 780 million seconds of ad volumes.

WPP shuts down Russian ops; 'condemns' Ukraine invasion
WPP has announced that it is closing its Russia operations due to the country's invasion of Ukraine, a move that will affect its near-1,400 staff. Russia generated 0.6% of WPP's revenue less pass-through costs – about £60m – in 2021.