At Kyoorius, we're dealing with the coronavirus situation with the seriousness it deserves.
Therefore, we're doing what can be done remotely while keeping our followers informed on all that is happening in the world of media, advertising and marketing.
Consequently, till things improve, Melt in a Minute will change a bit.
The format will change from all video to a text-based post. A little more difficult to consume, but it's the best we can think of under the circumstances.
All of you, stay safe.
And stay informed with posts like this one.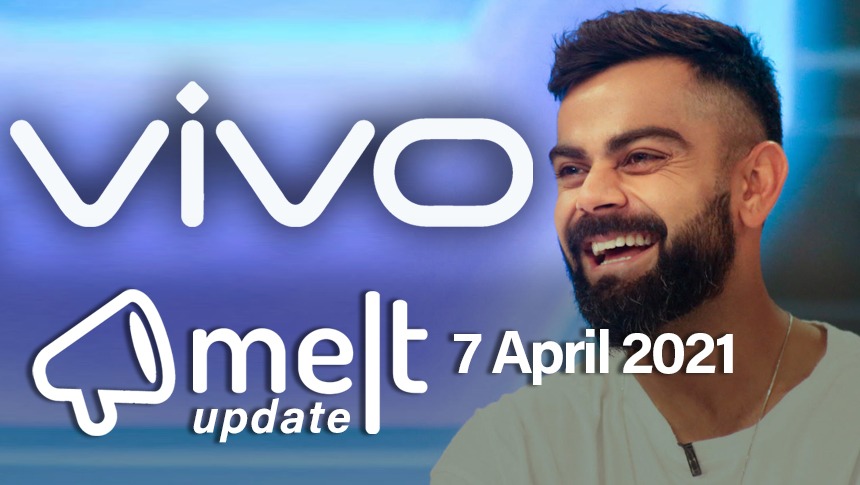 Top News:
1. vivo Ropes in Virat Kohli as Brand Ambassador
Smartphone brand vivo has announced Virat Kohli as its brand ambassador. With this association, vivo aims to reach the millennials and technologically driven consumers. Virat will be seen promoting vivo's upcoming products. The association will include all ATL and BTL activities, including the brand's forthcoming TV, print and outdoor campaigns, social media, and events.
2. Facebook Appoints Rajiv Arora to Lead Internal Communications
Facebook has appointed Rajiv Arora to lead its Internal Communications. Prior to this, Arora was leading the global internal communications department at OYO. As reported by exchange4media, he will report to Bipasha Chakrabarti, Director, Corporate Communications, Facebook India.
3. IPG Mediabrands & TikTok Speahead 'The Creator Collective'
IPG Mediabrands and TikTok are teaming up to spearhead 'The Creator Collective' initiative. This involves co-creating a series of custom programs for IPG Mediabrands' clients, helping them build an authentic presence on TikTok by tapping into the platform's community of creators. As per exchange4media, this association forms the central pillar of a three-year, global endeavor between IPG Mediabrands and TikTok.

4. Emaar Group Appoints Chandrasekar Radhakrishnan as Head of Marketing
Former Coke executive Chandrasekar Radhakrishnan has joined Emaar Group, a Dubai based real estate development company as Head of Marketing. As noted by afaqs, he will be responsible for strategic marketing and communications for Emaar across the group while strengthening the brand presence globally.