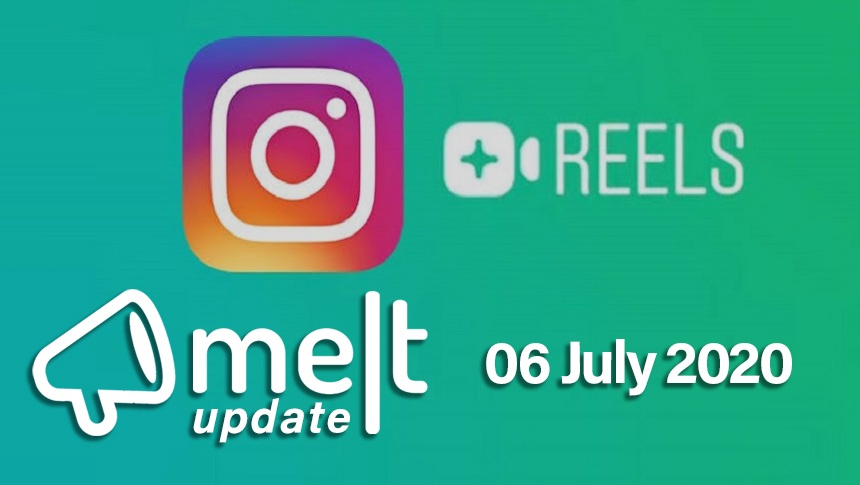 At Kyoorius, we're dealing with the coronavirus situation with the seriousness it deserves.
Therefore, we're doing what can be done remotely while keeping our followers informed on all that is happening in the world of media, advertising and marketing.
Consequently, till things improve, Melt in a Minute will change a bit.
The format will change from all video to a text-based post. A little more difficult to consume, but it's the best we can think of under the circumstances.
All of you, stay safe.
And stay informed with posts like this one.
1. Facebook Tests 'Reels' In India
Facebook is testing Instagram's Reels feature in India. This news comes just days after the Indian government banned TikTok along with 58 other China-based apps. Reels is a video editing tool designed to let people create TikTok-style videos that can be shared on their Instagram Stories, sent via DM, or posted to a section of the Explore tab called Top Reels. Business Insider reports that some Instagram users in India have already started receiving this new feature in an update and the company plans to release it more widely.
2. Havas Media Group Launches Social Equity Private Marketplace
Havas Media Group has announced the launch of a social equity private marketplace, made up of BIPOC (Black, Indigenous, People of Color) and LGTBQ+-owned media businesses. This is to enable clients to positively invest funds in underrepresented segments. As noted by Campaign India, this ad targeting program is the agency's latest commitment to exploring 'Meaningful Media' and recognising the need for equitable treatment of businesses that are traditionally underrepresented in the marketing industry. The platform is set to launch first in the US, followed by an international roll out.

3. Boeing Hires Madhavi Jha As Director, Communications & Brand
The Boeing Company has appointed Madhavi Jha as Director, Communications and Brand. Joining today, Jha will be leading the firm's corporate communications department along with driving innovative communications strategies and programmes in support of organisations' objectives, as noted by exchange4media. Prior to this, she worked as Chief Communication Officer at Cairn Oil and Gas, Vedanta Limited.
4. Wunderman Thompson Kolkata Bags Century Ply's Mandate For Corporate & Panel Division
Wunderman Thompson Kolkata has bagged the CenturyPly account for the Corporate & Panel division. In addition to Corporate, the mandate covers ply, board and a few other lines of business. The account was won after a multi-agency pitch.
5. Dentsu Webchutney Elevates Ashwin Palkar To Executive Creative Director
Dentsu Webchutney has elevated Ashwin Palkar to the role of executive creative director, as mentioned by afaqs. Ashwin joined the digital agency in 2015 as associate creative director. Before that, he worked with a design agency called Brand Harvest as design head for around 8 years.