At Kyoorius, we're dealing with the coronavirus situation with the seriousness it deserves.
Therefore, we're doing what can be done remotely while keeping our followers informed on all that is happening in the world of media, advertising and marketing.
Consequently, till things improve, Melt in a Minute will change a bit.
The format will change from all video to a text-based post. A little more difficult to consume, but it's the best we can think of under the circumstances.
All of you, stay safe.
And stay informed with posts like this one.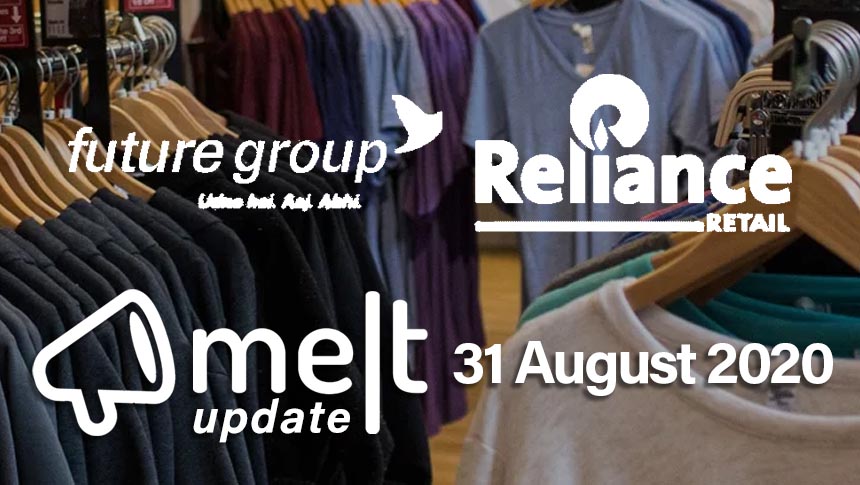 1. Reliance Buys Stake In Future Group For Rs 24,713 Crore
Reliance Industries has announced the acquisition of businesses of Future Group for Rs 24,713 crore to add to its fast expanding retail business and bolster e-commerce to take on the competition from Amazon. As noted by livemint, Reliance Retail will now have access to close to 1,800 stores across Future Group's Big Bazaar, FBB, Easyday, Central, Foodhall formats, which are spread in over 420 cities in India. 
2. Amazon Hires Akash Banerji To Head Marketing For Its Mobile Business
Amazon has hired Akash Banerji to head marketing for its mobile business vertical. Previously, Banerji was with Viacom18's OTT platform, VOOT.  As per exchange4media, he will join Amazon by mid-September. In his new role, he will oversee product expansion strategies to improve subscription numbers and revenues. Prior to VOOT, he was with Star India.
3. ASCI Appoints Manisha Kapoor As New Secretary-General
The Advertising Standards Council of India has named Manisha Kapoor as its new secretary-general. Kapoor will join from 1 September 2020. Her mandate includes the consumer complaints redressal process as well as marketing, public relations and social media initiatives. As reported by campaign India, she has been a part of ASCI's Consumer Complaints Council (CCC) for the past five years.
4. Acko General Insurance Ropes In Ashish Mishra As EVP – Marketing
Acko General Insurance has appointed Ashish Mishra as executive vice president – marketing.  As per campaign India, Mishra moves after a 13-year stint with HSBC where he was most recently head of customer marketing and network markets, based in Dubai.