At Kyoorius, we're dealing with the coronavirus situation with the seriousness it deserves.
Therefore, we're doing what can be done remotely while keeping our followers informed on all that is happening in the world of media, advertising and marketing.
Consequently, till things improve, Melt in a Minute will change a bit.
The format will change from all video to a text-based post. A little more difficult to consume, but it's the best we can think of under the circumstances.
All of you, stay safe.
And stay informed with posts like this one.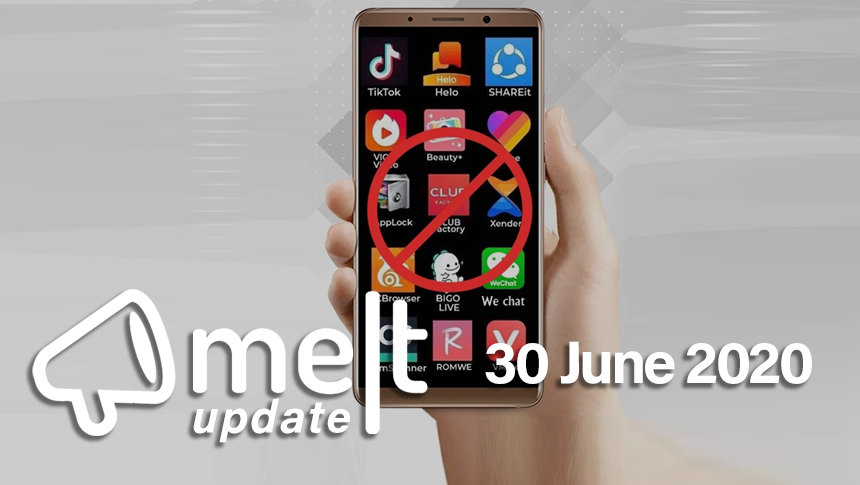 1. Government of India Bans 59 Mobile Apps
The Government of India has announced the ban of 59 mobile applications which it believes are prejudicial to sovereignty and integrity of India, defence of India, security of state and public order. As noted by campaign India, the list includes TikTok, UCBrowser, Shareit, WeChat and more. The Ministry of Information Technology, invoking its power under Section 69A of the Information Technology Act, has decided to block these apps. A statement from the ministry said that it has received several reports about the misuse of some mobile apps available on Android and iOS platforms for stealing and surreptitiously transmitting users' data in an unauthorized manner to servers outside India.
2. Facebook Faces Boycott From US Advertisers
Facebook is facing an organized boycott from advertisers in US set to begin on 1 July 2020. More than 160 companies including large corporations like Unilever, Coca-Cola, Starbucks, Microsoft and Honda have pledged to stop advertising on Facebook and Instagram for at least a month. As reported by The Verge, the goal of the 'Stop Hate for Profit' campaign is to pressure Facebook into changing how it handles hate speech and misinformation, including often incendiary posts from President Trump.
3. Wavemaker Bags E-Commerce Mandate For Mondelez India
Wavemaker has bagged the e-commerce mandate for Mondelez India. As part of the mandate, Wavemaker will focus on building and scaling the brand and its products through various e-commerce channel partners. As per exchange4media, the agency has been handling its media mandate since 2018.

4. L&K Saatchi & Saatchi India Appoints Anuraag Shrivastav & Shalaka Pradhan

L&K Saatchi & Saatchi India has appointed Anuraag Shrivastav as vice president – planning, North India and Shalaka Pradhan as brand strategy director.  Shrivastav will be based in New Delhi while Pradhan will be based in Bengaluru. According to campaign india, the duo will report to Snehasis Bose, executive director, L&K Saatchi & Saatchi India.  Prior to the move, Shrivastav was with FCB Ulka as senior brand planning director while Pradhan was with Publicis India where she was brand director – strategy.  

5. Disney+Hotstar To Launch 'Multiplex'

Disney+Hotstar will launch 'Multiplex' on 24 July 2020, a new tab within the streaming platform, which will premiere seven new Hindi films. As reported by exchange4media, this will enable viewers to watch the new movies 'first-day first-show'. Existing subscribers of Disney+ Hotstar Premium and Disney+ Hotstar VIP can enjoy the movies at no additional cost to their existing subscription. Non-subscribers can simply purchase an annual membership of Disney+ Hotstar VIP at Rs 399/- to catch all these movies.