At Kyoorius, we're dealing with the coronavirus situation with the seriousness it deserves.
Therefore, we're doing what can be done remotely while keeping our followers informed on all that is happening in the world of media, advertising and marketing.
Consequently, till things improve, Melt in a Minute will change a bit.
The format will change from all video to a text-based post. A little more difficult to consume, but it's the best we can think of under the circumstances.
All of you, stay safe.
And stay informed with posts like this one.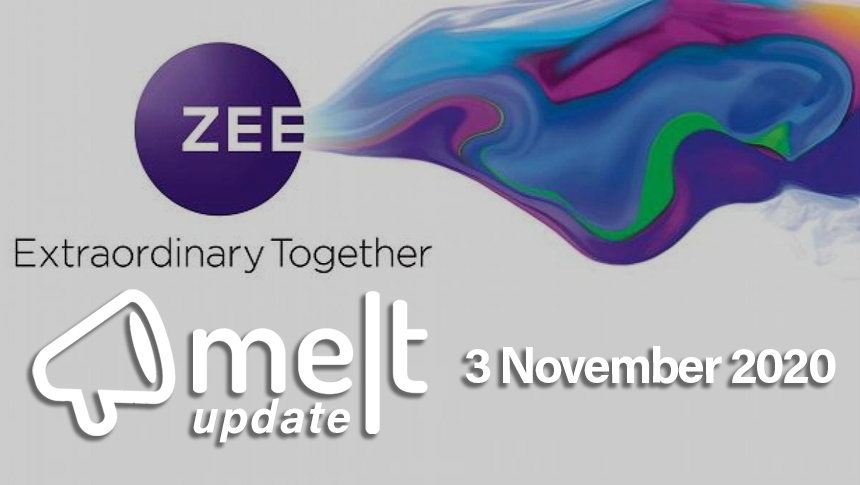 Top Headlines of The Day:
1. ZEEL Posts Profit of Rs 93.41 Crore in Q2
Zee Entertainment and Enterprises Ltd has reported a consolidated net profit of Rs 93.41crore for the second quarter ended September 2020. As per exchange4media, the company had posted a net profit of Rs 412.09 crore in the year-ago period. The company's revenue from advertisement stood at Rs 902.79 crore in the latest July-September quarter. The same was at Rs 1,224.66 crore in the year-ago period. Its subscription revenue was Rs 800.29 crore while it was at Rs 723.50 crore in the same period a year ago.
2. Flipkart Acquires Mech Mocha, Mobile Gaming Startup
Flipkart has acquired mobile gaming startup Mech Mocha for an undisclosed amount. Six-year old startup Mech Mocha runs a vernacular social gaming platform 'Hello Play', available in seven Indian languages, and has over ten games such as ludo, carrom, snakes and ladder and cricket. As noted by livemint, Mech Mocha's gaming team will also join Flipkart, as the latter aims to focus on developing new and innovative formats to engage with users on its GameZone platform.
3. Former Publicis Communications CEO Saurabh Varma Launches Wondrlab
Ex-Publicis Groupe management members Saurabh Varma, Vandana Verma and Rakesh Hinduja have announced the launch of Wondrlab. The new offering serves three verticals – content, experience and digital business transformation. As reported by campaign India, Wondrlab aims to help the communications industry address the fundamental shift in human behaviour, the business landscape and client concerns through a platform lens.
4. Titan Opens First International Tanishq Store In Dubai
Titan Company has launched its first international Tanishq store in Dubai as part of expanding regions outside India. According to livemint, the brand also unveiled an exclusive website for Dubai showcasing its collections.
5. Ipsos India Appoints Sandeep Ghosh As Executive Director
Market research company, Ipsos India has appointed Sandeep Ghosh as Executive Director, as mentioned by exchange4media. In a career spanning 27 years, Ghosh has previously worked with BBC Media Action, TNS India and The Nielsen Company.