At Kyoorius, we're dealing with the coronavirus situation with the seriousness it deserves.
Therefore, we're doing what can be done remotely while keeping our followers informed on all that is happening in the world of media, advertising and marketing.
Consequently, till things improve, Melt in a Minute will change a bit.
The format will change from all video to a text-based post. A little more difficult to consume, but it's the best we can think of under the circumstances.
All of you, stay safe.
And stay informed with posts like this one.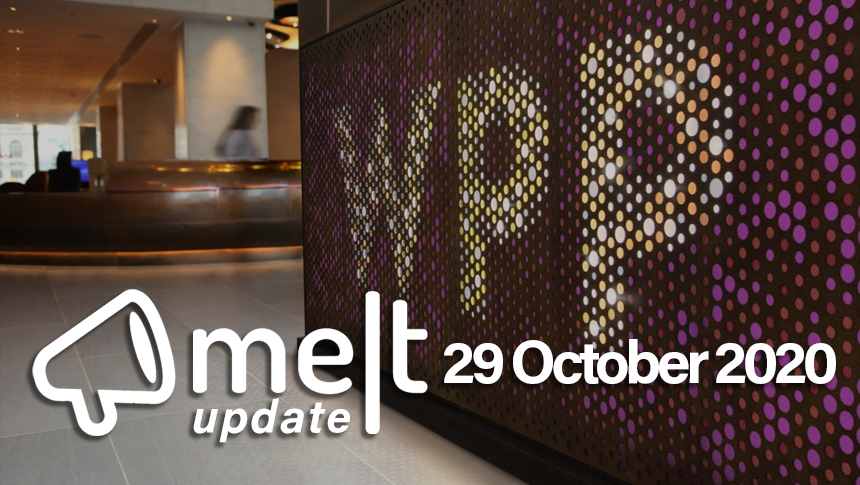 Top Headlines Of The Day:
1. WPP Posts Revenue of £2,969 Million for Q3
WPP has posted a revenue of £2,969 million for Q3, as reported by Business Insider. The company saw saw underlying revenue fall by 7.6% in the third quarter, a marked improvement on the 15.1% decline seen in the previous three months. WPP's top five markets for Q3 LFL revenue less pass-through costs are US -5.5%; UK -6.5%; Germany -1.8%; Greater China -16.7% and India -16.3%. The company also stated that it is seeing good momentum in winning new businesses. In Q3, WPP won $1.6 billion worth of new business, taking the year-to-date wins to $5.6 billion.
2. P&G India To Set Up A Rs 400 Cr India Growth Fund
Procter & Gamble India has announced setting up of a Rs 400 crore India Growth Fund to collaborate with local suppliers of raw materials, finished goods and packaging materials, services and go-to-market innovations. As mentioned by livemint, this fund is part of P&G India's 'vGROW' programme that focuses on identifying and collaborating with startups, small businesses, individuals or large organisations and offer solutions for the fast-moving consumer goods industry.
3. Former Secretary-General, ASCI, Shweta Purandare Joins Diageo
Former Secretary-General, ASCI, Shweta Purandare has joined Diageo as Head, Corporate Brand and Communications, India. According to exchange4media, Purandare will be responsible for managing the internal and external communications for the brand. She will report to Abanti Sankaranarayanan, Chief Strategy & Corporate Affairs Officer, Member – Executive Committee, Diageo, India.
4. Viacom18 Appoints Rajesh Iyer To Lead Colors Bangla, Colors Odia, Colors Tamil and Colors Gujarati
Viacom18 has appointed Rajesh Iyer to take on independent charge of Colors Bangla, Colors Odia, Colors Tamil and Colors Gujarati. As noted by campaign India, Iyer has been with Network18, since March 2019 as president – new initiatives. Prior to that, he had worked as VP – marketing at Colors. Ravish Kumar will continue to lead the network's regional broadcast forays in Kannada and Marathi.