At Kyoorius, we're dealing with the coronavirus situation with the seriousness it deserves.
Therefore, we're doing what can be done remotely while keeping our followers informed on all that is happening in the world of media, advertising and marketing.
Consequently, till things improve, Melt in a Minute will change a bit.
The format will change from all video to a text-based post. A little more difficult to consume, but it's the best we can think of under the circumstances.
All of you, stay safe.
And stay informed with posts like this one.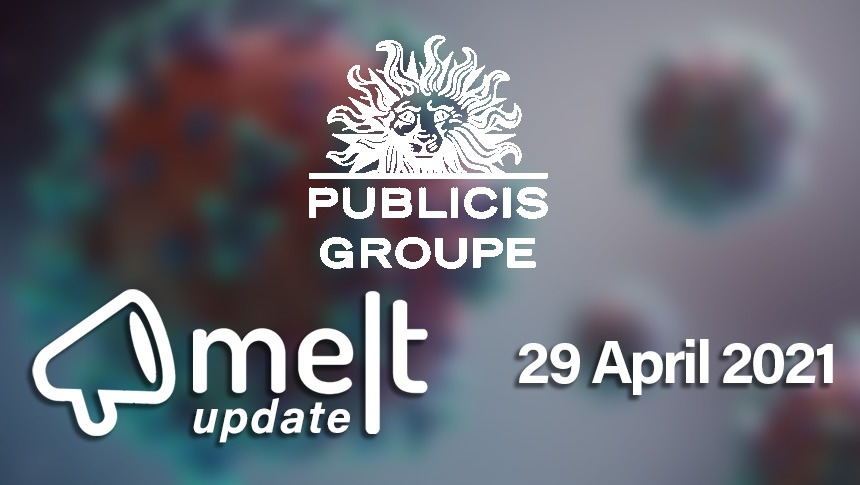 Top News:
1. Publicis Groupe Announces Covid-19 Support through Task Force for India Staff
The Publicis Groupe's global chief Arthur Sadoun has reached out to all Indian employees offering the organisation's support amid the second Covid-19 wave. In an internal memo sent to India staff, Sadoun mentions the setting up of a 'round-the-clock task force' to ensure employees and their families get the necessary help they need at this time.  As per campaign India, the Groupe will offer medical assistance and additional support to all India employees.


2. Tata Motors Appoints Martin Uhlarik as Global Design Head

Tata Motors appointed Martin Uhlarik as the new Global Design Head of the company. Uhlarik was till recently Head of Design for Tata Motors European Technical Centre (TMETC) and takes over his new role from Pratap Bose who has chosen to pursue opportunities outside the company. As per exchange4media, Uhlarik has been involved in the design of successful nameplates with leading global OEMs.

3. Kia India Relaunches Brand in India
Kia India has announced the relaunch of its brand in the country. As reported by afaqs, the company's name has changed from Kia Motors India to Kia India (dropping the word 'Motors'). Kia India, also introduced the company's refashioned logo and brand slogan, 'Movement that inspires'.

4. IPG Reports Revenue Decline from China & India

Interpublic Group of Companies (IPG) has reported revenue decline from China and India in the first quarter of fiscal 2021 even as the agency's Asia Pacific revenue grew 3.4% organically. As reported by exchange4media, IPG's first-quarter net revenue increased 2.8% at $2.03 billion compared to $1.97 billion in the first quarter of 2020. IPG earned 65% of its net revenue from the US while international markets contributed 35% to the overall revenue.

5. Jack in the Box Worldwide Elevates Harsh Shah & Suruchi Shetty
Jack in the Box Worldwide (JITB) has elevated Harsh Shah and Suruchi Shetty, according to campaign India. Shah, who was previously business director, has been elevated as VP – business and growth. Shetty was director – strategy, and has been elevated as VP – strategy and analytics.