At Kyoorius, we're dealing with the coronavirus situation with the seriousness it deserves.
Therefore, we're doing what can be done remotely while keeping our followers informed on all that is happening in the world of media, advertising and marketing.
Consequently, till things improve, Melt in a Minute will change a bit.
The format will change from all video to a text-based post. A little more difficult to consume, but it's the best we can think of under the circumstances.
All of you, stay safe.
And stay informed with posts like this one.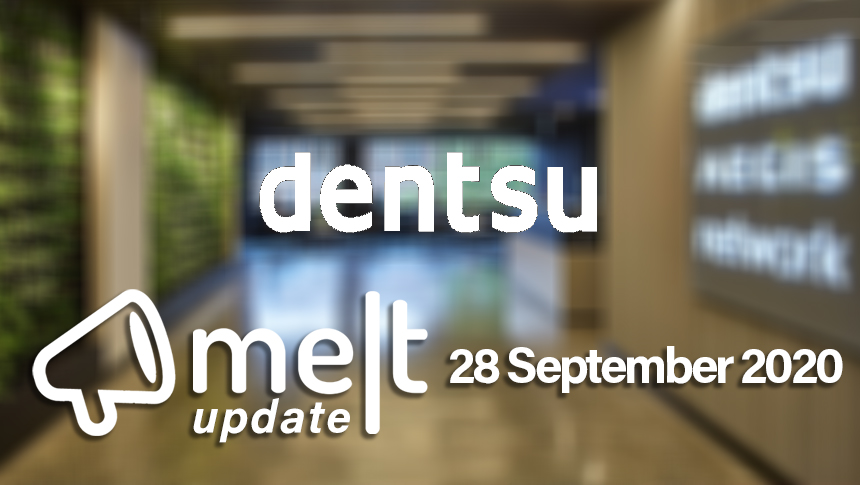 Top News Today:
1. Dentsu Group Removes 'Aegis' From Its International Network
Dentsu Group Inc has confirmed that it is removing 'Aegis' from the name of its international network. In a notice to the Tokyo Stock Exchange, CEO Toshihiro Yamamoto announced the company is rebranding 'Dentsu Aegis Network' to 'Dentsu International', following the approval by the Dentsu Aegis Network board of directors. While 'Dentsu International' will be the official denomination used to separate Dentsu Japan and the rest of the business, campaign India reports that 'International' will not be used frequently, as all operations come to be known simply as 'Dentsu'. DAN's name change is subject to registration by the UK Companies House and is expected to be in use from early October.

2. IAA Appoints Megha Tata As New President
The India Chapter of the International Advertising Association (IAA) has appointed Megha Tata as its new President, as per exchange4media. Megha Tata, MD of Discovery South Asia, was elected Vice President last year. She takes over from Punit Goenka, MD & CEO of ZEE Entertainment Enterprises Ltd (ZEEL) who was elected as its President for a second term in 2019.
3. Netflix Appoints Karuna Gulyani As Lead – Corporate & Policy Communications
Netflix has appointed Karuna Gulyani as Lead- Corporate & Policy Communications at Netflix. As noted by exchange4media, she was earlier working as Head- Corporate & Policy Communications, India and South Asia for Uber.
4. Protinex Awards Creative Duties To DDB Mudra
Nutritional supplement brand, Protinex has awarded its creative duties to DDB Mudra. According to The Economic Times, the agency will bring in its expertise to strengthen the brand's communication and architecture. The duties were awarded following a multi-agency pitch.