At Kyoorius, we're dealing with the coronavirus situation with the seriousness it deserves.
Therefore, we're doing what can be done remotely while keeping our followers informed on all that is happening in the world of media, advertising and marketing.
Consequently, till things improve, Melt in a Minute will change a bit.
The format will change from all video to a text-based post. A little more difficult to consume, but it's the best we can think of under the circumstances.
All of you, stay safe.
And stay informed with posts like this one.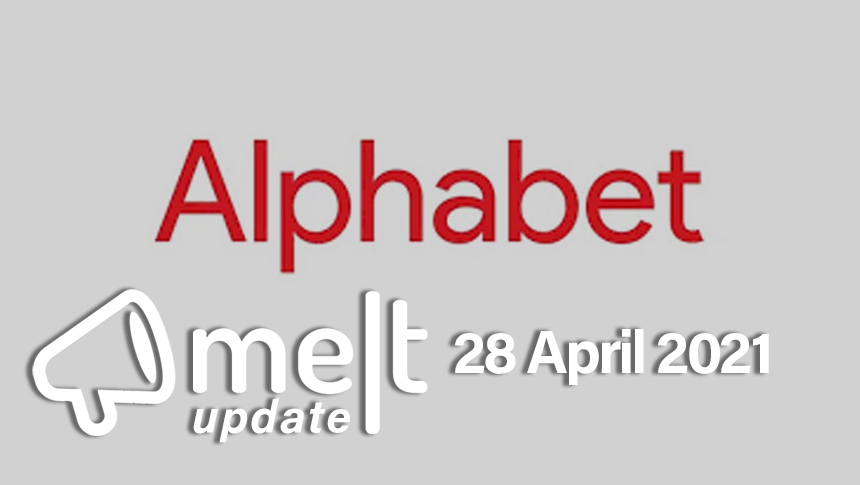 Top News:
1. Alphabet's Q1 Revenue Surges 34% to $55.3 billion
Alphabet, the parent company of Google, has posted a 34% increase in revenues at $55.3 billion for the first quarter ended 31 March 2021. The company's net income grew to $17.9 billion from $6.8 billion. As per exchange4media, total Google Services revenues were $51.2 billion, up 34%, consisting of Google Search and other advertising revenues of $31.9 billion in the quarter, up 30%, with strength across most categories led by retail. YouTube advertising revenues of $6 billion, up 49%, driven by exceptional performance in direct response and ongoing strength in brand advertising. Network advertising revenues of $6.8 billion, up 30%, driven by AdMob and Ad Manager.

2. WPP Launches 'WPP Choreograph'
WPP is launching its own data and technology solution 'for the cookieless future' – WPP Choreograph. The group has pulled together 700 data and technology experts from across WPP's global network, including 450 people from GroupM's data and technology organization and Wunderman Thompson's data management team. The division will be led by GroupM North America CEO Kirk McDonald. As per campaign India, WPP Choreograph will help clients create and manage their first-party data assets and activate them for media buys as third-party trackers phase out.

3. Edelman Names Karima Zmerli as Global Head of Performance & Predictive Intelligence

Edelman has named Karima Zmerli, Ph.D. as global head of performance and predictive intelligence for its data and intelligence unit (DxI).  In the new role, Zmerli will lead performance and predictive intelligence globally and oversee media buying and marketing strategies for clients. As reported by campaign India, she will be based in New York.

4. InMobi Launches In-Game Advertising on InMobi Exchange
InMobi has launched in-game advertising on InMobi Exchange. According to The Economic Times, this will enable brands to reach premium mobile users, with ads that blend into the game environment. It will also allow advertisers to maximise engagement with the audience.

5. Dentsu International Appoints Kartik Iyer as COO, Hands Divya Karani Additional Media Biz Mandate
Dentsu International has announced key leadership changes in India as part of its global organisational redesign. Kartik Iyer, erstwhile president – Media Brands and Amplifi, will now join the network's market leadership team as its Chief Operating Officer (COO). He will be instrumental in driving the implementation of dentsu's new business model within the country. The network has also appointed Divya Karani, CEO at dentsu X India, as the Chief Executive Officer (CEO) for Media, South Asia. Here, Media includes the agencies dentsu X, Carat, iProspect and Posterscope. Divya will be responsible for driving the global Media strategy and delivery in South Asia, ensuring its alignment and relevance to the market.