At Kyoorius, we're dealing with the coronavirus situation with the seriousness it deserves.
Therefore, we're doing what can be done remotely while keeping our followers informed on all that is happening in the world of media, advertising and marketing.
Consequently, till things improve, Melt in a Minute will change a bit.
The format will change from all video to a text-based post. A little more difficult to consume, but it's the best we can think of under the circumstances.
All of you, stay safe.
And stay informed with posts like this one.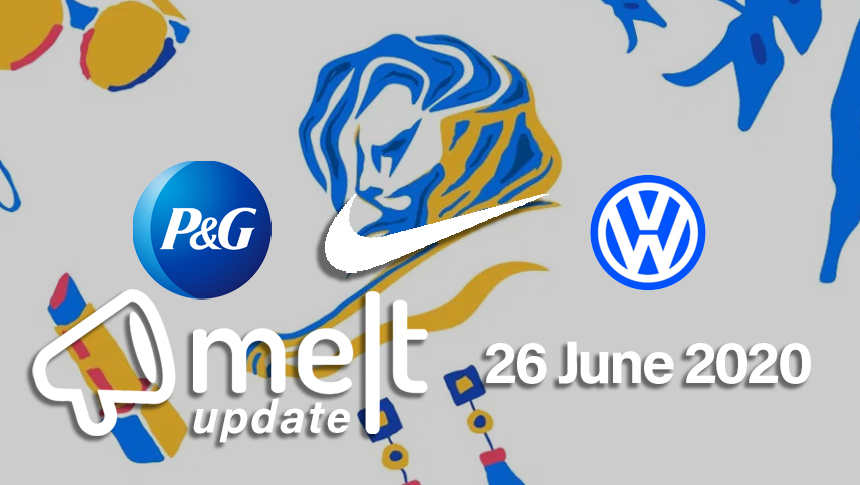 Top News Today:
1. P&G, Nike, Volkswagen Named Top 3 Brand Marketers Of The Decade At Cannes Lions 2020
Procter & Gamble, Nike and Volkswagen have been named the top three brand marketers of the decade by Cannes Lions, in recognition of the world's largest advertiser's sustained creative performance. As noted by WARC, P&G tops the ranking, winning the "Brand Marketer of the Decade" at Cannes Lions 2020. The brand has remained in the top six brands at Cannes Lions for the whole decade, winning this honour twice. Nike and Volkswagen take the second and third place respectively.
2. Amazon To Launch 'Smart Stores' In India

Amazon will be launching 'Smart Stores' in India to help mom-and-pop stores maintain a digital log of the inventory they have in the shop. When consumers walk to the store and scan the given QR code with the Amazon app, they will see everything the shop has to offer, as well as any discounts and past reviews from customers. They can select the items and pay for it using Amazon Pay. As per TechCrunch, Amazon piloted this project two months ago and is formally launching it now.
3. HUL Acquires VWash From Glenmark
Hindustan Unilever (HUL) has completed the acquisition of VWash from Glenmark Pharmaceuticals. As reported by The Economic Times, the acquisition was announced in March and was subject to certain closing conditions, which have now been fulfilled. HUL has acquired intellectual property rights including trademarks, design and knowhow related to the VWash brand worldwide. With this acquisition, HUL is looking to scale up the brand by building awareness, driving penetration, leveraging distribution and enhance offering for chemist channel.
4. Dentsu India Elevates Indrajeet Mookherjee To Role Of President

Dentsu India has elevated Indrajeet Mookherjee to the role of president, effective immediately. He was EVP prior. Mookerjee will continue to report into Simi Sabhaney, CEO, Dentsu India. Dentsu India created this position to enhance his role and offer him an opportunity to consolidate the agency's three units in the South. Mookerjee joined Dentsu India as executive vice president in 2016 from Soho Square Indonesia.