At Kyoorius, we're dealing with the coronavirus situation with the seriousness it deserves.
Therefore, we're doing what can be done remotely while keeping our followers informed on all that is happening in the world of media, advertising and marketing.
Consequently, till things improve, Melt in a Minute will change a bit.
The format will change from all video to a text-based post. A little more difficult to consume, but it's the best we can think of under the circumstances.
All of you, stay safe.
And stay informed with posts like this one.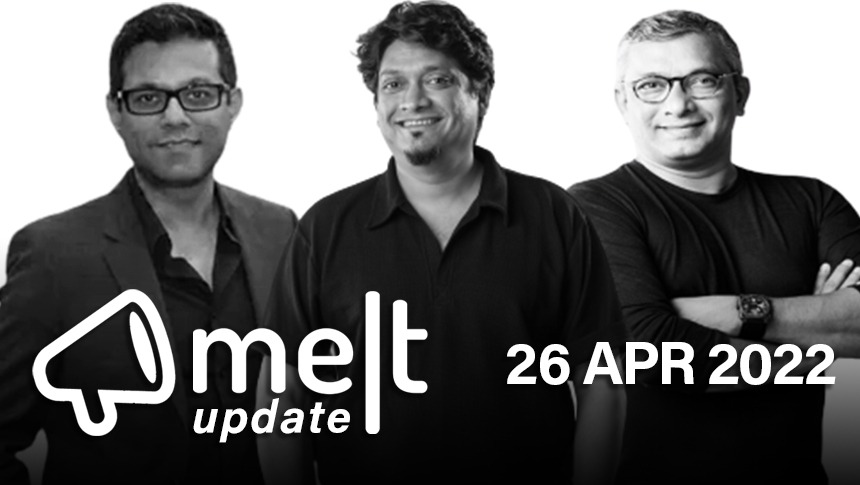 Top News:
1. Leadership Changes At BBH India
Publicis Groupe India has appointed Dheeraj Sinha as Chairperson of BBH India. Sinha will continue as CEO & CSO of Leo Burnett South Asia. Russell Barrett will serve as CEO and CCO, BBH India, while Subhash Kamath will continue in an advisory role.
2. Creative Leadership at Sideways Consulting
Sideways Consulting has announced the appointment of Nilay Moonje as Creative Head. It has also elevated Sameer Sojwal, its Creative Lead, as Creative Head. Both Moonje and Sojwal will jointly lead the creative team at the agency.
3. Accenture Interactive rebrands as Accenture Song
Consulting giant Accenture has renamed Accenture Interactive, its advertising and marketing services arm, as Accenture Song, and will merge all of its agency subsidiaries with the exception of flagship creative shop Droga5.
4. The One Show 2022: 55 Indian finalists
Indian companies with finalist entries include Dentsu Webchutney, Ogilvy India, DDB Mudra Group, FCB India, Early Man Film, Lowe Lintas, VMLY&R Commerce and Byju's India.
5. Twitter accepts Elon Musk's takeover proposal
The board of Twitter has agreed to a $44bn (£34.5bn) takeover offer from the billionaire Elon Musk. Mr Musk, who made the shock bid less than two weeks ago, said Twitter had "tremendous potential" that he would unlock.