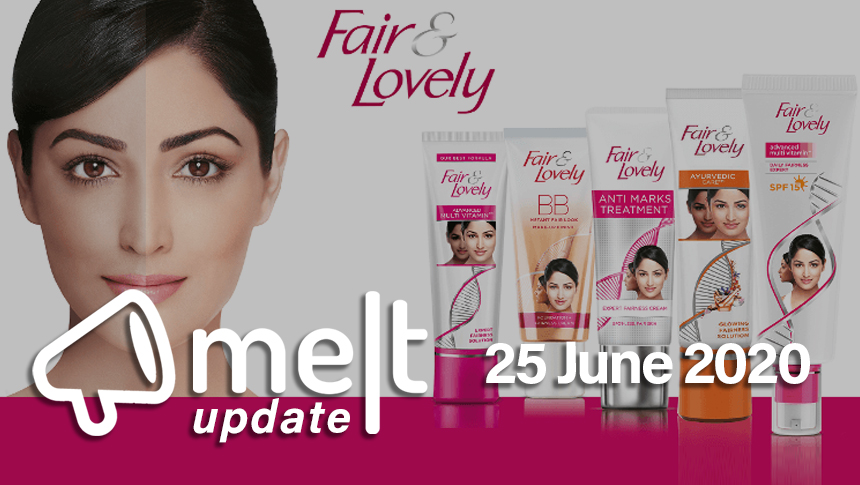 At Kyoorius, we're dealing with the coronavirus situation with the seriousness it deserves.
Therefore, we're doing what can be done remotely while keeping our followers informed on all that is happening in the world of media, advertising and marketing.
Consequently, till things improve, Melt in a Minute will change a bit.
The format will change from all video to a text-based post. A little more difficult to consume, but it's the best we can think of under the circumstances.
All of you, stay safe.
And stay informed with posts like this one.
Top News Today:
1. HUL To Drop 'Fair' From 'Fair & Lovely'
Hindustan Unilever has announced that it will stop using the word 'Fair' in 'Fair & Lovely'. As per exchange4media, the company is awaiting regulatory approvals and expects to change the name in the next few months. In a statement, HUL has said: "Over the last decade, Fair & Lovely's advertising has evolved to communicate a message of women's empowerment. The brand's vision is to adopt a holistic approach to beauty that cares for people, that must be inclusive and diverse – for everyone, everywhere. The brand is committed to celebrating all skin tones."
2. Google Launched 'Grow With Google Small Business Hub' In India
Google has launched 'Grow with Google Small Business hub' in India. This hub will serve as a single destination for all small businesses to get access to all the products and tools they need to go digital, maintain business continuity and get access to helpful resources like quick help videos, support pages to learn digital skills. As noted by exchange4media, this will soon be made available in Hindi as well.
3. Apple Announces New Privacy Features
Apple has announced new privacy features for its devices which include more controls of sharing location, data and activity indicators, as reported by cnet. The company also announced that unless you give explicit permission to an app, it cannot use your data for targeted ads, share your location data with advertisers, share your advertising ID or any other identifiers with third parties. Advertisers may have to seek alternative ways to manage their in-app ad campaigns.
4. TikTok Launches 'TikTok For Business'
TikTok is introducing a new brand and platform called "TikTok For Business" that will serve as the home for all its current and future marketing solutions for brands. According to TechCrunch, the site will include access to TikTok ad formats, including its marque product, TopView, which is the ad that appears when you first launch the TikTok app. Other products under this umbrella include Brand Takeovers, In-Feed Videos, Hashtag Challenges, and Branded Effects.