At Kyoorius, we're dealing with the coronavirus situation with the seriousness it deserves.
Therefore, we're doing what can be done remotely while keeping our followers informed on all that is happening in the world of media, advertising and marketing.
Consequently, till things improve, Melt in a Minute will change a bit.
The format will change from all video to a text-based post. A little more difficult to consume, but it's the best we can think of under the circumstances.
All of you, stay safe.
And stay informed with posts like this one.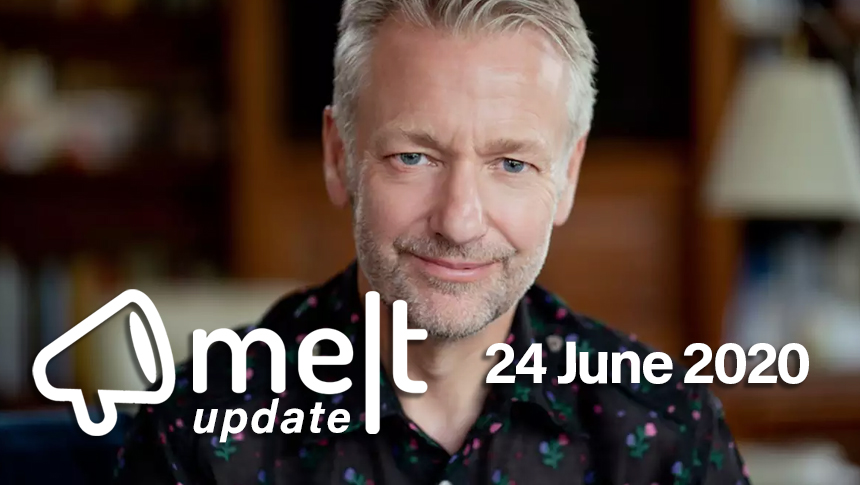 1. Ogilvy Appoints Andy Main As Global CEO
Ogilvy has appointed Andy Main as global CEO. He will take over from John Seifert, who served as global CEO for nearly five years. In April, Seifert said he plans to retire in 2021 after 41 years with the agency. Main previously served as global head of Deloitte Digital. As noted by Adweek, Main will officially join in July 2020 and he will work together with Seifert on the transition throughout the remaining year.

2. Ministry of AYUSH Asks Patanjali To Stop Corona 'Medicine' Ads

Shortly after launching its claimed ayurvedic treatment for the novel coronavirus, Patanjali has been told by the Ministry of AYUSH (ayurveda, yoga and naturopathy, unani, siddha and homeopathy) to stop advertising or publicising any such claim due to the lack of requisite approval. The legal provisions cited in the ministry statement also indicate that Patanjali cannot sell the product as of now. As per BloombergQuint, the facts and claims made by Patanjali of the efficacy of its virus medicine, branded 'Coronil', were not known to the Ministry.

3. Johnson & Johnson Ordered To Pay $2.1 billion Over Cancer-causing Talc Powder
Johnson & Johnson has been ordered to pay $2.1 billion in damages over cancer-causing talc powder. The Missouri Court of Appeals in US has upheld the verdict that the talcum powder caused ovarian cancer. According to livemint, Johnson & Johnson announced last month that it was discontinuing production of its talc-based baby powder in the US and Canada, partly due to the "constant barrage of litigation advertising" over the product. It will however to continue to sell the product to the rest of the world. A spokesperson from the company said they would appeal the decision in the Supreme court of Missouri.
4. Genesis BCW Appointed As Communications Partner For Jaslok Hospital & Research Centre
Genesis BCW has been appointed as communications partner for Jaslok Hospital & Research Centre. The account was won following a multi-agency pitch in April. Genesis BCW will support the hospital with media relations, crisis preparedness, compelling storytelling and content development. As mentioned by exchange4media, the account will be served from the Genesis BCW India west region.

5. Flipkart Launches 3 New languages On Its Platform – Tamil, Telugu and Kannada
Having already launched Hindi interface last year, Flipkart today launched three new languages on its e-commerce platform – Tamil, Telugu and Kannada. As reported by livemint, these have been built on Flipkart's 'Localization and Translation Platform'. According to Flipkart, southern states account for a significant proportion of its user base. Therefore, a higher adoption rate of native language script and regional language interfaces will help make e-commerce more inclusive.