At Kyoorius, we're dealing with the coronavirus situation with the seriousness it deserves.
Therefore, we're doing what can be done remotely while keeping our followers informed on all that is happening in the world of media, advertising and marketing.
Consequently, till things improve, Melt in a Minute will change a bit.
The format will change from all video to a text-based post. A little more difficult to consume, but it's the best we can think of under the circumstances.
All of you, stay safe.
And stay informed with posts like this one.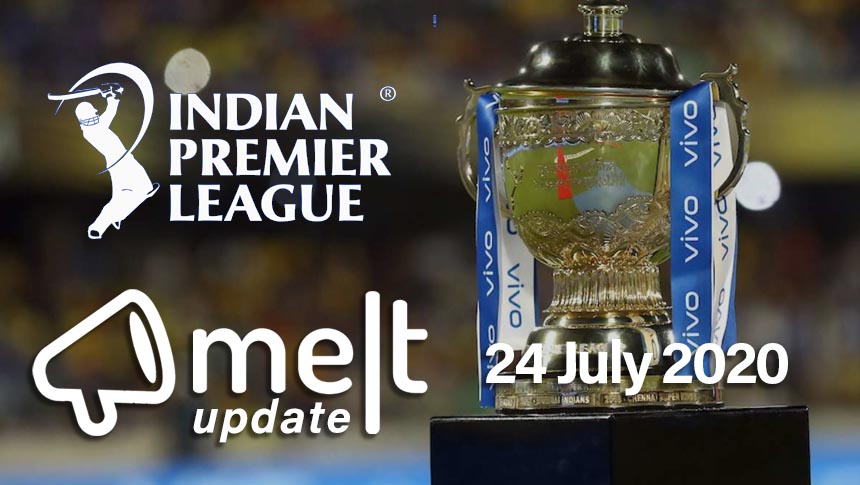 Top Headlines Today:
1. IPL 2020 To Commence On 19th September In UAE
The 13th edition of the Indian Premier League (IPL) will commence on 19 September 2020 in the UAE and continue till 8 November 2020. According to the Economic Times, scheduling of the IPL 2020 edition, the training camp for players, and discussion over the Standard Operating Procedure (SOP) are among the topics which will be discussed in the upcoming IPL Governing Council meeting.


2. Twitter Ad Revenue Slides 23%

Twitter has reported a 19% decrease in total revenue (year-on-year) in the second quarter of 2020. As noted by The Economic Times, Twitter posted a total advertising revenue of $562 million, a decrease of 23% (year-on-year). Total ad engagements were up 3% (year-on-year) and cost per engagement dropped 25%. Total costs and expenses grew by 5% (year-on-year) to $807 million, resulting in an operating loss of $124 million.


3. Publicis Groupe Integrates With BBH With A Joint Leadership Team

Publicis Groupe has announced the integration of BBH into Publicis Groupe and a joint leadership team that will oversee BBH-PWW India. As reported by exchange4media, it will be led by Subhash Kamath as CEO and Russell Barrett as CEO & Chief Creative Officer. Subhash and Russell will be jointly responsible for the agencies' business growth and creative ambitions. Srija Chatterjee will continue her role as MD of PWW India and Arvind Krishnan will continue to lead BBH India as MD. Sanjay Sharma will be in-charge of account planning function across the new structure encompassing BBH and PWW as MD & Chief Strategy Officer.


4. Vistas Media Capital Gets Raj Nayak On Board
Vistas Media Capital has announced the addition of Raj Nayak to its board of advisors. As per campaign India, Nayak will be a sounding board & will advise the co-founders, Abhayanand Singh and India Partner, Piiyush Singh, to grow the business units in India. He would also assist in strategy which will put Vistas Media and its existing businesses on the growth path in India and will play a critical role in launching a few of their upcoming initiatives in the market.


5. Tata AIA Life Limited Appoints Naveen Tahilyani As New CEO & MD
Tata AIA Life Limited has appointed Naveen Tahilyani as the new Chief Executive Officer & Managing Director, subject to regulatory approval from IRDAI. As per exchange4media, Tahilyani will take over from current Chief Executive Officer, Rishi Srivastava, who takes over as Chief Executive Officer, Group Agency Distribution, AIA Group, Hong Kong.