At Kyoorius, we're dealing with the coronavirus situation with the seriousness it deserves.
Therefore, we're doing what can be done remotely while keeping our followers informed on all that is happening in the world of media, advertising and marketing.
Consequently, till things improve, Melt in a Minute will change a bit.
The format will change from all video to a text-based post. A little more difficult to consume, but it's the best we can think of under the circumstances.
All of you, stay safe.
And stay informed with posts like this one.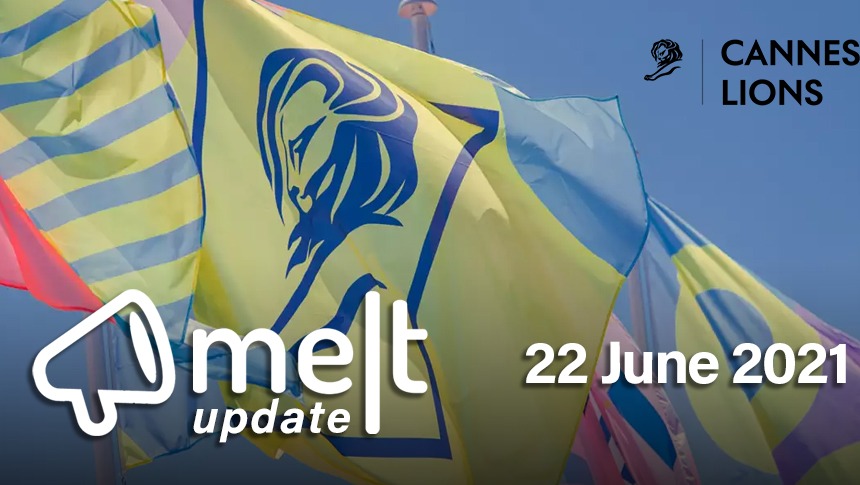 Top News:
1. Cannes Lions Day 2: 8 Shortlists for India
On Day 2 of Cannes Lions 2021, India has added eight more shortlists under the Digital Craft, Film Craft, Industry Craft, Entertainment, and Entertainment for Music categories. For Digital Crafts Lions, 'The 8-bit Journo' by Dentsu Webchutney has got three shortlists. In Film Craft Lions, 'Pooja Didi' by Taproot Dentsu and Chrome Pictures has been shortlisted under the direction subcategory. Under Industry Craft, 'Reaction' and 'Lynching' by Famous Innovations for the Photographic Society of India have got one shortlist each in print & publishing sub-category. 'The World's Most Reported Trailer' for Thappad movie by Dentsu Webchutney Mumbai has secured one shortlist under audience engagement/distribution strategy title in Entertainment Lions category. Under Entertainment for Music, 'Save Our Sentinels' by Wunderman Thompson, Bangalore for Jimmy Nelson Foundation has secured one shortlist.

2. Leo Burnett Orchard Announces New Leadership Team
Leo Burnett Orchard has promoted Gaurav Dudeja as Executive Vice President & Head of Leo Burnett Orchard. The agency has also appointed Pravin Sutar as Head of Creative, Leo Burnett Orchard. Together they will lead the national mandate for Leo Burnett Orchard and will report to Dheeraj Sinha, CEO & Chief Strategy Officer – South Asia Leo Burnett and Rajdeepak Das, CEO & Chief Creative Officer – South Asia Leo Burnett.

3. Dentsu India Elevates Amit Wadhwa to CEO – dentsu Creative India
Dentsu India has elevated Amit Wadhwa to CEO – dentsu Creative India. He will be responsible for the integration, co-ordination, and implementation of the overall strategy for dentsu Creative in the market. The network has also elevated Narayan Devanathan as President – Strategy & Integration for India, in addition to his current role as CEO, dentsu Solutions. Sidharth Rao, in addition to his current responsibilities, will now also be in charge of the brand dentsumcgarrybowen (dentsuMB) Group in India as its CEO. Shamsuddin Jasani, who continues to oversee the Isobar brand in South Asia as its Managing Director (MD), will also take on an additional role at dentsu Creative.

4. TikTok Allows Creators to Link to Third-Party Mini-Apps
TikTok has announced a new venture called TikTok Jump, which will allow creators to link to various mini-apps in their content including recipes, quizzes, and the ability to make restaurant reservations, all of which are built by third-party providers. Creators can link out to content from third-parties such as Wikipedia, BuzzFeed, Quizlet and others.  As reported by adage, the new feature shows TikTok is willing to work with other content providers to add value to its platform.
5. Golin Promotes Shouvik Prasanna Mukherjee as CCO, APAC
Interpublic Group agency, Golin has promoted Shouvik Prasanna Mukherjee as Chief Creative Officer for the APAC region. As per brandinginasia, he will oversee the firm's conceptual creators, graphic designers, and content production teams for the region. In addition to his new duties, he will continue to lead the Data, Analytics, and Content team in Singapore.