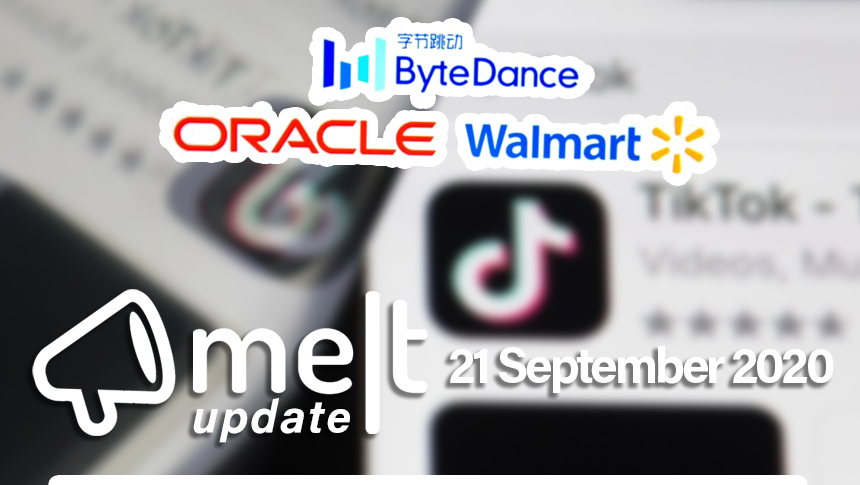 At Kyoorius, we're dealing with the coronavirus situation with the seriousness it deserves.
Therefore, we're doing what can be done remotely while keeping our followers informed on all that is happening in the world of media, advertising and marketing.
Consequently, till things improve, Melt in a Minute will change a bit.
The format will change from all video to a text-based post. A little more difficult to consume, but it's the best we can think of under the circumstances.
All of you, stay safe.
And stay informed with posts like this one.
Top Headlines Of The Day:
1. Oracle and Walmart To Acquire 20% of TikTok Global
Oracle and Walmart have agreed to acquire a 20% stake in TikTok's global business as part of a pre-IPO financing round, according to Forbes. While Oracle will acquire 12.5% of the video sharing platform, Walmart will have a 7.5% stake. As part of the deal, Oracle will serve as TikTok's "secure cloud technology provider" and Walmart will be a commercial partner by entering "into commercial agreements to provide e-commerce, fulfillment, payments and other omnichannel services to TikTok Global".


2. Apple To Launch Online Store In India This Week
Apple has announced the launch of its online store in India on 23 September 2020. The move will allow Indian customers to buy Apple products directly from the company for the first time. With the launch of the online store, customers in India will be able to shop Apple's full range of products and get expert advice and support from Apple Specialists. As reported by The Verge, India is becoming an increasingly important market for Apple. In recent years, Apple has started manufacturing some of its devices in the country. Foxconn started building the iPhone 11 near Chennai earlier this year and the company has made other iPhone models in India since as early as 2017.


3. ITC Sunfeast Partners With Royal Challengers Bangalore
ITC's Sunfeast, has partnered with Royal Challengers Bangalore for IPL 2020. As per The Economic Times, the brand will take forward its campaign, #ALotCanHappenInside in this tournament. Fans will also be able to relive the thrill of watching the match at a stadium, made virtually possible through filters which replicate the surroundings of a stadium and will be available on Sunfeast Dark Fantasy's Facebook page.