At Kyoorius, we're dealing with the coronavirus situation with the seriousness it deserves.
Therefore, we're doing what can be done remotely while keeping our followers informed on all that is happening in the world of media, advertising and marketing.
Consequently, till things improve, Melt in a Minute will change a bit.
The format will change from all video to a text-based post. A little more difficult to consume, but it's the best we can think of under the circumstances.
All of you, stay safe.
And stay informed with posts like this one.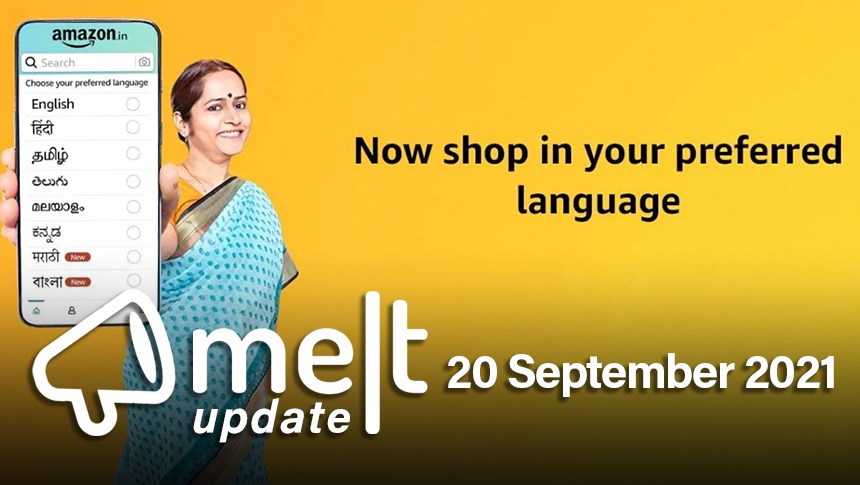 Top News:

1. Amazon India Expands Regional Language Offering with Marathi & Bengali
Ahead of the festive season, Amazon India has announced that customers can now access Amazon.in in Marathi and Bengali in addition to the five previously available languages – Hindi, English, Kannada, Malayalam, Tamil, and Telugu. In the coming weeks, Amazon.in will expand its regional language offering further with the launch of voice shopping experience in Hindi. These launches aim to break the language barrier and make e-commerce more accessible and convenient for millions of customers across India.
2. Shubhranshu Singh Exits Royal Enfield
Shubhranshu Singh, global head – marketing, Royal Enfield, is exiting the motorcycle manufacturing company. As per campaign India, he is currently in his notice period. Singh had joined Royal Enfield in 2018 from Star Sports where he was EVP and head – marketing. He has also had stints with Visa, HCL, HUL and Diageo.
3. Sanjay Pugalia Joins Adani Group as CEO & Editor-in-chief
Sanjay Pugalia has joined Adani Group to lead its foray into media. He has been named as CEO and editor-in-chief at Adani. According to campaign India, Sanjay moves from Quint Digital Media where he was president.
4.HBO Max Appoints Sugata Mukherjee as Head of Content India
WarnerMedia's HBO Max has appointed SonyLIV's Sugata Mukherjee as Head of Content for India. Mukherjee will join the video streaming service platform later this month, as noted by exchange4media.He joined Sony Pictures Networks India (SPN) in February 2020 as Head – Original Content, Digital Business.
5. Isobar Promotes Rahul Vengalil as Managing Partner
Isobar has promoted Rahul Vengalil to the role of Managing Partner. Rahul will report to Heeru Dingra, Chief Executive Officer (CEO), Isobar India group. As part of his new role, he will be responsible for building the business with creative & experience as the key focus for future growth.