At Kyoorius, we're dealing with the coronavirus situation with the seriousness it deserves.
Therefore, we're doing what can be done remotely while keeping our followers informed on all that is happening in the world of media, advertising and marketing.
Consequently, till things improve, Melt in a Minute will change a bit.
The format will change from all video to a text-based post. A little more difficult to consume, but it's the best we can think of under the circumstances.
All of you, stay safe.
And stay informed with posts like this one.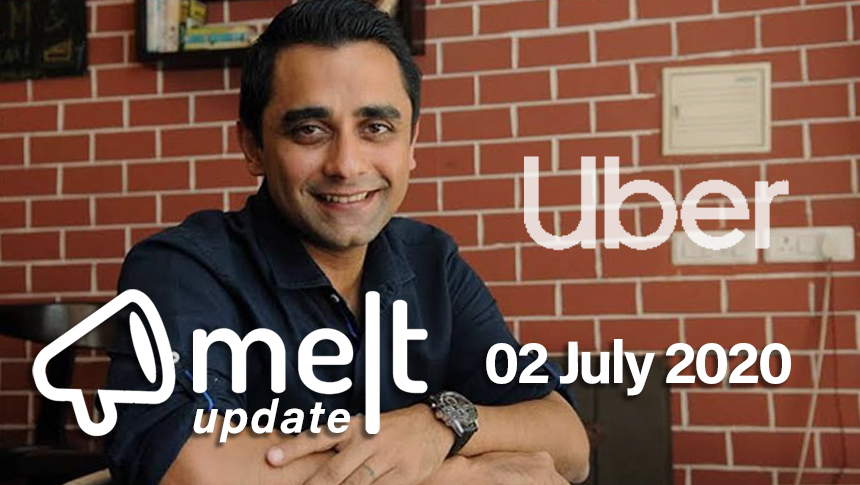 1. Uber Elevates Sanjay Gupta To Marketing Director, APAC
Uber has elevated Sanjay Gupta to the role of marketing director, APAC. Previously, Gupta was the global brand director for around a year in San Francisco. He had joined the company in 2017 as head of marketing, India & South Asia and was promoted to the position of marketing director, US & Canada in 2019. As noted by afaqs, he will be based out of Gurgaon.
2. Mahindra Group Appoints Amit Raje As EVP – Partnerships & Alliances
Mahindra Group has appointed Amit Raje as Executive Vice President – Partnerships & Alliances. As reported by exchange4media, Raje will be responsible for leading M&A and Investor Relations and will report to Dr Anish Shah, Deputy Managing Director and Group CFO, Mahindra Group. He joins Mahindra Group from Goldman Sachs, where he was Managing Director in the Principal Investing Area
3. HUL Renames 'Fair & Lovely' to 'Glow & Lovely'
Hindustan Unilever Limited (HUL) has renamed its skin care brand Fair & Lovely to "Glow & Lovely." As reported by livemint, the Men's range of Fair & Lovely will be called 'Glow & Handsome'. The product will be available in the next few months, the company said in a statement.
4. Kalyan Jewellers Appoints Anil S Nair As A Director On Its Board
Kalyan Jewellers has expanded its board of directors by adding two directors and a new CEO. Among the board of directors is Anil S Nair, former chief executive officer of L&K Saatchi & Saatchi. Nair is currently running Goodwind Mototours. As per campaign India, the company appointed Sanjay Raghuraman as its first chief executive officer and also inducted Salil Nair as a director on its board.
5. Bajaj Auto Promotes Narayan Sundaraman To Head Of Marketing
Narayan Sundaraman has been promoted to head of marketing at Bajaj Auto. He joined the company as vice president of marketing in the year 2018. As per afaqs, he will continue to be based out of Pune, Maharashtra. Prior to joining Bajaj Auto, Narayan worked at Star TV Network as general manager for nearly two years.