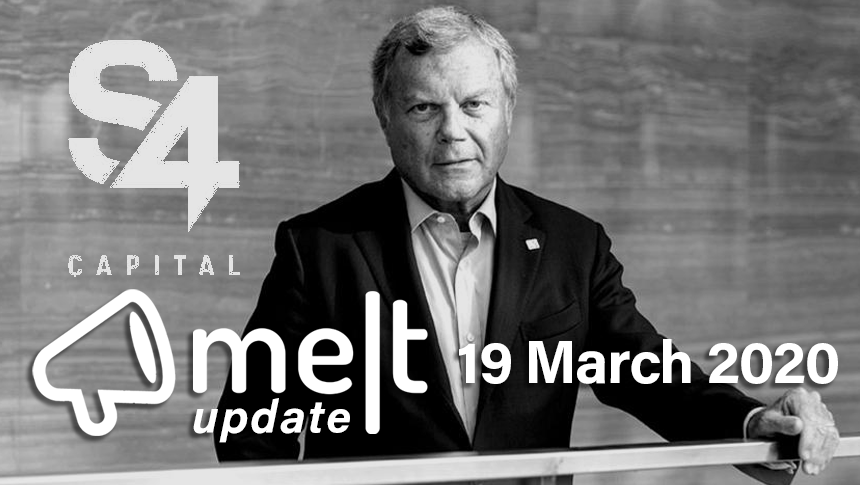 At Kyoorius, we're dealing with the coronavirus situation with the seriousness it deserves.
Therefore, we're doing what can be done remotely while keeping our followers informed on all that is happening in the world of media, advertising and marketing.
Consequently, till things improve, Melt in a Minute will change a bit.
The format will change from all video to a text-based post. A little more difficult to consume, but it's the best we can think of under the circumstances.
All of you, stay safe.
And stay informed with posts like this one.
Top Stories Of The Day:
1. S4 Capital Reports A Loss Of £10 million For 2019
Martin Sorrel's S4 Capital has reported a loss of £10 million for 2019 amid a 292% rise in revenue and 41% organic growth. Campaign India reports that the company's revenue grew from £54.8 million in 2018 to £215.1 million in 2019. Gross profit rose by 361% from £37.2 million to £171.3 million. The company reported an operating loss of £3.8 million, citing £35.0 million in acquisition expenses and amortisation and share-based compensation.
2. Whatsapp Launches Coronavirus Information Hub
WhatsApp has launched a Coronavirus Information Hub in partnership with World Health Organization, UNICEF, and UNDP. As noted by The Drum, the hub is aimed at health workers, educators, community leaders, nonprofits, local governments and local businesses, giving them simple and actionable guidance for communicating using WhatsApp. This is to ensure that truthful and helpful information are given to people during the crisis. Whatsapp is also working with the WHO and UNICEF on messaging hotlines that people can use to access reliable information from the hub.
3. AMFI Calls For Media Review For Account Worth Rs 400 Crore
The Association of Mutual Funds (AMFI) of India has called for a media review for its account worth Rs 400 crore, according to Exchange4media. The account is currently with denstu X, the integrated media agency from the house of Dentsu Aegis Network.  
4. TikTok Integrates Ad Offerings With The Trade Desk
TikTok is integrating its ad offerings with ad-tech platform, The Trade Desk to allow advertisers to directly access its premium inventory across Asia Pacific. Pepsico is the first client to access TikTok inventory through The Trade Desk. According to The Economic Times, the partnership will cover 11 Asia-Pacific markets including Southeast Asia, India, Australia, Japan as well as Russia. The partnership will also combine expertise in marketplace quality, blocking non-human impressions before they are purchased, thus ensuring brand safety.
5. Nihilent Acquires Hypercollective
Nihilent, a global consulting and services company has announced the acquisition of Hypercollective. As reported by Exchange4media, KV Sridhar, former Founder and Chief Creative Officer of Hypercollective will continue to look after all the creative initiatives at Nihilent and Hypercollective. With the acquisition, Nihilent will amplify its technology stacks by bridging the gap between technology, digital, spatial and creative.