At Kyoorius, we're dealing with the coronavirus situation with the seriousness it deserves.
Therefore, we're doing what can be done remotely while keeping our followers informed on all that is happening in the world of media, advertising and marketing.
Consequently, till things improve, Melt in a Minute will change a bit.
The format will change from all video to a text-based post. A little more difficult to consume, but it's the best we can think of under the circumstances.
All of you, stay safe.
And stay informed with posts like this one.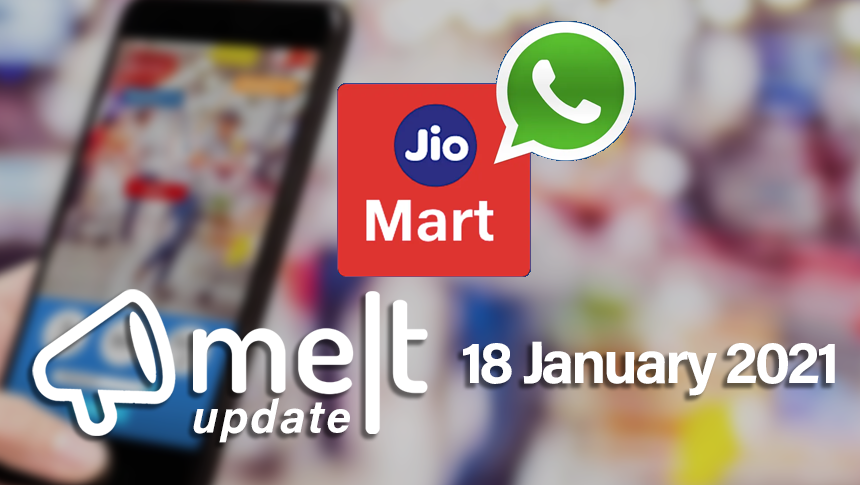 Top News:
1. Reliance Retail to Embed JioMart into Whatsapp
Reliance Retail plans to embed its e-commerce app JioMart into WhatsApp within six months, allowing users to order products without having to leave the app. As noted by livemint, the integration will allow JioMart catapult its reach across India, allowing Reliance Retail to pose a challenge to Flipkart and Amazon's domination in India's fast-growing online retail market. Reliance Retail is also on-boarding local kirana stores on its platform.
2. IT Committee Summons Facebook, Twitter Officials on 21 January 2020

The parliamentary standing committee on Information Technology (IT) has summoned officials of Facebook and Twitter in connection with the prevention of misuse of social media. According to Lok Sabha Secretariat notice, the agenda reads: "Evidence of representatives of Ministry of Electronics and Information Technology and to hear the views of the representatives of Facebook and Twitter on the subject 'Safeguarding citizens' rights and prevention of misuse of social/online news media platforms including special emphasis on women security in the digital space." As reported by The Economic Times, the sitting will be held from 4pm onwards on 21 January 2021.

3. Domino's Pizza Appoints Sarah Barron as CMO
Domino's Pizza has appointed Sarah Barron, as its new chief marketing officer, finally filling a vacancy created last February. She starts this month and takes over from Simon Wallis, who has been interim CMO in addition to international managing director. As per campaign live, Sarah joins from Costa Coffee where she was former chief growth officer.

4. Zydus Wellness Hands Media Duties to Wavemaker India

Wavemaker India has announced that Zydus Wellness, which includes the consumer wellness brands of Heinz India, has consolidated its media duties with them. Wavemaker India has been the media AOR for Zydus Wellness since 2013. As per exchange4media, the agency bagged the consolidated mandate following a multi-agency pitch.

5. Matrimony.com Appoints Arjun Bhatia as CMO
Matrimony.com has appointed Arjun Bhatia as Chief Marketing Officer. Bhatia moves from Samsung Electronics, where he was head of marketing for its e-commerce business. As per campaign India, He has also worked with IBM, Motorola and ITC.