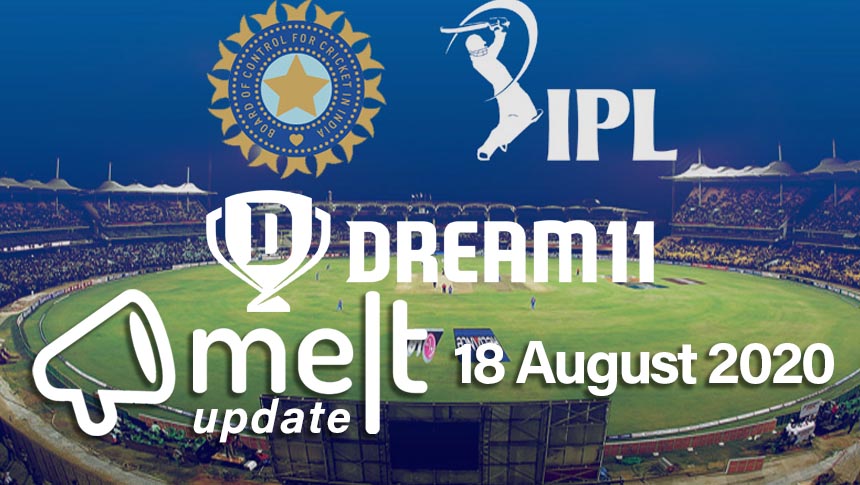 At Kyoorius, we're dealing with the coronavirus situation with the seriousness it deserves.
Therefore, we're doing what can be done remotely while keeping our followers informed on all that is happening in the world of media, advertising and marketing.
Consequently, till things improve, Melt in a Minute will change a bit.
The format will change from all video to a text-based post. A little more difficult to consume, but it's the best we can think of under the circumstances.
All of you, stay safe.
And stay informed with posts like this one.
Top News Of The Day:
1. Dream11 Wins IPL Title Sponsorship For Rs 222 crore
The Board of Control For Cricket in India has awarded the title sponsorship rights of IPL 2020 to fantasy cricket league platform, Dream11. As per exchange4media, Dream11 has bagged the deal for Rs 222 crore. BCCI opened the bid for title sponsorship after it suspended the deal with Vivo for the event's upcoming edition amid the Sino-India border face-off.

2. Subhash Chandra appointed Chairman Emeritus of ZEEL, R Gopalan Chairman of the Board
Subhash Chandra has been appointed as Chairman Emeritus of Zee Entertainment Enterprises Limited (ZEEL). According to moneycontrol, the appointment will be effective August 19, 2020. In addition, R Gopalan has been appointed as Chairman of the Board. Gopalan was appointed Additional Director, in the category of Independent Director, on November 25 last year.
3. Deloitte Acquires Spatial Access
Deloitte has acquired Spatial Access, a specialised advertising and marketing advisory and analytics firm set up by Meenakshi Menon. As per business insider, the move will augment Deloitte's advisory capabilities and enable brands to make more efficient advertising and marketing decisions. The company, however, did not disclose the financial details of the transaction.
4. Madison Media Bags Media Mandate of Weikfield
Madison Media has bagged the media mandate of Weikfield. The account was won in a multi-agency pitch and will be handled by Madison Media Sigma.  As noted by campaign India, the agency's mandate includes print, television, cinema, and outdoor.  Weikfield recently underwent a rebranding and had assigned its creative and digital mandate to Grey.
5. Gozoop Bags Digital Duties For Zee Zindagi
Gozoop had bagged the digital duties for Zee Zindagi. As part of the mandate, Gozoop will manage the brand's presence across social media and other digital platforms. As mentioned by The Economic Times, the mandate also entails Gozoop to strengthen the brand's digital presence and create new avenues for consumer engagement. This also includes providing communication strategies to strengthen brand awareness on digital platforms including social media and search engines.