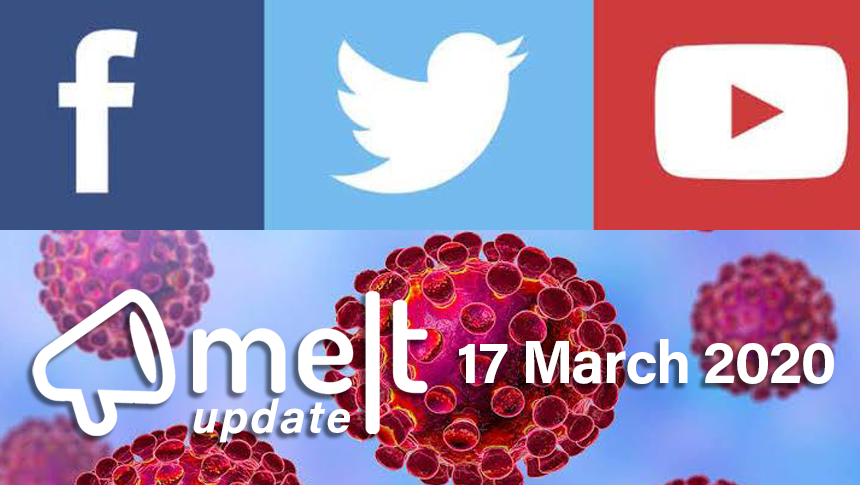 At Kyoorius, we're dealing with the coronavirus situation with the seriousness it deserves.
Therefore, we're doing what can be done remotely while keeping our followers informed on all that is happening in the world of media, advertising and marketing.
Consequently, till things improve, Melt in a Minute will change a bit.
The format will change from all video to a text-based post. A little more difficult to consume, but it's the best we can think of under the circumstances.
All of you, stay safe.
And stay informed with posts like this one.
Top Stories Of The Day:
1. Tech Giants Join Hands To Combat Coronavirus-related Fraud And Misinformation
Leading tech giants like Facebook, Google, LinkedIn, Microsoft, Reddit, Twitter and YouTube have joined hands in a commitment to fight coronavirus-related fraud and misinformation. Coronavirus-related misinformation has been running rampant on internet platforms since the outbreak began last December. These companies will be elevating authoritative content on their platforms and sharing critical updates in coordination with government healthcare agencies around the world. All seven companies sent out a joint statement announcing the effort.
Source: The Verge
2. Cannes Lions Staff Asked To Work From Home
Ascential, the parent company behind Cannes Lions, has told its staff to work from home amid the coronavirus outbreak. The call was made as organisers decide whether to keep the festival's June date or postpone the event until October. Cannes Lions has secured alternative dates of 26-30 October 2020 if it must shift the event due to changing circumstances. A final decision will be made no later than 15 April 2020.
Source: BrandingInAsia
3. Dabur Enters Sanitiser Market With Dabur Sanitize
Dabur has entered the sanitiser market amid the coronavirus outbreak. Dabur Sanitize was supposed to be launched next month but the coronavirus situation led to advancing the timelines. Dabur will now be competing with brands like Reckitt Benckiser's Dettol and HUL's Lifebuoy in the hand sanitiser market.
Source: The Economic Times
4. Cholayil Appoints Starcom And Digitas To Handle Media, Digital
Cholayil has roped in Starcom India as its media agency while Digitas India has been appointed to manage the digital communications mandate for the entire product portfolio under Cholayil. As part of the mandate, Starcom will manage strategy and media planning and buying across media platforms while Digitas will provide digital marketing services for Cholayil brands such as Medimix, Cuticura, and Krishna Thulasi.
Source: Exchange4media
5. Paytm Appoints Premanshu Singh As Senior Vice President
Paytm has appointed Premanshu Singh as Senior Vice President. He will have a business role in financial services vertical within Paytm. Prior to this, Singh was the CEO of Coverfox for about three years. He has also served as Head of Marketing at Practo and head of Emerging Business, Sales Strategy and International at Shaadi.com. He would report to Amit Nayyar, President- Paytm.
Source: afaqs!