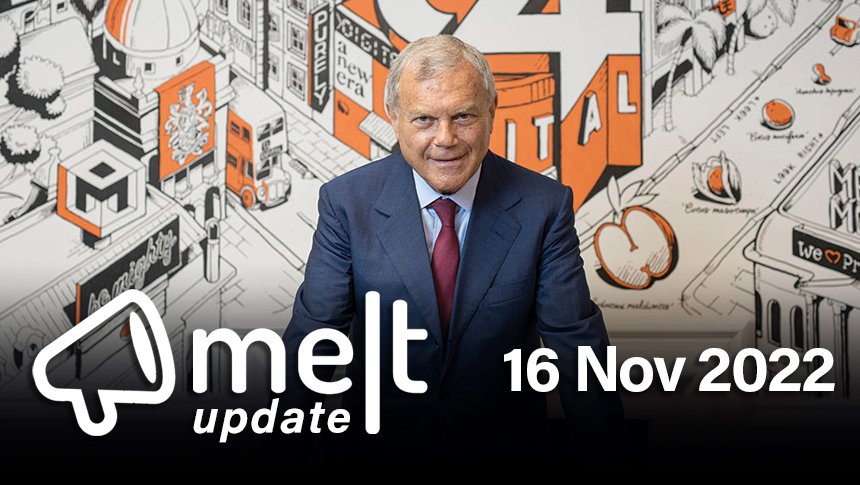 Top News:
1. S4 Capital: Q3'22 Results: Gross profits up 73%
S4 Capital released its Q3 2022 results showing like-for-like gross profit/net revenue up over 29%. Overall, Q3 billings were up 51% at £484mn ($576mn) while revenue was up 68% to £300mn ($357mn) and gross profits were 73% higher at £250mn ($298mn).
2. Dentsu India records 10% organic growth in Jan-Sep '22
Dentsu's India business has reported over 10% organic growth between January and September 2022. Overall, the APAC region, excluding Japan, grew by 2.7% and contributed 10% to the net revenue of Dentsu, between January and September 2022.
3. ASCI: 14% rise in number of complaints
In its half-yearly complaints report, as compared to 2021-22, ASCI saw a 14% rise in the number of complaints and a 35% increase in the number of ads processed. About 16% of the total complaints recorded were from consumers, followed by 15% from the government,
4. ENIL acquires minority stake in Spardha
Entertainment Network India Ltd (ENIL), which operates leading FM radio brand Mirchi, has acquired a significant minority stake in music e-learning startup Spardha in a bid to strengthen its digital transformation as a mobile-first entertainment brand.
5. Google Play adds UPI autopay for subscription-based purchases
Google Play said that it was introducing UPI Autopay as a payment option for subscription-based purchases in India. Google Play's decision comes shortly after India's antitrust watchdog recently ruled against Google in two cases.