At Kyoorius, we're dealing with the coronavirus situation with the seriousness it deserves.
Therefore, we're doing what can be done remotely while keeping our followers informed on all that is happening in the world of media, advertising and marketing.
Consequently, till things improve, Melt in a Minute will change a bit.
The format will change from all video to a text-based post. A little more difficult to consume, but it's the best we can think of under the circumstances.
All of you, stay safe.
And stay informed with posts like this one.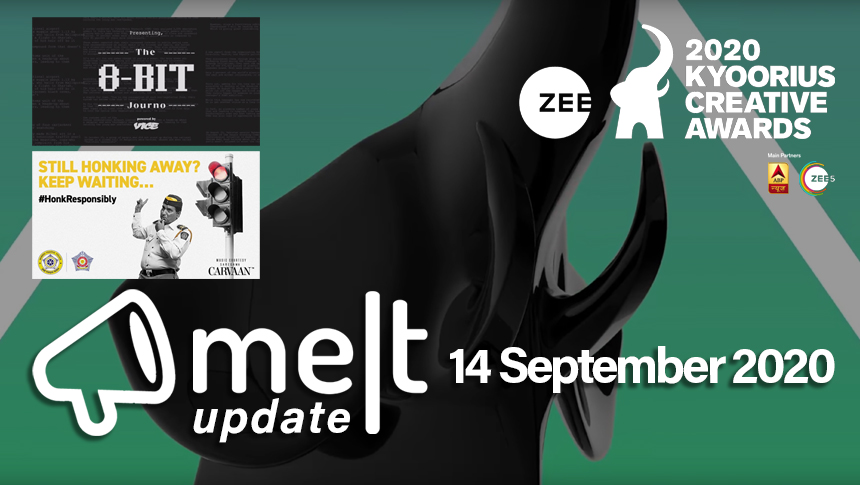 Top Headlines Of The Day:
1. Kyoorius Announces Winners For 2020 Kyoorius Creative Awards
The 7th edition of the Kyoorius Creative Awards, sponsored by ZEE Entertainment Enterprises, concluded last Saturday on 12 September 2020. Held virtually this year, over 100 Blue Elephants were awarded. Two prestigious Black Elephants were awarded to "The 8-Bit Journo" by Dentsu Webchutney for Vice Media and "The Punishing Signal" by FCBIndia for the Mumbai Police. All the winning work can be seen at awards.kyoorius.com.

2. Facebook Appoints Arun Srinivas As Director, Global Business Group
Facebook has appointed Arun Srinivas as director of its global business group. As per campaign India, Srinivas will lead the strategy and delivery of the India Marketing Solutions charter that focuses on large advertisers and agencies. He will have the company's key business vertical teams, agency teams, and business solutions teams reporting into him. He moves from Ola where he was chief operating officer and global chief marketing officer, OLA Mobility.

3. Tata Motors Altroz Becomes Official Partner For IPL 2020
Continuing its association for the third consecutive year with the Board of Control for Cricket India (BCCI), Tata Motors Altroz has become official partner of the tournament. According to The Economic Times, Tata Motors will showcase the car in the stadium at all three venues in the UAE. The Altroz follows in the path of the Nexon and the Harrier, both of which have been the tournament's official partners during the 2018 and the 2019 seasons respectively.

4. Amazon To Hire 100,000 People To Keep Up With Online Orders
Amazon has announced that it will be hiring another 100,000 people to keep up with a surge of online orders. As noted by livemint, the new hires will be for both part-time and full-time roles. Earlier this year, the company had already hired 175,000 people to keep up with the rush of orders.