At Kyoorius, we're dealing with the coronavirus situation with the seriousness it deserves.
Therefore, we're doing what can be done remotely while keeping our followers informed on all that is happening in the world of media, advertising and marketing.
Consequently, till things improve, Melt in a Minute will change a bit.
The format will change from all video to a text-based post. A little more difficult to consume, but it's the best we can think of under the circumstances.
All of you, stay safe.
And stay informed with posts like this one.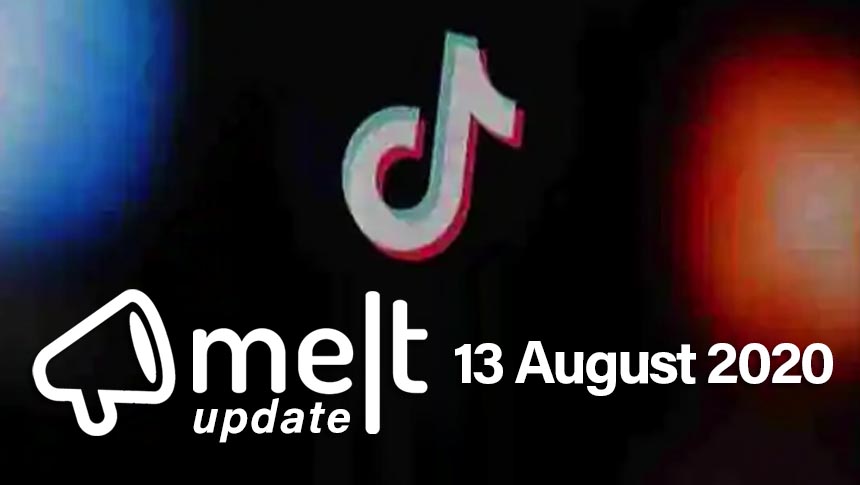 Top Headlines Of The Day:
1. TikTok In Talks With Reliance Industries To Re-launch TikTok In India
ByteDance, the parent company of TikTok, is reportedly in early-stage discussions to source investment from Reliance Industries in a move that could allow it to re-launch TikTok in India. According to a TechCrunch report, ByteDance and Reliance Industries began conversations about a deal in late July. The report goes on to suggest that TikTok's business in India is being valued at more than US$3 billion. Meanwhile, Microsoft is also in talks with the Chinese tech firm over an acquisition of TikTok's international business.
2. INOX Group Becomes Official Sponsor For Indian Olympic Team For Tokyo 2020
The Indian Olympic Association (IOA) and INOX Group have announced a new partnership, as reported by exchange4media. The partnership will see INOX Group as the official sponsor of the Indian Olympic Team for the Olympic Games Tokyo 2020. In addition, the partnership will support Team India's promotions through the Group's entertainment company, INOX Leisure Limited, allowing a larger audience to experience and identify the spirit of "Ek India Team India" at its multiplex properties around the country.
3. Havas Media Group Appoints Sanchita Roy As Head Of West India
Havas Media Group has appointed Sanchita Roy as head of West India.  As noted by campaign India, Roy moves from Omnicom Media Group where she was head – business intelligence. At Havas, she will be responsible for the overall management and growth of Mumbai as well as the Western operations. She will report to Uday Mohan, managing partner, North and West India.
4. BharatPe Appoints Suhail Sameer As Group President
BharatPe has appointed Suhail Sameer as Group President. Sameer along with CEO & Co-Founder Ashneer Grover will have the overall responsibility for building the organization, merchant network, business, and revenue. As per exchange4media, Suhail Sameer is the first Group President at BharatPe and will have all the CXOs report into him. He is also the Managing Partner at OTP Venture Partners, which invests in early-stage companies across consumer, consumer tech, and SaaS spaces.
5. Gozoop Elevates Amyn Ghadiali As VP – Business & Strategy
Gozoop has elevated Amyn Ghadiali to the role of vice president – business and strategy. Ghadiali was director of strategy prior.  As mentioned by campaign India, he will continue to be based in Mumbai and report to Ahmed Aftab Naqvi, CEO, Gozoop. Ghadiali had joined Gozoop in 2012 as account manager. He moved out in 2014 and returned in 2016 as group director – brand communications.