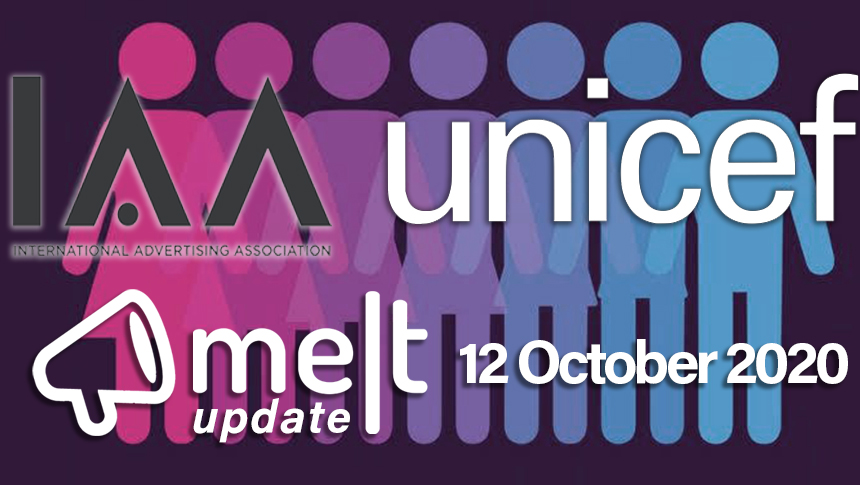 At Kyoorius, we're dealing with the coronavirus situation with the seriousness it deserves.
Therefore, we're doing what can be done remotely while keeping our followers informed on all that is happening in the world of media, advertising and marketing.
Consequently, till things improve, Melt in a Minute will change a bit.
The format will change from all video to a text-based post. A little more difficult to consume, but it's the best we can think of under the circumstances.
All of you, stay safe.
And stay informed with posts like this one.
Top News Today:
1. IAA Partners With UNICEF For Research On Advertising Gender Representation
The India chapter of the International Advertising Association (IAA) has partnered with UNICEF to conduct a gender representation study with regards to advertisements in India. This is based on the thought that marketing shapes gender roles and perceptions and advertising is an important tool that can influence women empowerment. As reported by campaign India, the IAA and UNICEF will research gender representation and stereotypes in TV and digital advertisements in India, specifically those targeted towards children, adolescents and caregivers.


2. Facebook Appoints Sunil Abraham As Director-Public Policy For Data & Emerging Tech, India
Facebook has appointed Sunil Abraham as the director-public policy for data and emerging tech. As reported by livemint, he will lead the company's stance on tech policy issues in India. Reporting to Ankhi Das, public policy director, Facebook-India, South & Central Asia, Abraham will be responsible for building partnerships and engagements with key stakeholders in public policy area of data privacy, consumer protection, and AI-led innovation for new products and services.

3. Walmart Elevates Nilofer D'Souza As Senior Manager, Global Communications
Walmart has strengthened its global communications in India by elevating Nilofer D'Souza as Senior Manager, Global Communications. Based out of Bangalore, she will report to Blake Jackson, Senior Director for Global Communications, Walmart. As per exchange4media, D'Souza was working as Manager, Communications, where she was handling internal communications and associate engagement for the global workforce at Walmart Inc. Prior to joining Walmart, she worked with Wipro Limited on special projects as Consultant.

4. Microsoft Expands Work-From-Home Policy
Microsoft has decided to expand its work-from-home policy and make it permanent for some workers. The company has released the new "hybrid workplace" guidance that lays out how employees can have a more flexible remote work schedule and even relocate elsewhere in the country, while it continues to adjust to changing needs during the ongoing pandemic. As noted by livemint, Microsoft will allow employees to work from home freely for less than 50 per cent of their working week, and managers will be able to approve permanent remote work.

5. Havas Group India Bags Creative & Media Mandate For JBL And Harman Kardon
Havas Group India has bagged creative & media mandate for JBL and Harman Kardon. As part of the relationship, the agency will be responsible for the integrated creative, digital strategy, and overall media buying and planning for both offline and online mediums. According to exchange4media, Havas Creative won the mandate for Infinity by Harman, last year. With this win, Havas Creative India becomes the creative agency partner for all of Harman's consumer brands – JBL, Harman Kardon and Infinity.