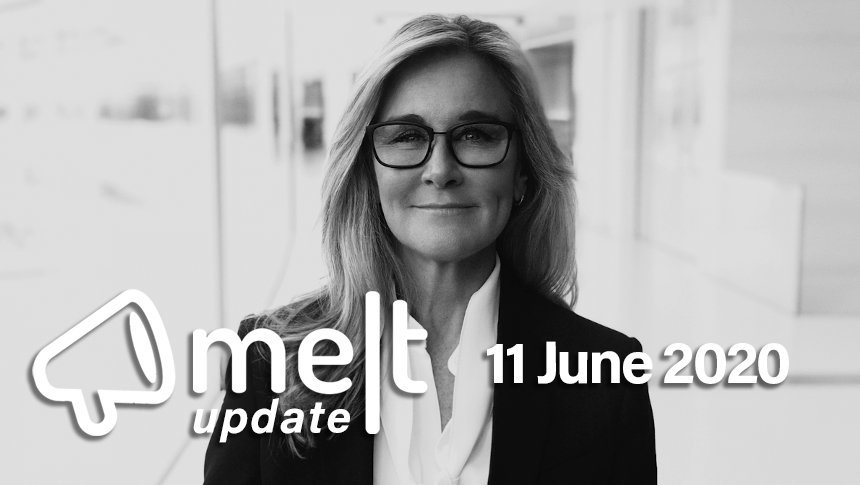 At Kyoorius, we're dealing with the coronavirus situation with the seriousness it deserves.
Therefore, we're doing what can be done remotely while keeping our followers informed on all that is happening in the world of media, advertising and marketing.
Consequently, till things improve, Melt in a Minute will change a bit.
The format will change from all video to a text-based post. A little more difficult to consume, but it's the best we can think of under the circumstances.
All of you, stay safe.
And stay informed with posts like this one.
Top News Today:
WPP Ropes In Angela Ahrendts DBE As Non-Executive Director
WPP has appointed Angela Ahrendts DBE to its Board as a Non-Executive Director, according to Financial Times. Her appointment will be effective from 1 July 2020. Angela joins from Apple where was Senior Vice President, Retail from May 2014 to April 2019. Before that, she was CEO at Burberry from 2006 to 2014.


Uber Appoints Pradeep Parameswaran As Regional General Manager, APAC

Uber has appointed Pradeep Parameswaran as the regional general manager of its Asia Pacific region operations. Currently, Parameswaran is serving as the President of Uber India and South Asia and manages markets like India, Bangladesh and Sri Lanka. His new role will begin on 19 June 2020 and he will be tasked to improve Uber's presence in nine nations across Asia Pacific. As reported by TechCrunch, Parameswaran will also be moving to Uber's yet-to-be named new headquarter in APAC.

L&K Saatchi & Saatchi India Appoints Atin Wahal As EVP

L&K Saatchi & Saatchi India has appointed Atin Wahal as executive vice president – North and East India. As per campaign India, Wahal moves from BBDO where he was EVP, prior to which he was SVP at Publicis Ambience. He takes over from Devraj Basu who has moved on from the agency. 
Eros International Appoints Shikha Kapur As CEO

Eros International has appointed Shikha Kapur as its chief operating officer, as noted by afaqs. In this role, she will be taking care of Content Marketing Strategy. Before joining Eros Media, Shikha was working with The Walt Disney Company as business head. Shikha was also the chief marketing officer at Fox Star Studios for around 5 years.

Piyali Chatterjee Joins Hansa Research As SVP And National Head
Hansa Research has appointed Piyali Chatterjee as senior vice president and national head for its customer experience practice. As mentioned by Campaign India, she moves from Kantar where she was EVP and CX domain expert – South Asia.