At Kyoorius, we're dealing with the coronavirus situation with the seriousness it deserves.
Therefore, we're doing what can be done remotely while keeping our followers informed on all that is happening in the world of media, advertising and marketing.
Consequently, till things improve, Melt in a Minute will change a bit.
The format will change from all video to a text-based post. A little more difficult to consume, but it's the best we can think of under the circumstances.
All of you, stay safe.
And stay informed with posts like this one.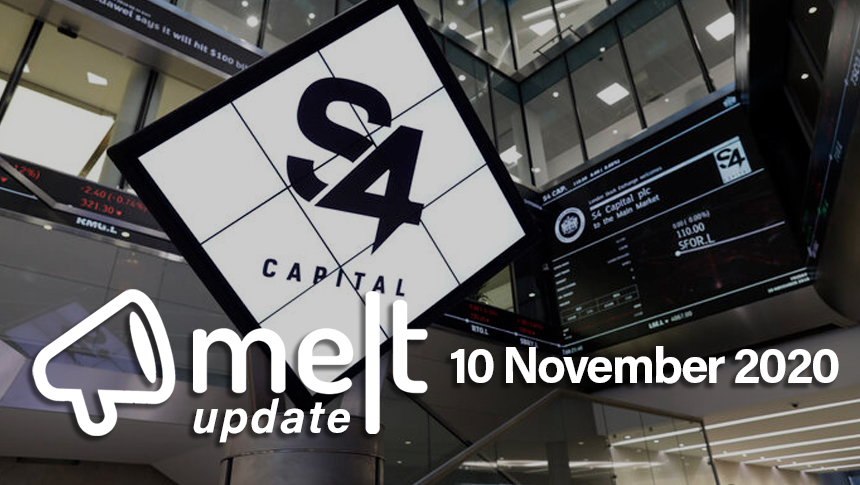 Top Headlines Today:
1. S4 Capital Sees Strong Third Quarter Growth

Sir Martin Sorrell's S4 Capital, has reported a strong 23% growth in organic revenue for the third quarter of 2020. Revenue was up almost 53% to £86.4 million, and gross profit up almost 79% to £75.3 million. In Asia Pacific, gross profit was up almost 83% to £7.3 million in the third quarter and up over 26% like-for-like. As per campaign Asia, the company also reported new clients such as T-Mobile, Hasbro, Fidelity, Whirlpool, Shopify and more.


2. Amazon Prime Video Acquires Territory Rights For New Zealand Cricket
Amazon Prime Video has announced its first foray into live sports in India, with the acquisition of India territory rights for New Zealand Cricket through 2025/26. With this announcement, Amazon Prime Video becomes the first Indian streaming service to secure exclusive live cricket rights from a major cricketing board. As per afaqs, the deal covers all international matches to be played in New Zealand till end of 2025-2026 season, including when Team India tours New Zealand in early 2022.


3. Dentsu International Partners With Netcore To Create 'ProfitWheel'
Dentsu International has partnered with omni-channel marketing technology platform, Netcore Solutions, to create an industry-first technology platform, 'ProfitWheel'. Under this collaboration, dentsu will bring its 'dentsu Marketing Cloud' to the table while Netcore will bring forth its Intelligent Personalisation & Customer Engagement SaaS Platform, 'Netcore Smartech'. As per The Economic Times, the intent of this partnership is to unite the adtech and martech worlds, signalling the rise of the MAD-Tech era.


4. Lenskart.com Appoints Hitesh Malhotra As CMO
Lenskart.com has appointed Hitesh Malhotra as the new chief marketing officer, as reported by afaqs. Before this, he was with Nykaa, as chief marketer for over five years. Malhotra has also worked for brands such as Levi Strauss & Co, MakeMyTrip.com, and MSLGROUP India.


5. Cheil Worldwide Launches GETTT
Cheil Worldwide has launched an e-commerce platform named GETTT in South Korea. The site, which stands for 'GET The Taste', aims to offer users a new type of online retail in which they're able to experience various products and find their own taste through a rental service. As reported by The Economic Times, consumers can rent a product and switch to purchase if they like it. It is unclear if Cheil is extending the offering to the Indian market.