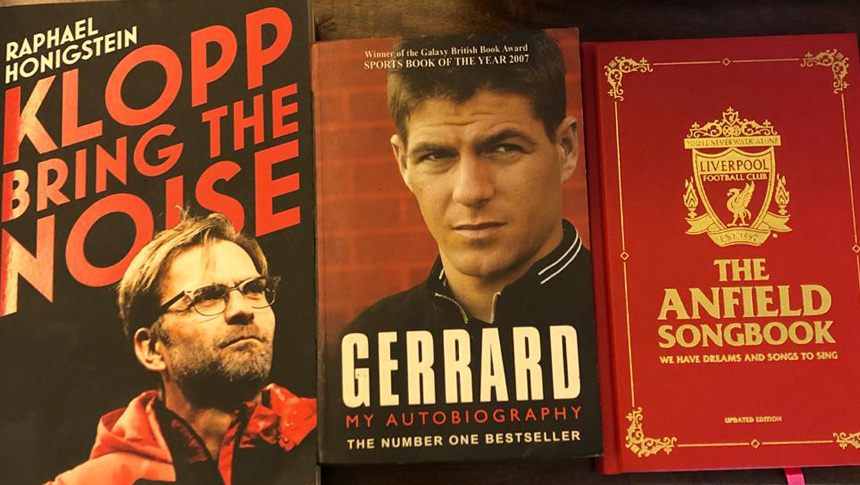 The photo above shows you three books from my collection. One is a book on Jurgen Klopp, the manager of Liverpool Football Club. Another is the autobiography of Steven Gerrard, the inspirational former captain of the club. And the third is a book of songs that have been bellowed over the years by Liverpool fans.
In a sense, the three books represent the ecosystem of sports: Klopp represents management, Gerrard represents the players and the songs represents the fans.
For sport in the modern era to succeed, the entire ecosystem is required.
Last weekend, the first big football matches post the spread of the Coronavirus were played.
The Bundesliga, the premier league of Germany, resumed.
And they resumed behind closed doors with no spectators.
I watched four matches over the weekend, primarily because I was turkeying for my football fix.
And, as I watched the matches, it was easy to get distracted and move on to something else, not something that could happen when I was watching live football in pre-Coronavirus times.
The players were there, the management was there – but the fans were missing.
The NOISE was missing.
As a consequence, the involvement of the viewer on TV comes down a notch. Or two. Or three.
In India, a desperate BCCI (and perhaps an equally desperate STAR TV, the owner of the rights to the IPL) is hoping and (lobbying?) for permission to restart the IPL even behind closed doors.
In yesterday's announcement of the continuation of the lockdown, innocuously slipped into the details was the permission to reopen sports stadia.
Even if the next point said that sports would continue to be disallowed, it shone a chink of light on the possibility of the IPL taking place.
And I do not think it's a great idea.
Empty stadiums – and silent stadiums – do not make for great viewing.
In their desperation not to lose the season, the net gain could be an IPL with significantly lower viewership compared to the last season – and that could have serious implications on the next season.
Rather than risk such an outcome, forget this season. While the strong, moneyed and influential football lobby has been able to pressurize many governments to consider or allow the resumption of the game, there are many sports and sporting events that have decided to forget resumption for the time being, ignoring the likely financial losses. Tennis, golf and F1 racing are three such.
And, of course, the Tokyo Olympic games.
They've understood that hosting such large events without the spectators could be more damaging to the brand than not hosting the event at all.
Because the NOISE would be missing.
The noise of the fans is what enters popular culture, is what builds loyalty for a sport, is what becomes the eyeballs that media monetizes and brands ride on.
Hold the sporting event if you can bring the noise.
Till then, hold your peace.