This week, Ritwika Gupta is taking a closer look at Diwali ads by HP India, Amazon India and Amazon Prime Video.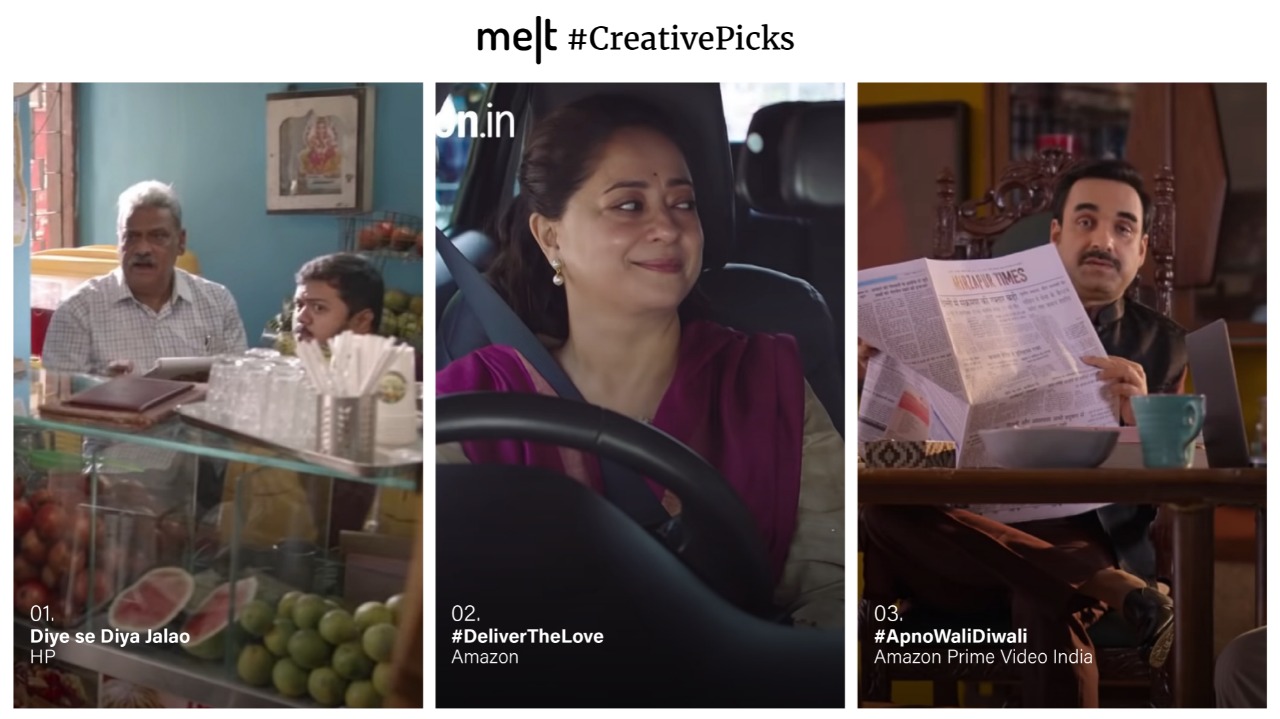 Brand: HP
HP India's Diwali ad stood out for me this year because it shows how technology can help smaller businesses that suffered due to the pandemic. Titled Diye Se Diya Jalao, the ad features Patel, an old juice shop owner, who is worried about his shop being moved from a key location in a crowded market to a secluded narrow lane. Patel says that the last year was tough for all businesses, including his, due to the COVID pandemic. The ad then shows how Patel is taken by surprise when there is a long queue outside his shop one morning. He then finds out that the owners of the nearby salon, restaurant and apparel store have provided a helping hand to him by ordering juice for their customers from his shop. In trying times, empathy and compassion can go a long way in reclaiming celebration this festive season. The ad wonderfully highlights how the true celebration of the festival of lights is in supporting those around you.

Campaign: Diye se Diya Jalao
Agency: Studio Simple
---
Brand: Amazon
Amazon India has launched the second edition of its digital campaign #DeliverThanks for Diwali to encourage customers to share messages of happiness. The ad aims to show appreciation for its frontline teams who ensure safe and timely delivery of their 'Khushiyon ke dibbe'. The ad encourages customers to get creative and paste a 'Thank You' note or poster at their doorstep for delivery associates or on their social media channels. The film narrates the story of a kid who puts an effort to create a poster to thank the people at Amazon who ensure that his festive order reaches him safely and on time, and highlights the associates who picked, packed and delivered his order. The video ends with a montage of several thank you posters, giving a lead to the customers to participate in the #DeliverThanks campaign. In another ad, Amazon India expresses gratitude towards strangers who offered help during India's second wave of Covid earlier this year. This one focuses on the act of remembering unsung Covid heroes during the festival. Dubbing such strangers as 'special family', the ad is a part of the brand's #DeliverTheLove campaign which shows a mother-son duo personally delivering a gift to one such person. Both ads struck a chord with me and I felt these are real and heartfelt attempts by the brand to urge customers to deliver love and thanks during Diwali.
Campaign: #DeliverTheLove / #DeliverThanks
Agency: Organic by MSL
---
Brand: Amazon Prime Video India
Another one from the Amazon family – the 3rd Diwali ad which I liked this year is by Amazon Prime Video India. The streaming platform has launched a festive campaign, in which it urges customers to press the pause button on Prime Video content and celebrate Diwali with their family and friends. There are two ads in this campaign led by Prime Video's iconic characters, Kaleen Bhaiyya (of Mirzapur fame), played by Pankaj Tripathi and Siddhi (of Four More Shots Please! fame), played by Maanvi Gagroo. It's pretty interesting that instead of promoting Diwali special content on the platform, Prime Video is encouraging users to take a moment to reconnect with their loved ones. The campaign is a sweet reminder that Prime Video and the world of stories and characters are always going to be around, but people shouldn't miss the opportunity to celebrate the festive season with their loved ones. Pankaj Tripathi puts a smile on your face each time he appears on screen. Overall, the ad is funny, entertaining with a simple message to celebrate Diwali with loved ones.  
Campaign: #ApnoWaliDiwali
Created by: Big Momma Productions