While CaratLane shares ideas on how to give the best gifts, Tiger Shroff pulls off a Heist with Pepsi and Google positions itself as an 'elder' one in the family protecting us from cyber scams and attacks. These are the ads Ritwika Gupta enjoyed this week –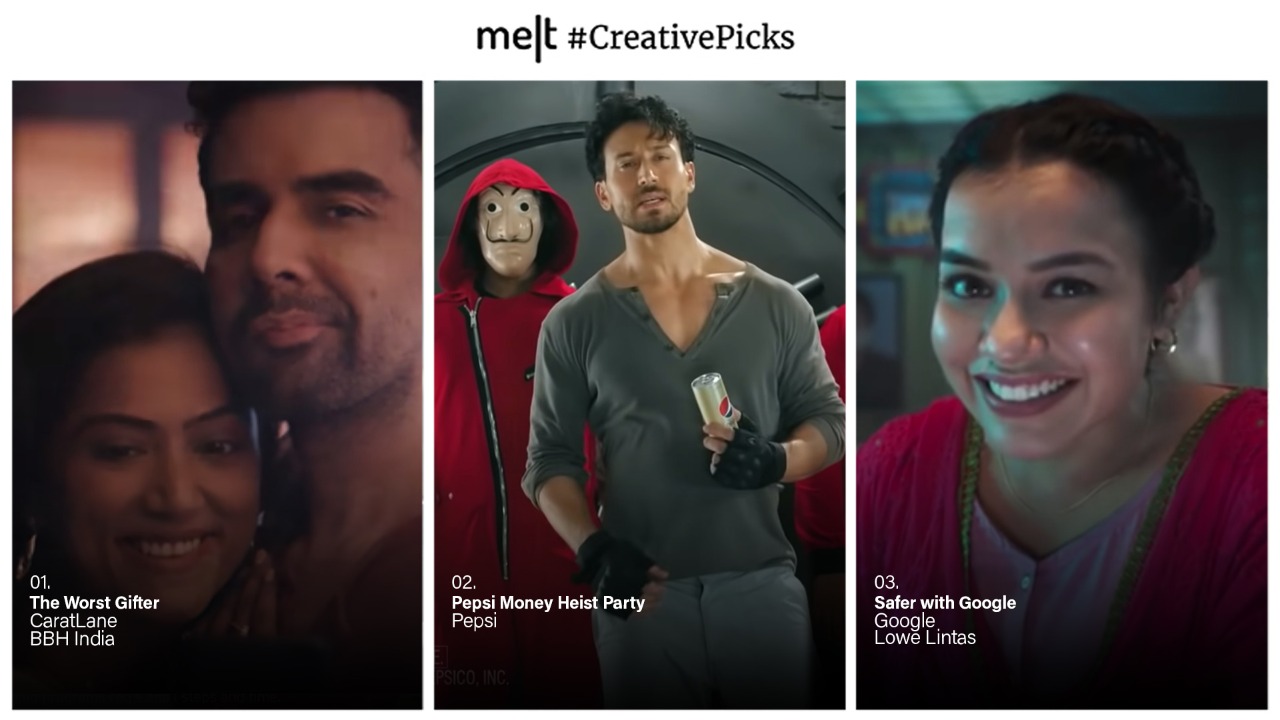 Brand: CaratLane
CaratLane has launched a new ad that traces the journey of a husband and wife who are about to celebrate their 4th anniversary. For the last 3 years, the husband has been gifting his wife random things such as a weird T-shirt and a hand mixer. This year, however, he decides to approach his group of friends for suggestions and CaratLane (as recommended by one of his females friends) comes to rescue. He finally manages to gift his wife something a little more special. The ad's got the right amount of humour and it is a refreshing take on jewellery gifting. It is interesting to note that one of his female friends in his group suggested CaratLane. (Perhaps because women would know better about jewellery gifting for special occasions?) While the ad is a light take on husbands and their penchant for odd gifts, it also manages to highlight the merits of purchasing from CaratLane. We get a peek into the brand's range of jewellery along with other benefits such as home trials. The ad overall emphasises that gifting a piece of jewellery has indeed one of the highest emotional payoffs. It is sweet and well-time for the upcoming festive season.
Campaign: The Worst Gifter
Agency: BBH India
---
Brand: Pepsi
Money Heist Season Finale is finally out on Netflix and the streaming platform is going all out to promote the release of the new season. Netflix has partnered with Pepsi for the first time in India and unveiled a limited edition set of golden cans and packs inspired by the series. Pepsi has released a high-octane film, featuring Tiger Shroff, who is sent on a mission by 'Professor' to retrieve the missing golden cans and packs. Obviously, Tiger Shroff completes the mission and successfully recovers those cans. The ad is entertaining and who better than Tiger Shroff to pull off a heist (especially with those sophisticated action sequences)? Getting 'Professor' to cameo in the ad was also a clever idea. Guess it is the only time we'll ever hear him speak in Hindi. I like how Pepsi, as always, is trying to reach out to consumers through moments and platforms most relevant to them. Money Heist has garnered a following of its own and fans of the show will probably want to get their hands on the golden can. The production quality, action sequences and overall vibe of the film felt nothing less than a mainstream blockbuster. Overall, it's entertaining, promotes the show while giving viewers a chance to attend a virtual party and get their hands on those golden cans.
Campaign: Pepsi Money Heist Party
---
Brand: Google
Google's latest ad campaign puts privacy in the spotlight. The campaign features entrepreneurs and SME business owners, who are shown using Google Tools to carry out daily tasks pertaining to their business. The ads also highlight how Google Tools keep them safe from scams and phishing attacks. There are three ads in the series which tell the story of an accountant, a travel agency owner and a restaurant owner, respectively. All of them are advised by their elders to be vigilant. And as we know, the internet is filled with scam emails and phishing attacks but with Google Tools, one can be safe from these malicious attacks. The campaign feels right at the moment as more and more people are taking to digital and using internet during the lockdown and remote work structures. But what really stood out for me was that the campaign gives Google a human quality. Just like how we trust that our elders will protect us from harm, Google positions itself as the 'elder' one in the online space that will also protect us from falling prey to attacks. I also liked that the ad covers men and women from all backgrounds, making it relatable for viewers across the country. The ads are easy to understand and convey Google's significant position in a business owner's life.
Campaign: Safer with Google
Agency: Lowe Lintas