While Adobe's new Premiere Pro ad takes you to a fantastical world, Apple's new ad personifies the daily nudges and motivations that Apple watch provides. Meanwhile, Licious' ad featuring Anil Kapoor and Arjun Kapoor strikes a chord with meat lovers. Here are the 3 advertisements Ritwika Gupta enjoyed this week: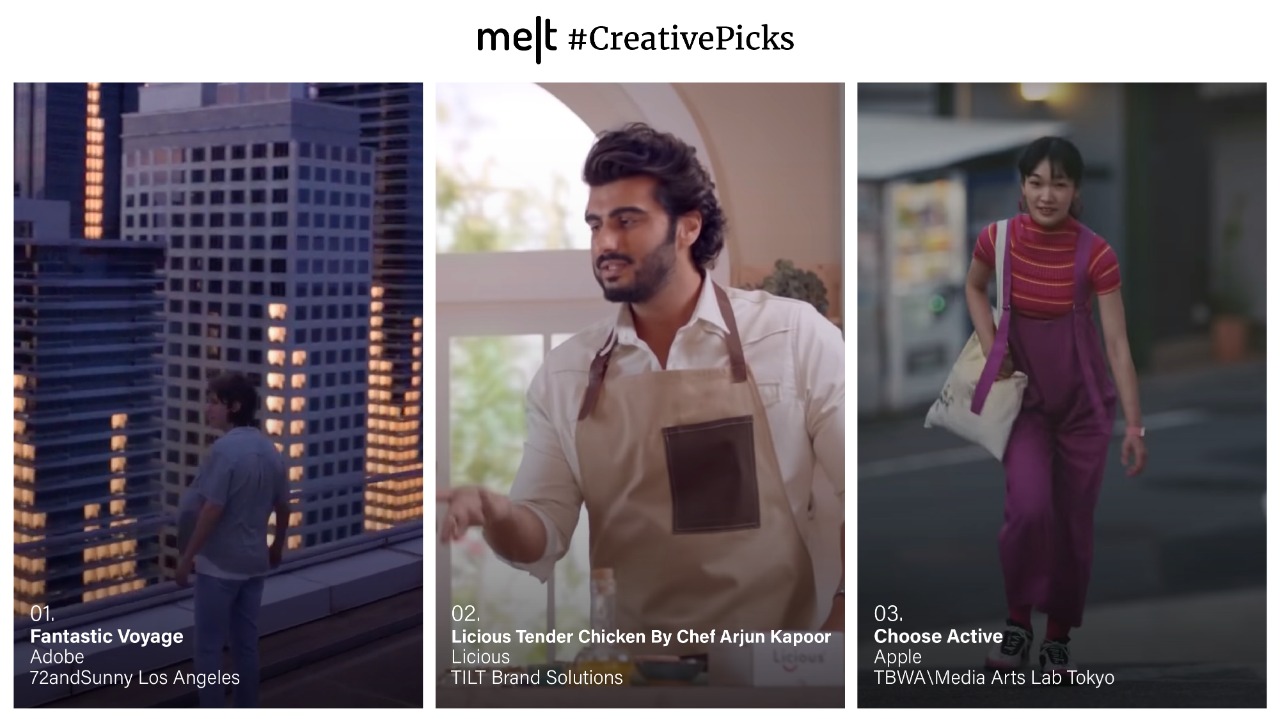 Brand: Adobe
Adobe has just released its first-ever commercial for Premiere Pro. Titled Fantastic Voyage, the one-minute ad follows a creator who uses imagination and Adobe Premiere Pro to transform a night at home into a night full of adventure, highlighting the endless possibilities of storytelling using the software. We see a guy traveling through a pulsating metropolis to a botanical wonderland and even outer space. The ad is magical and beautifully shows what all is possible with Premiere Pro. Escapism is a tried and tested formula in TV advertising. It helps marketers establish brands as heroes. This one too provides a good escape into a fantastical world where anything is possible with Premiere Pro. The ad's a visual delight and grabs your attention instantly. On a side note, it'll be fun to see a tutorial on how Adobe created this ad, step-by-step using Premiere Pro.
Campaign: Fantastic Voyage
Agency: 72andSunny Los Angeles
---
Brand: Licious
Licious has released a new ad starring Anil Kapoor and Arjun Kapoor for the brand's new campaign targeted at meat lovers. The light-hearted film shows the duo bonding over cooking, sharing some fish-fry and tangdi kebab and overall having a great time. The ad especially works because of the choice of actors, driven by their personal connect and chemistry. Anil Kapoor and Arjun Kapoor portray the many hang-ups or 'nakhras' that meat lovers have. Only meat-lovers will understand the immense satisfaction of creating a dish that is heart-warming. Their love for chicken and fish definitely struck a chord with me. As usual, Anil Kapoor projects the high-octane energy, leaving us with a big smile. The spot also comes at a time when ordering hygienic, fresh and safe meat is more important now than ever before. The ad is hilarious and fun to watch.
Campaign: Licious Tender Chicken by chef Arjun Kapoor
Agency: TILT Brand Solutions
---
Brand: Apple
Apple has released a new ad "Choose Active" which personifies the daily nudges and motivations the watch provides to help users stay fit and active. The spot follows the day in the lives of three characters where every time someone is confronted with two choices, the hand wearing the Apple Watch pulls them towards the active path. I loved the fast paced, raw energy and the entire vibe of the film. The whole magnetic 'pull' factor is also cleverly incorporated in the spot. The ad captivates you from the very start. Expanding on the concept introduced in 2019, the new campaign showcases the new Apple Watch Series 6, and highlights some of the most iconic features like Sleep, Activity Rings, and Workout. In this ad, Apple has successfully managed to position its watch as the ultimate fitness partner that fits on your wrist. Even though the ad is made for Japanese consumers, I think it will connect with viewers from all over the world. The ad effortlessly drives home the message that the Apple watch can help anyone achieve their fitness goals and keep them active.
Campaign: Choose Active
Agency: TBWA\Media Arts Lab Tokyo