From Zomato's leaked chat to Tide encouraging people to make time for all things that are important and Society Tea evoking nostalgia with a cup of tea, here are the ads that caught Ritwika Gupta's interest this week.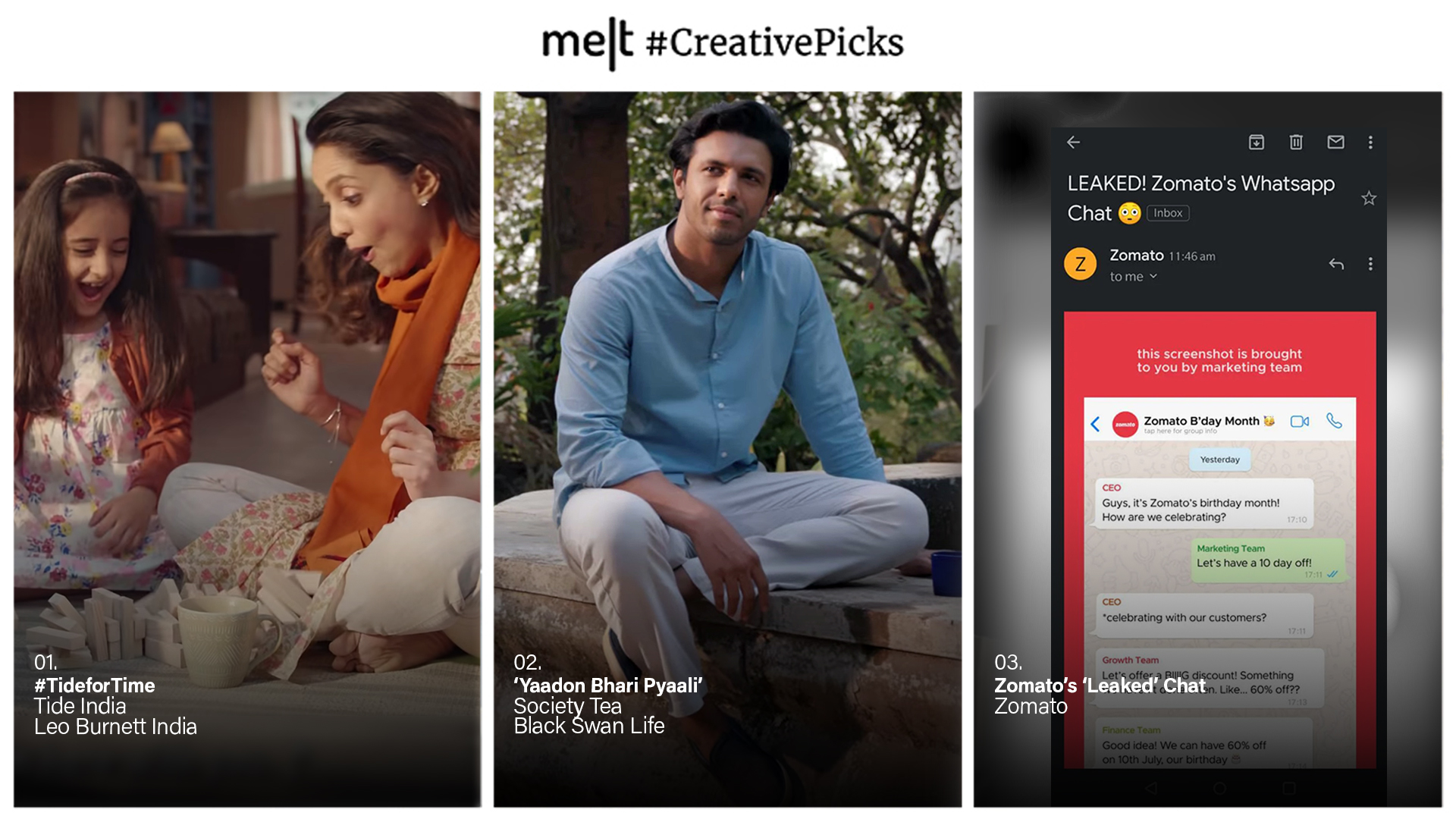 Ads of the week:
Brand: Tide India
Tide India's latest ad reveals that families spend around '300 hours every year doing laundry'. So why not put Tide (and a washing machine) to work instead, and make time for loved ones? The ad tells the tale of a grandmother who visits her family. Throughout her stay, she notices her granddaughter spending time by herself, trying to seek time and attention from her parents, who are always caught up with office or household chores. After she returns from her visit, the grandmother video calls the family and helps the parents realise what their daughter really misses. The ad addresses that time should be spent on what's really important. Through this ad, Tide wants to remind people that by saving laundry time, you can make time for other things that are more important. It's a thoughtful idea with a very relatable message, especially during these 'work-from-home' and stressful times. Overall, the ad felt like a gentle wake-up call to balance work and life.
Campaign: #TideforTime
Agency: Leo Burnett India
---
Brand: Society Tea
Society Tea has rolled out a film titled 'Yaadon Bhari Pyaali' (a cup full of memories) that aims to remind people that some bonds cannot be broken.  The film features a young man, who returns to his ancestral house after a long time to take his old caretaker 'Kaka' with him. When Kaka makes him a cup of tea (Society tea), the familiar smell and taste reminds him of all his memories in the ancestral house. He makes a pact with Kaka, that he would keep returning. The ad tugs at the heartstrings and positions Society tea as much more than just a cup of tea. Society Tea has been around for 30 years and the film depicts the strong bond consumers have with the brand. It evokes a sense of nostalgia and familiarity. Today, the universal insight is that consumers are increasingly skewed towards brands they are familiar with. I also liked the fact that the brand is not a force-fit in the narrative but is naturally weaved into the story. The music also blends well and overall, the commercial beautifully reminisces the sweetness of memories.
Campaign: 'Yaadon Bhari Pyaali'
Agency: Black Swan Life
---
Brand: Zomato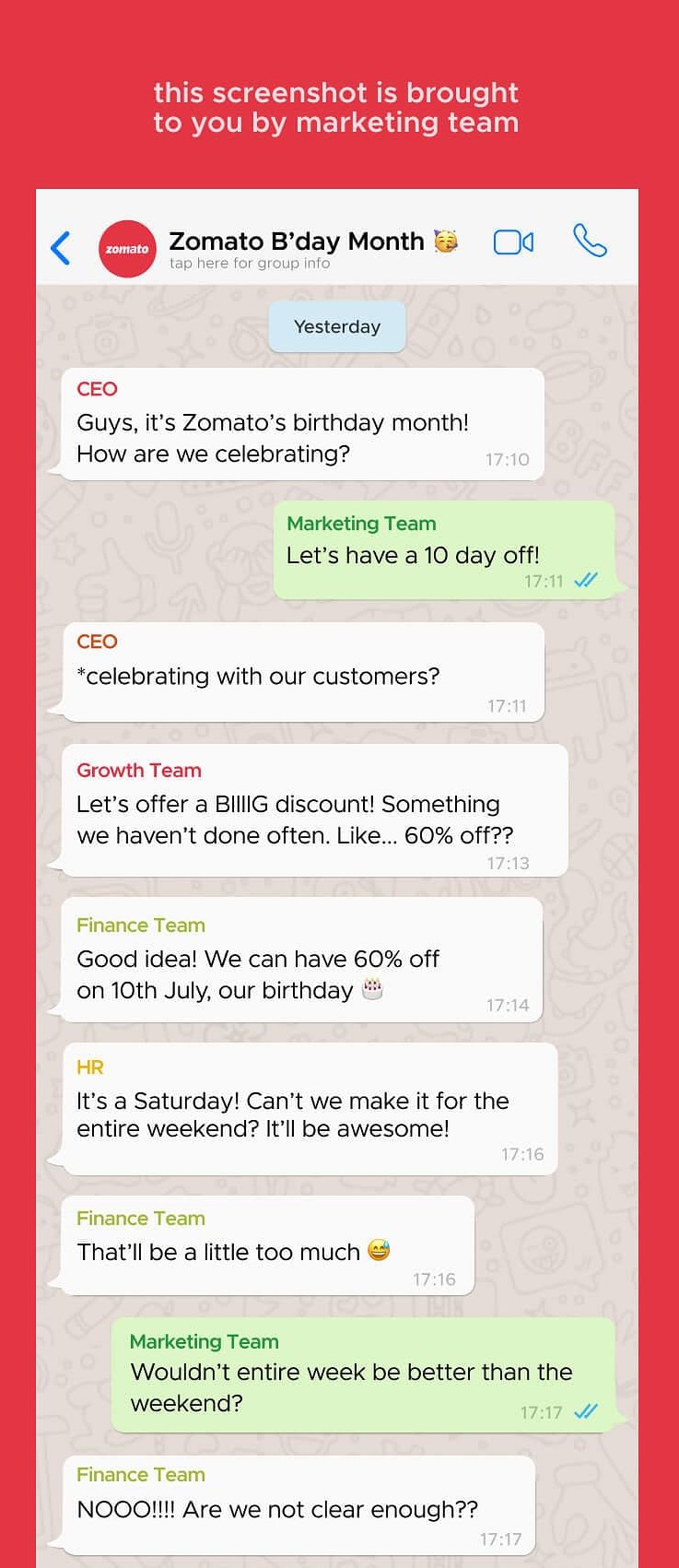 It's Zomato's 13th birthday this month and so, they have decided to leak a WhatsApp chat that reveals the brainstorming behind its birthday month offer for users. In this 'leaked' chat, we can read how the CEO, the marketing team, the growth team, the HR, and the finance team brainstorm on how the brand should celebrate its birthday month. The conversation ranged from offering 60 % off on Zomato's birthday to offering it for an entire week, and to a whole month which ultimately led the finance team to leave the WhatsApp group. This was sent out as a mailer to all Zomato users with the subject line "Leaked! Zomato's WhatsApp Chat'. While this was just a way to kickstart Zomato's 60% promotional discount for July, the announcement was done in such a creative manner which not only grabs attention but also puts a smile on your face. Today, when most e-newsletters end up in the spam folder, guess Zomato has a found a way to make boring mailers fun and entertaining. Earlier this year, Zomato suffered a similar mail leak when its '2021 Resolutions' group saw its conversations splashed all over social media. Kudos to the marketing team indeed for their creativity and humour!
Campaign: Zomato's 'Leaked' Chat