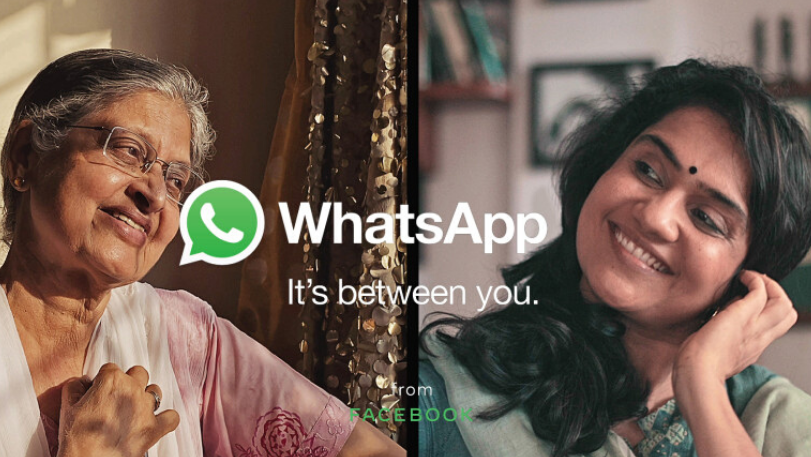 This week, WhatsApp released a global campaign in India that highlights how the app's features help to replicate in-person conversations. Meanwhile, Titan Raga's new digital ad for Pride Month talks about nurturing relationship with your own self and embracing who you really are. Finally, there's a simple spot by ICICI Lombard General Insurance that depicts various slice-of-life situations with a clear message. Take a look at the advertising campaigns Ritwika Gupta loved this week:
---
Brand: WhatsApp
WhatsApp has launched its global brand campaign in India called 'It's Between You'. There are two ads in this series that highlight how WhatsApp's features like texts, attachments and video calls help replicate in-person conversations and bring people closer. In the first film titled 'Caregiver', an elderly woman, played by veteran actress, Sulbha Arya, is seen sharing her daily moments with her nurse over WhatsApp. The other film 'Cut it Out' featuring Amruta Subash, is a light-hearted one that shows a young woman encouraging her older sister to give herself a haircut at home, through a WhatsApp video call.
Directed by Gauri Shinde, both the ads convey that physical distance does not necessarily mean emotional detachment. The ads fit in wonderfully in this era of social distancing. The idea of "It's between you" also captures the brand's assurance of privacy on the app. Whatsapp has largely changed the way all of us communicate. It serves as the digital equivalent of "hanging out" with friends and family, across a half dozen time zones. It is not easy to translate a feeling of such intimacy on screen but these ads manage to strike an emotional chord. I especially love how both the ads feel so real and intimate despite not really having a dialogue spoken by the actors in the films. The ad positions Whatsapp as something that is far more meaningful than just another messaging app.
Campaign: 'It's Between You'
Agency: BBDO India
---
Brand: Raga by Titan
This year, I have not seen too many Indian brands initiating a concrete conversation for Pride Month. At best, some have just changed their logos to rainbow coloured ones but there haven't been too many brands taking a stand for the LGBTQIA+ community in their ads. Hence, when I stumbled upon this film by Titan Raga, I had to pick it as part of my selection of campaigns this week. Just before the Pride month ended last week, Raga by Titan released an ad titled 'Proud to be Me', that celebrates the spirit of self-expression and inclusivity in the society. The ad opens with an individual dressing up, elegantly in a saree, putting on makeup and a Titan Raga watch. Towards the end, the film showcases the person exuding innate confidence and happiness. There is a sense of acceptance and pride. Through this campaign, the brand talks about nurturing your relationship with your own self and embracing who you really are. I was happy to see the brand taking a stand to celebrate one's individuality. It is a simple ad that captures the art of dressing up but it communicates so much more. Even though there isn't a single spoken line by the actor in the film, the ad conveys a powerful message through the individual's demeanor. It shows us the value of taking pride in who we are. Whether you look like a woman or feel like one, being yourself is the most beautiful you can be. A couple of weeks back, I told you how much I loved Titan watches' unconventional Father's Day ad that celebrates the relationship between a pet and a human. And I think with this ad, Titan breaks new grounds again.
Campaign: Proud To Be Me
Agency: Ogilvy India
---
Brand: ICICI Lombard General Insurance
ICICI Lombard General Insurance has launched a new campaign called #RestartRight to promote its health insurance portfolio. The ad depicts various slice-of-life situations such as a lady inviting her friend home after a long time, but first ensures that she sanitizes her hands before entering. In another instance, a mother returns home from work stops her daughter from coming close to her, but then hugs her after she has taken a shower. The ad gives us a glimpse into the 'new normal' that we are all gearing towards. And to help people restart life the right way, the brand tries to create awareness about its revamped health insurance solutions. I think it is a pretty relevant communication. Slowly, people are wanting to restart life amid the heightened health concerns. And in these testing times, the brand tells us that it has adapted its services to help its customers adapt to the new normal, seamlessly. It's well-made, with a clear message.
Campaign: #RestartRight
Agency: Ogilvy Mumbai