This Independence Day, Axis Bank's #PauseTheBargain campaign stood out for capturing the plight of store keepers and small businesses beautifully. On social media, Zomato's quirky Independence Day post stole the show. And for Rakshabandhan, Amazon India's #DeliverTheLove campaign captured the beautiful bond between a brother and sister. Here are the campaigns that Ritwika Gupta enjoyed this week –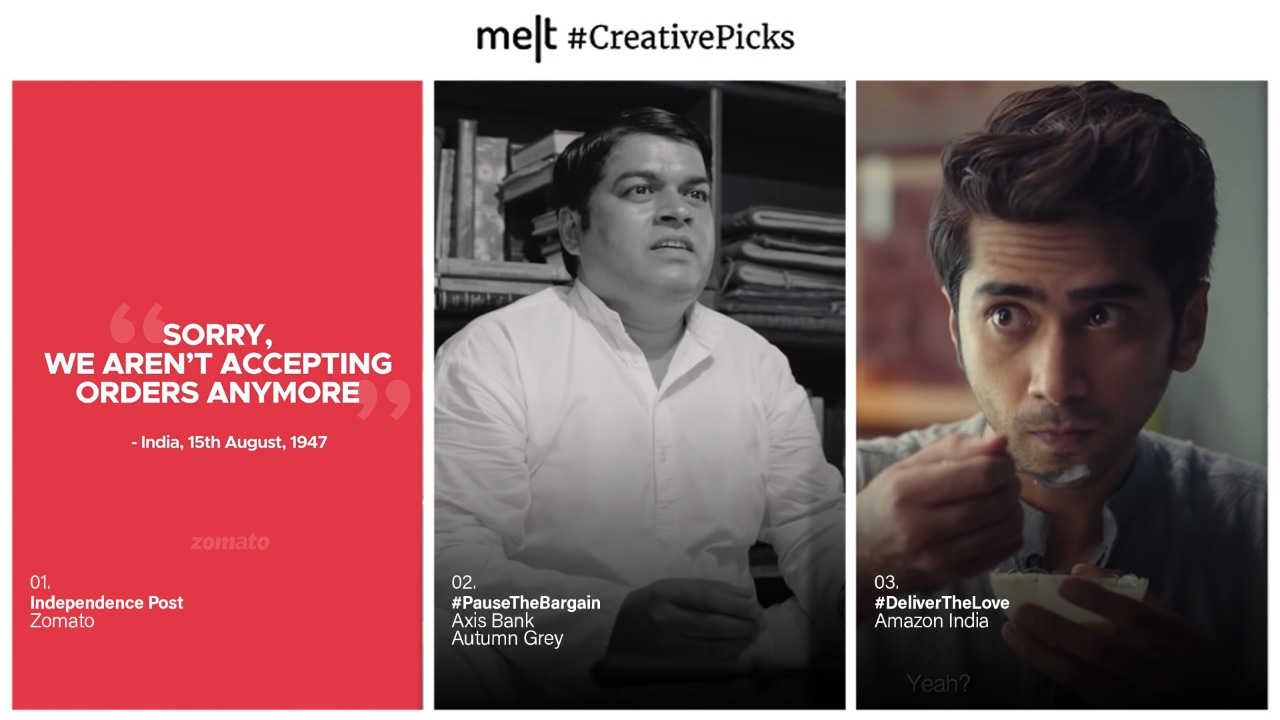 ---
Brand: Zomato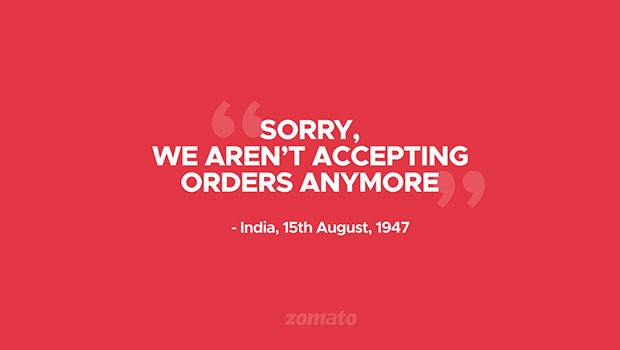 For Independence Day this year, a number of brands created noise on social media but it was Zomato's moment marketing strategy that stole the show. The brand uploaded a simple social media post that stated, 'Sorry, not accepting orders anymore', which intrigued everyone. It is only when you read the post in detail you will see that Zomato mentions 'August 15, 1947'. Well, as we know, Independence Day is celebrated on 15th August every year to commemorate India's freedom from the British rule in 1947. Zomato is known for its quirky posts on social media but I think with this one, Zomato has indeed knocked it out of the park. This was my favourite Independence Day campaign of the year – simple, smart with communication that grabs attention. Till date, this post on Zomato's Instagram has received more than 400,000 likes and over 857 comments. While some did point out that the strategy was a risky one as people might assume that Zomato is actually not taking orders, one cannot deny that the creative is smart, relevant and brilliantly leverages moment marketing.
Campaign: Independence Post
---
Brand: Axis Bank
Last year, Axis Bank released an ad called #ReverseTheKhata which urged India to support small businesses who have suffered a lot because of the lockdown. The ad encouraged customers to "reverse the khata" and pay small business owners like tea stalls owners, paan shops, florists and other vendors, in advance for their services. The ad was wonderfully scripted and carried a powerful message. This time round, Axis Bank has released a new ad for Independence Day that once again captures the plight of store keepers and small businesses excellently and asks people to pause their love for bargaining. It illustrates how, since independence, India's love for bargaining has only deepened over the years. Since the lockdown, the stand-alone stores have suffered the most. Axis Bank uses this sentiment and connects it to the bargaining habit of most Indian customers. From the "black-and-white" era to present times, the ad shows how bargaining has always been a very deep-rooted phenomenon in our culture. This one too is wonderfully scripted and executed. A special mention to the catchy song that perfectly suits the mood of the film. With this initiative, Axis Bank aims to appeal to people to set aside their "bargaining" habit and help small businesses. The message comes across beautifully.
Campaign: #PauseTheBargain
Agency: Autumn Grey
---
Brand: Amazon India
Amazon India launched their latest edition of #DeliverTheLove ad. It's a digital campaign to celebrate Rakshabandhan and one that captures the bond between a brother and sister while they prepare for the festivities. The core message is conveyed wonderfully that sometimes, it is not about the gifts you receive but the gestures you express. Just like its previous #DeliverTheLove ads, this one too simply says that some things cannot be bought on Amazon. Well, it is true that certain moments in life strengthen relationships and we ought to celebrate those but this ad appealed to me because it appears to communicate something that's honest and hence, resonated with me. The ad stands out because Amazon lets emotions drive the narrative. Towards the end, the film makes you emotional while putting a smile on your face.   

Campaign: #DeliverTheLove