From Aviation Gin's humorous Father's Day ad to Kit Kat encouraging the need for a break and P&G Shiksha delivering an important message, here are the ads Ritwika Gupta enjoyed this week –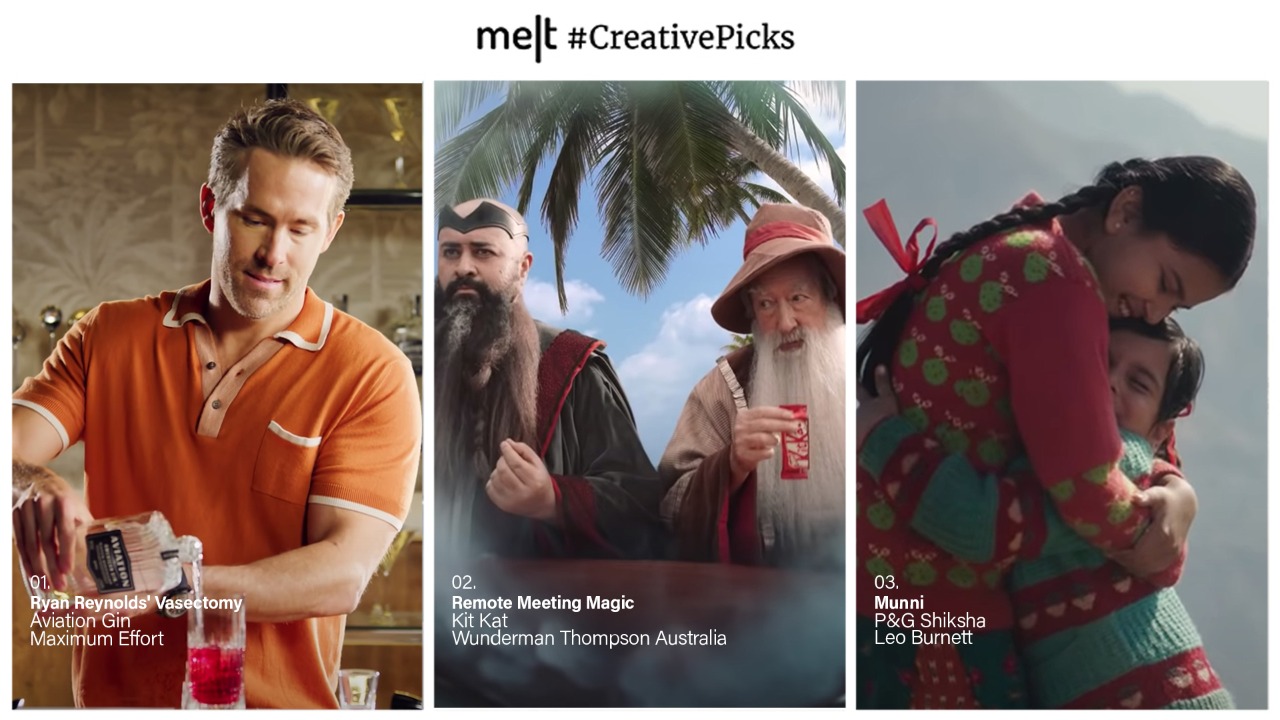 Brand: Aviation Gin
For Father's Day this year, Ryan Reynolds has released an ad for his booze company Aviation Gin which is funny, weird and well, you just have to see it to believe it.
The actor is promoting a drink called "The Vasectomy", a simple drink made with tonic, cranberry and gin, which he claims every dad will want to try. The ad's basically a tutorial showing Reynolds making the cocktail step by step and sarcastically pointing out the significance it has for all dads out there. Reynolds explains that you need a tall glass of ice to fill your cup "just the way children fill our lives with so much joy." You'll also need cranberry juice that is sweet "just like their little smiles". The ad's hilarious and entertaining. It's likely that some fathers will resonate with the video. I also love the deliberately placed "blooper" moments in the ad. Like its earlier commercials, Aviation Gin maintains its cheeky and sarcastic tone in this one too. But the highlight of the ad is none other than Ryan Reynolds himself. I honestly believe he could sell anything with his sarcastic humour. Notice the little eye twitches when he says "scamps". It is utterly brilliant. Overall, the spot's a fantastic mix of humor, a delicious cocktail, and best of all, Ryan Reynolds.
Campaign: Ryan Reynolds' Vasectomy
Agency: Maximum Effort
---
Brand: Kit Kat
"You're on mute, I can't hear you" – some of the usual stuff we say or hear these days during a video call. Kit Kat has launched a new brand campaign hammering home an important idea: chill out dude. The spot features Australian actor Michael Caton, who plays a wizard and is seen talking to actor Miritana Hughes, another magical fellow. The two find themselves squabbling over who is on mute. This is hilariously relatable, reflecting today's virtual meetings with colleagues, clients, friends and family. But thankfully, the wizards find peace when they bite into a Kit Kat bar. I think the ad is really clever to borrow ideas from today's 'Zoom' way of life and mixing it up with a magical world where wizards and crystals balls exist. The brand manages to deliver the message that whatever the frustration, a break will have a positive shift on your perspective. The campaign is fun and lighthearted.

Campaign: Remote Meeting Magic
Agency: Wunderman Thompson Australia
---
Brand: P&G Shiksha
P&G Shiksha has unveiled its new ad film that highlights the story of two sisters who realize their dream of attending school and receiving education. The ad showcases two parallel worlds. We first see a family where a young child is attending online schooling due to the lockdown. When the internet goes off for a while, the child loses a couple of minutes of her online class. This leads to chaos at her home as this slight disturbance proves to be a big matter of concern for her family. On the other hand, we meet Munni and Vidya who are secretly peeping into the family's home and are amused to see that a school is now on a TV screen. When the internet connection returns, the child at home goes back to her online class whereas Vidya and Munni are still dreaming of going to school in remote parts of the country. The ad highlights this part of India where there is no school in the entire vicinity. I love how the film portrays the contrast between both worlds in one frame. The child actors are also really convincing in their parts. Their performances touch your heart.  Here, P&G Shiksha is shown as an enabler that can bring about a change and fulfil dreams. It's a good initiative. The ad's impactful and heart-warming.
Campaign: Munni
Agency: Leo Burnett