From Facebook's feel-good Eid ad to Veet addressing the power of choice and TVS Eurogrip's funny take on Indian roads, these are the advertisements Ritwika Gupta enjoyed this week –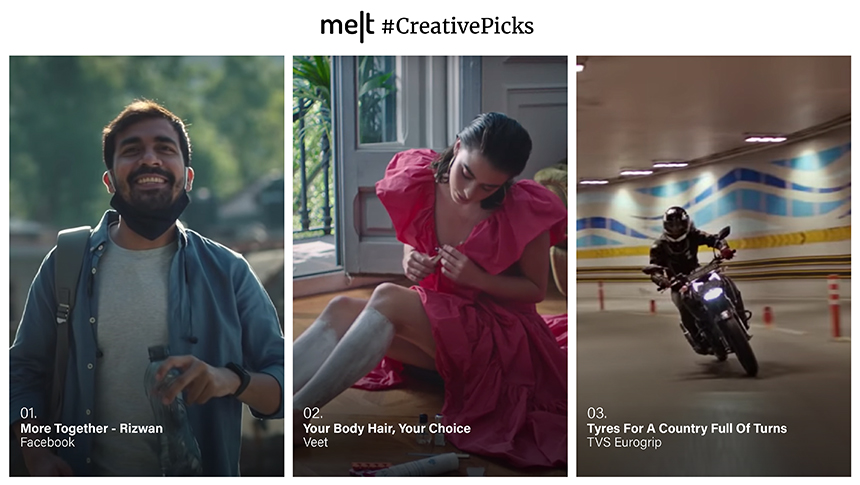 Ads of the week:
1. Brand: Facebook
Facebook is out with a new ad as part of its 'More Together' campaign. This time, it's themed around Eid and captures both the pain and hope of the common Indian through the story of Rizwan. What I enjoyed most about the ad is that it communicates a lot of themes in a single plot. It highlights our present-day reality while talking about vaccine hesitancy, especially among the elderly. And it does so by using Eid as an overall theme while giving a larger message about goodness, hope and love. The commercial is more than 6-minutes long but honestly, I was glued till the end. Like the earlier films in this campaign, this one too shows how people can connect and support each other through Facebook. One can't deny that in times of pandemic, social media has aided a lot of people in searching, sharing, distributing and amplifying health-related information. Hence, this ad will hit close to home for many. This one's a feel-good film that will put a smile on your face.
Campaign: More Together – Rizwan
Agency: Taproot Dentsu
---
2. Brand: Veet / Reckitt
Traditionally, most hair removal ads would show a model smoothly running a razor through their already shaven hands and legs. This always made me wonder why they need hair removal in the first place. In Veet's new ad, I still do not get to see visible body hair but I enjoyed the commercial for a number of reasons. The 45-second ad celebrates the power of choice, when it comes to body hair. The choice to care about body hair, a little or not at all. I do not think the ad is trying to empower women as much as it is trying to reflect one's relationship with their own body hair. A messaging that's rarely been used by brands in this category. The ad also realistically shows that hair removal isn't a very smooth and indulging process. It requires a lot of pulling, yanking, standing, sitting and waiting in awkward positions. I also enjoyed the representation of diverse women and various body types. Overall, it's got a positive tone and I was convinced by the message that what women choose to do with their body hair is a personal choice.
Campaign: Your body hair, your choice.
Agency: BETC
---
3. Brand: TVS Eurogrip
TVS Eurogrip has launched a new ad that talks about the brand's wide range of tyres for India, a country full of twists and turns. From hills and mountains to weaving around buildings, narrow roads and unforeseen diversions, the ad is a montage of all the different twists and turns you'll find on Indian roads. Be it seasoned bikers or city riders, all riders experience some uncertainty while riding and the ad brings to light these different "turning points" in an engaging and humorous manner. I also enjoyed the way the ad highlighted the many nuances that are the real charm of the Indian landscape. The ad's innovative and fun to watch.
Campaign: Tyres for a country full of turns
Agency: Tilt Brand Solutions