From Apple trying to convince you that the new iPad pro could be your next computer to Midol creating a dialogue between menstruators and non-menstruators and Ovenstory Pizza showing how their pizzas 'stand out' from the crowd, here are the ads that Ritwika Gupta enjoyed this week.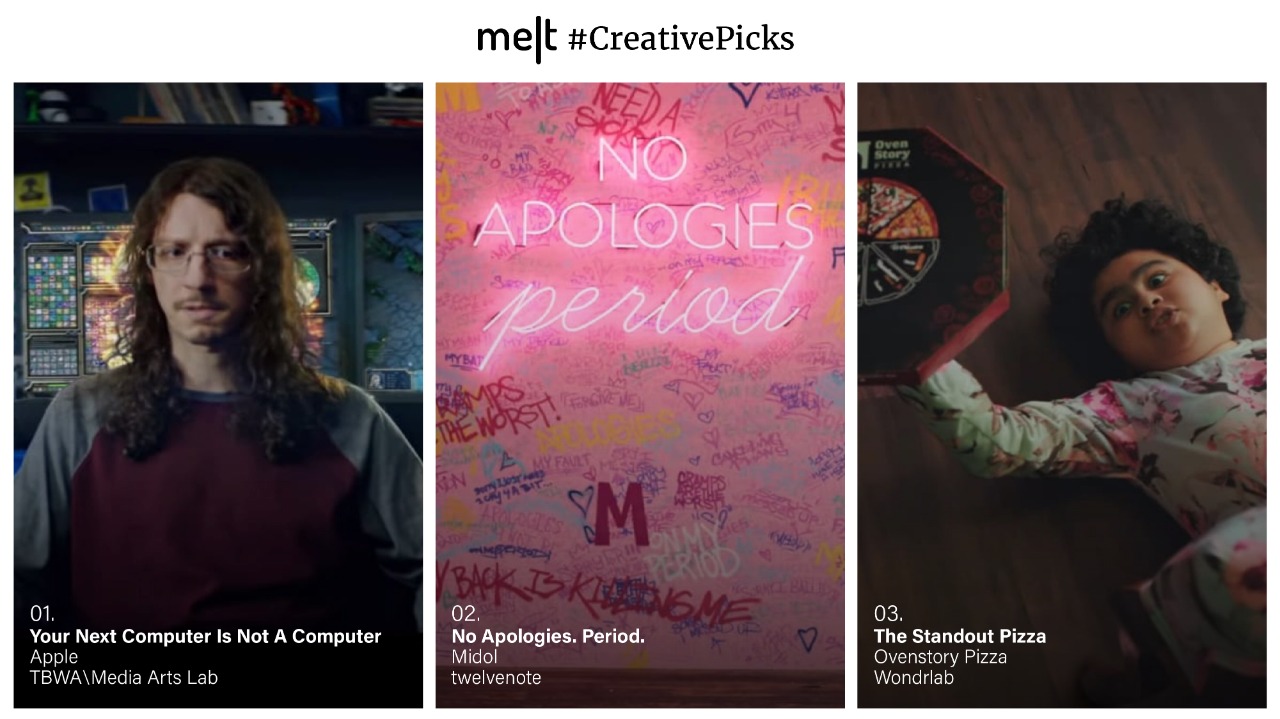 Brand: Apple
In its latest ad, Apple is positioning its new iPad Pro as the key to unlock a more productive life out in the sun. It basically shows why an iPad could be your next computer. The ad borrows music from The Little Mermaid and sees multiple people wishing they could ditch their complicated computer setups and instead enjoy using an iPad to draw, take notes, work, play games, and more. On one hand you have the grey tangles of cables and wires and on the other, you have a simple, clutter-free and aspirational environment where an Apple user is peacefully working on her iPad. The spot humorously depicts computer users venting their frustrations by singing their hearts out. I love how the entangled cables are linked to a form of imprisonment and presented as a metaphorical ball and chain tying people down and constraining creativity. The iPad Pro here represents freedom and is cleverly positioned as the key to ushering in a better way of working. This ad's funny and drives home the message that iPad is a viable alternative to computers.
Campaign: Your next computer is not a computer
Agency: TBWA\Media Arts Lab
---
Brand: Midol

Midol, an over-the-counter painkiller tablet, launched a 60-second ad in an effort to drive awareness about the stigmas menstruators face and help them restore self-confidence. Titled "No Apologies. Period," the spot features people of all ages, ethnicities and genders who share personal stories about apologizing for their periods or feeling they needed to hide period symptoms. According to a Wakefield survey, 62% of menstruators under the age of 40 have apologized for their period or period symptoms, as per the video. The campaign seeks to create a dialogue between menstruators and non-menstruators alike. I like that the ad pushes the idea that one should never apologise for something that is natural and not in your control. The film tries to build a healthy attitude towards menstruation and will connect with women especially Gen Z and millennial consumers. Overall, the campaign is powerful and aims to change the narrative around menstruation in culture and advertising with more authentic messaging.
Campaign: No Apologies. Period.
Agency: twelvenote
---
Brand: Ovenstory Pizza
Ovenstory Pizza has unveiled a new campaign, titled 'The Standout Pizza', which highlights the brand's innovative pizza flavours and offerings that appeal to customers. The 20-second ads address the multiple problems which customers may have. For example, if a consumer is unable to decide whether to order a vegetarian or non-vegetarian pizza, he/she can order a 'semizza' which is a half cut 11" pizzas of their favourite toppings and preferences. Very simply, the ads explain Ovenstory Pizza's different offerings and innovations. I also like how the kids in the ads pop up from nowhere! For example, in one of the ads, the kids are camouflaged within the furniture, while in another they are hidden in the plants. There's a surprise element and it's especially fun to see the kids challenge the status quo. Overall, the campaign messaging is clear and the ads manage to convey how Ovenstory pizzas stand out from the crowd.


Campaign: The Standout Pizza
Agency: Wondrlab