From Apple showing how easy it is to find an iPhone in a haystack to Thums Up and Rin's new Olympic games ads, here are the commercials which Ritwika Gupta enjoyed this week –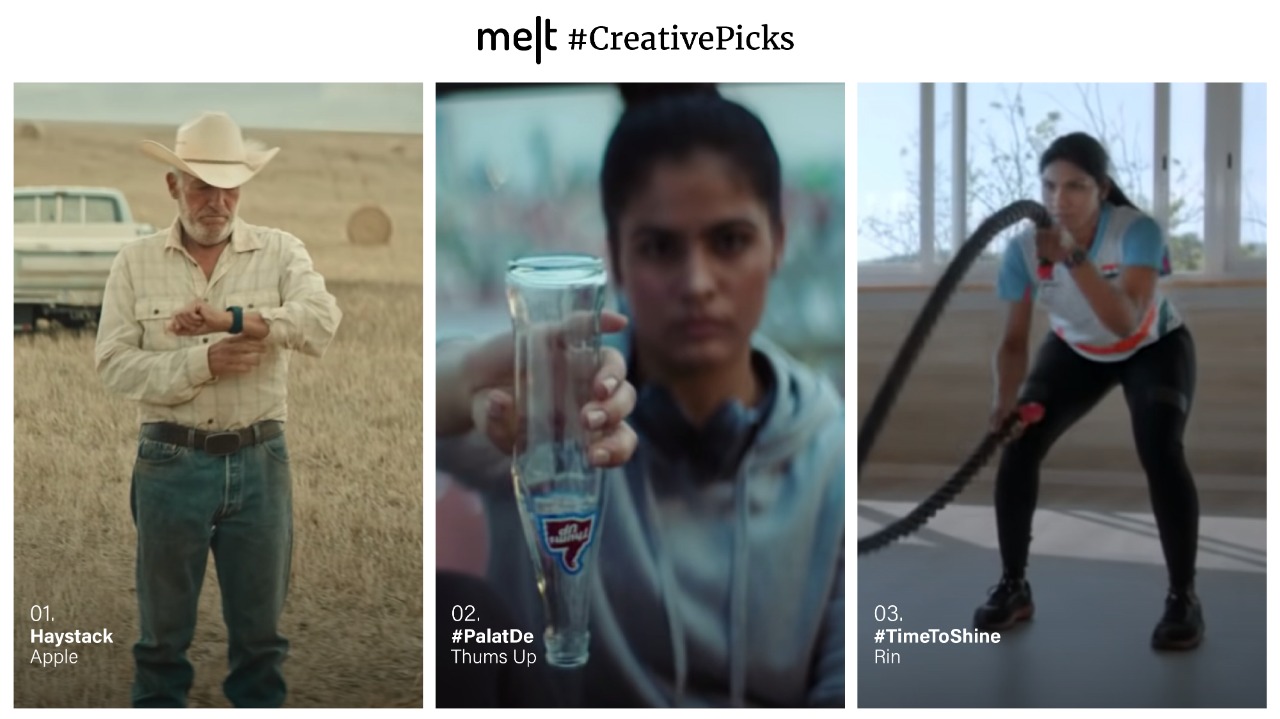 Brand: Apple
If you are trying to search for something that's like a needle in a haystack, it's very unlikely you will ever find it. But if that something is an iPhone (or iPhone 12), Apple says it will be a piece of cake. The tech giant has released a new ad called "Haystack" in which a rancher uses his Apple Watch to find his iPhone 12 in a haystack. The ad resembles an old Western in its vibe and is set to the song "Searching (For Someone Like You)" by country singer Kitty Wells. It cleverly plays on the "needle in a haystack" idiom. It very simply yet effectively showcases the product benefit and promotes the integration between iPhone and Apple Watch. Like its previous ads, this one too ends with 'Relax, it's iPhone' slogan – maybe that's the new tagline for Apple now! Overall, the ad is brilliant, creative and easily manages to get its message across.
Campaign: Haystack
---
Brand: Thums Up
Coca-Cola owned homegrown beverage brand Thums Up has become a worldwide partner at the Olympic Games to be held in Tokyo, this month. As part of the association, the beverage brand has rolled out a new ad, celebrating real heroes. Titled 'Toofan wahi jo sab palat de', the upside-down Thums Up bottle represents the resilience and real heroism of everyday people. It's an inspiring campaign to celebrate and salute Indian athletes who overcame tremendous odds to win medals for India. Whether or not athletes should promote cola drinks is a legitimate debate but, in this case, it's more about the messaging that will strike a chord with the viewers. I liked how the brand has experimented with the concept of 'palat de' by turning the bottle upside down in order to show the power of turning things down on the face of all naysayers. It is really creative and thoughtful. Over the years, Thums Up has featured Bollywood heroes like Akshay Kumar and Ranveer Singh and it's always been about doing something "toofani". While the ad isn't as 'toofani' or thrilling as Thums Up's earlier campaigns, it's a more mature take on turning things around against any challenge that we face in our lives. As a matter of fact, this is a brave and meaningful transition from "reel heroes" to "real heroes". The ad will resonate with audiences because of the strong message. A big thumbs up to this one!
Campaign: #PalatDe
Agency: Ogilvy India
---
Brand: Rin
From one Olympic Games ad to another – laundry brand Rin, from Hindustan Unilever, has launched its latest campaign to mark the inspiring story of C.A.Bhavani Devi, India's first woman fencing champion to qualify for Tokyo Olympics. In this ad, Bhavani Devi speaks of her struggle to get to where she has and the sacrifices of her mother. She explains how she grew up in a middle-class home and choosing a sport like fencing was a huge risk. She had to fight financial obstacles and gender stereotypes. Bhavani Devi's mother sold her gold jewellery to help her daughter achieve her dreams. Years later, Bhavani Devi brought back a gold medal for the country. For a detergent brand, the tagline 'Ab Waqt Hai Chamakne Ka' is of course referring to keeping clothes bright and new. And in this campaign, it also represents shining against odds. Overall, the ad is moving and beautifully demonstrates a tale of grit and determination.
Campaign: #TimeToShine