It's a star-studded week for ads – Disney+Hotstar ropes in Shah Rukh Khan to promote the streaming platform while globally, UberEats partners with Elton John and Lil Nas X to advertise the grocery, alcohol and convenience offerings available from the delivery service. Meanwhile, Titan releases an ad that celebrates the importance of coming together in the hour of need. The ads Ritwika Gupta enjoyed this week –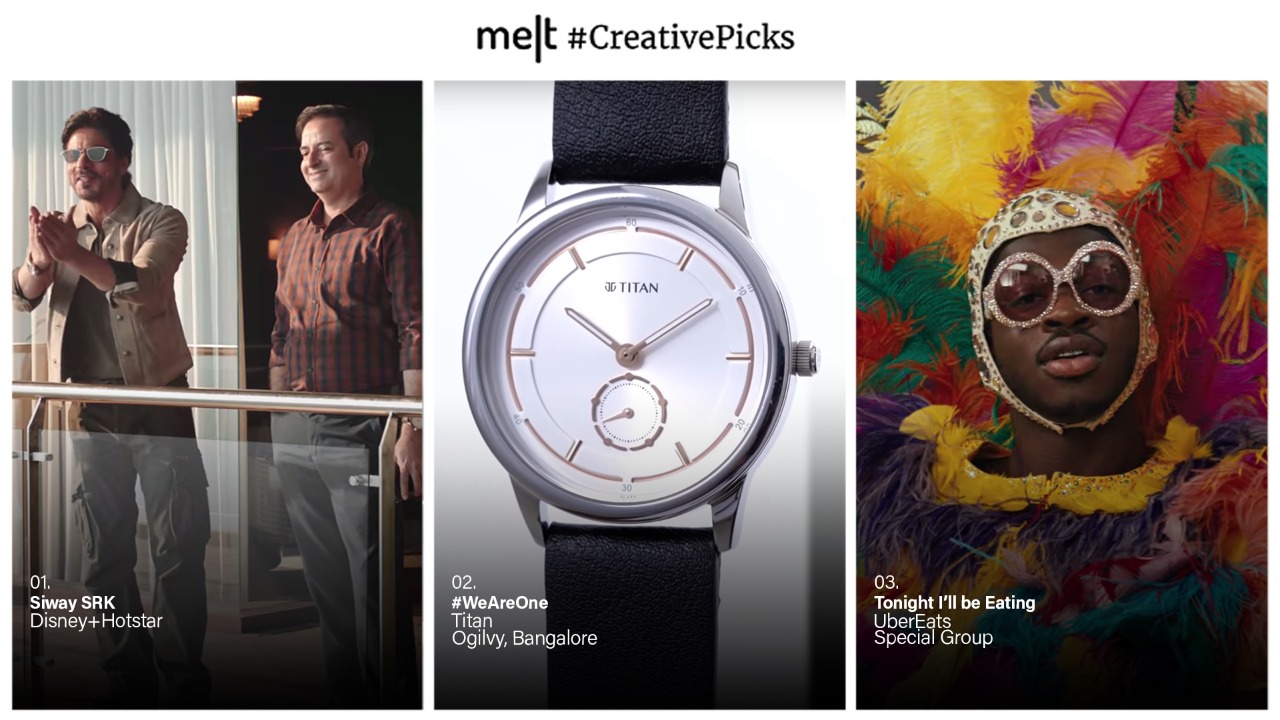 Ads of the week:
Brand: Disney+Hotstar
How many ads do we see that promote someone who is NOT on their platform? Disney+Hotstar released a new ad featuring Shah Rukh Khan who seems to be having a major FOMO (fear of missing out) when he realises that all his contemporaries have already made their debut on the streaming platform. Titled "Siway Srk", the ad opens with Khan waving to his fans standing outside Mannat, and him being happy about the number of fans he has. He then has a conversation with his manager about how no other star manages to pull such a huge crowd outside their house but his manager tells him that he is not sure about the superstar's future because, except him, all other big stars of Bollywood have already appeared on the OTT platform. The ad's quite funny and while it is a promotional video for the streaming platform, it also drops hints at a possible upcoming collaboration. Khan's caption for the post was "Picture toh abhi baaki hai mere doston". Fans on social media went berserk discussing if or not he may soon appear on Disney+Hotstar. Taking the fun to the next level, Karan Johar and Ranveer Singh also reacted to the video saying they never thought that Shah Rukh Khan will ever feel FOMO. Well, I think overall, it's a very clever way to grab attention. It is always fun to watch when celebrities make fun of themselves. In this case, when his manager tells him he's unsure about Khan's future as he's not yet on Disney+Hotstar, it automatically positions the streaming platform as a desirable, relevant and the latest big thing, albeit with a dose of humour. What I found interesting was that Disney+Hotstar is using the absence of SRK on their channel to promote their platform by using Shah Rukh Khan himself. And it strangely works! Leaving us on a cliff hanger of some sort, this one's quirky and entertaining.
Campaign: Siway SRK
---
Brand: Titan
Titan has launched a new ad titled "Titan Solidarity: #WeAreOne" emphasizing and appreciating the importance of coming together in the hour of need. It is a very simple and minimalistic 1-minute and 34-seconds film that showcases the interconnectedness of humanity. It highlights instances when people come together to help each other. It starts with the story of Samir, who fell ill and how he recovered after 12 days with the proper care and attention from his friends and complete strangers from different social backgrounds. The film ends with the unveiling of a special edition of watches where the dial has a circular design represented by people coming together. The ad reminds us that when people come together, they become invincible. Through this film, the brand manages to express that it believes in the larger cause of celebrating human compassion and solidarity. This one's a beautiful tribute to all those who rallied to become each other's strength through adversity.
Campaign:#WeAreOne
Agency: Ogilvy, Bangalore
---
Brand: UberEats
Turns out mega stars order from food delivery apps, just like us! UberEats has rolled out a new glamorous ad featuring Elton John and Lil Nas X. In a series of ads, the celebrity duo is seen promoting the grocery, alcohol and convenience offerings available from the delivery service. The superstar singers switch iconic looks, ride playground horses and fight about whether fries pair well with mayonnaise. It appears that both performers took the campaign as an opportunity to not just have a blast but also to switch some of their most famous looks while talking about their favorite foods to order for delivery. Elton sported a hot pink cowboy suit based on Lil Nas X's 2020 Grammy's outfit and Lil Nas X rocked a rainbow feather get-up based on Elton's famous Hollywood Bowl show costume. Their eccentric sense of fashion funnily brings their unique flair to the ads. The commercials are flamboyant, hilarious and entertaining to watch. In one of the ads, Lil Nax X points out humorously that Elton John's choice of condiment to accompany his fries is "weird, so weird". The ads release just before the rapper's highly-anticipated Montero album dropping this week, featuring Elton John himself.
Campaign: Tonight I'll be Eating
Agency: Special Group