From Netflix celebrating the power of storytelling to Apple championing privacy, here are the ads that Ritwika Gupta liked this week.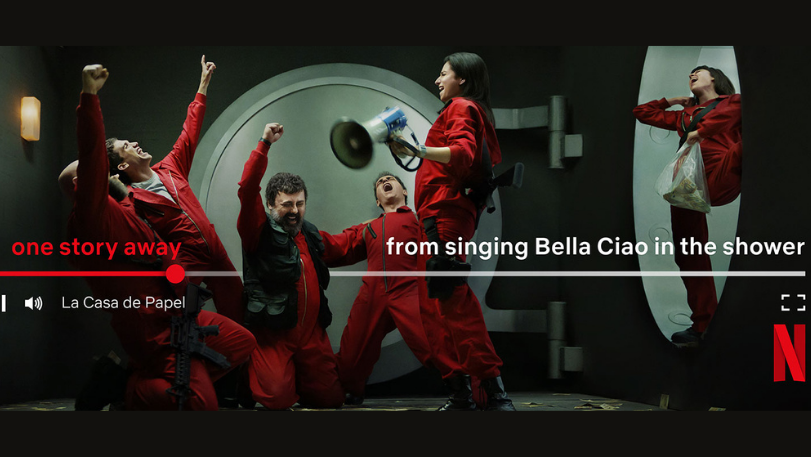 1. Brand: Netflix
Netflix has launched 'One story away', a global campaign that aims to celebrate the power of storytelling. The 71-second ad shows how some of the popular series and films (on Netflix) evoke different emotions in us and provide us new perspectives. The spot uses the red "progress bar" from online videos as a visual link between shows like 'Stranger Things' and 'The Crown' and films like 'Marriage Story' and 'Roma'. I think this is an excellent marketing strategy. Netflix, as a platform, tells stories through its vast range of content. And to create an ad talking about the impact of movies and shows is simply brilliant. The whole idea is to tell viewers that they are just "One Story Away" from seeing the world more deeply. It is beautiful and emotional. I especially loved the script and the seamless edit.
It will possibly convince people to buy a Netflix subscription, if they do not have one already. Overall, the ad encapsulates the passion for storytelling that lies at the heart of Netflix.
Campaign: One Story Away
Agency: AKQA
---
2. Brand: Horlicks (Hindustan Unilever)
Horlicks, the beverage brand from Hindustan Unilever, has launched a new TVC capturing the unique experiences of children that shape them into strong and confident adults. The ad shows us that one should not only be limited to physical growth but also develop inner strength like courage and grit. The story is fairly simple but it communicates a whole range of ideas and emotions. It shows us how the sharp thinking of a young girl helps her handle a difficult situation. I really think this ad is relevant, particularly in the times we are living in. The last few months have been really challenging for not just adults but also children who are learning to deal with unforeseen circumstances. Furthermore the sheer simplicity of the story line makes it easier for consumers to understand what the brand is attempting to say. Earlier, Horlicks used to promise 'taller, stronger and sharper' children but now it has taken that idea to another level where we see a young girl applying it to real life. Through this ad, the brand positions Horlicks to be a symbol of both mental and physical strength.

Campaign: When Did You?
Agency: FCB India
---
3. Brand: Apple
Some things should not be shared. That is why Apple's latest ad on privacy tells us how iPhone is designed to protect our private information. This one's a very creative marketing message from the brand, depicting a montage of hilarious scenarios in the 68-second ad. It first starts off with a man yelling in a bus that he browsed eight sites for divorce attorneys. We also see a woman sharing her log-in information with strangers in a movie theatre. And then, there is a man walking in a park, broadcasting his heart rate. Each scenario is actually a subtle reference to a real feature. Through this satirical world, the ad cleverly tells us that Apple protects the consumer's privacy. While some of these are risky violations, some are outright embarrassing. Over the last few years, a large number of tech companies have been called out for data and privacy violation. The spot reminds us just how much of our digital lives and information can be made public if the technology we rely on are not careful about what we share. Therefore, the idea to put privacy at centre of its marketing efforts has worked and, in all probability, will continue working for Apple. Overall, the ad is enjoyable and the brand manages to convey a simple message about a complex issue we are facing today.
Campaign: That's iPhone. – Over Sharing
Agency: TBWA\Media Arts Lab