This week, Tanishq released a Durga Puja ad with a beautiful message while Starbucks came up with a heart-warming film to celebrate its 50th anniversary and Nykaa's empowering spot urged women to celebrate the 'nayaka's in them. The ads Ritwika Gupta enjoyed this week –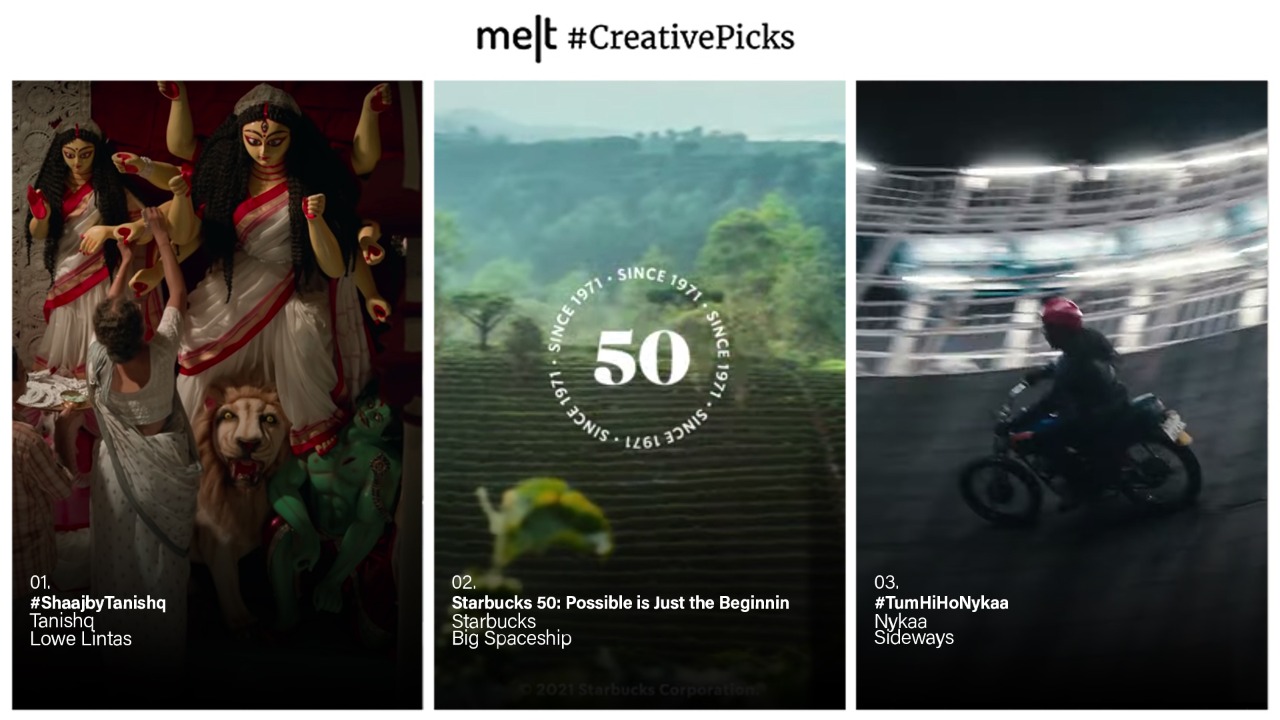 Brand: Tanishq
Tanishq has launched a new campaign to celebrate the festive spirit of Durga Puja featuring mother-daughter duo, Sudipta Chakraborty and Shahida Neera, along with theatre actor Bhadra Basu. The campaign titled 'Utshob Amader, Shaaj'o Amader' is a tribute to Maa Durga's 'karigors' (craftspeople) who contribute towards adorning the puja festivities. The film is shot against the backdrop of Pishi Dida, a widow, preparing to deck up and adorn Maa Durga overnight with necklaces, bangles, earrings and other jewellery pieces in a run-up to the Pujo. It beautifully depicts the last minute preparations on Maha Panchami night so that everything is set perfectly for Debi's bodhon on Maha Shashti. And on that day, Pishi Dida receives a gift from her a young girl Rukmini and her mother in the form of an exquisite Tanishq Bangle from the new 'Shaaj' collection as a token of gratitude. I think the ad captures the spirit of Durga Puja wonderfully while driving the message that the festival is as much about adorning Maa Durga as it is about adorning ourselves and our relationships. Durga Puja is indeed the festival of adornment with all of Maa Durga's karigars and it fits in well with the idea to promote the new collection 'Shaaj'. The ad is also ground breaking, given how it shows a widow adorning Maa Durga, something the patriarchal society has always frowned upon. Secondly, there is a subtle reference to Satyajit Ray's legendary film 'Joy Baba Felunath' in which the opening sequence is similar with an elderly man decorating Maa Durga, and talking to a young boy named 'Rukmini Kumar' aka 'Ruku babu'. In this one, they've changed the male characters to female. This one's truly heartwarming with a beautiful message.

Campaign: #ShaajbyTanishq
Agency: Lowe Lintas
---
Brand: Starbucks

Starbucks has completed 50 years of its inception and to celebrate its landmark anniversary, the coffee chain has rolled out an ad film, as a part of its global campaign. The ad highlights how Starbucks has been a part of the consumer's journey over the years. The 60-second spot shows a regular customer coming into a Starbucks outlet for his usual cup of coffee and a couple on their first date. It showcases how the brand has created a positive impact on people and planet Earth. A voiceover states, "Since our beginning, we've looked to inspire and nurture each other by asking, 'What's possible when you connect, when you come together?'" Visuals also feature a Starbucks employee using sign language to ask, "Hey Nora, how are you doing?" Another patron asks, "Is it OK to hug?" and when the two women sit down, one says, "This is like the best day ever, man," and one touches the other's hand. I like the ad because it also puts the emphasis on human interaction as the chain emerges from the pandemic. Furthermore, a bit of nostalgia for the iconic brand will most likely result in many anxious coffee lovers flocking the cafe once it opens up at every street corner. Starbucks has also compiled an archive highlighting iconic moments in the last 50 years of its history. Overall, it's a well-made film.
Campaign: Starbucks 50: Possible is Just the Beginning
Agency: Big Spaceship
---
Brand: Nykaa
Nykaa has launched a new television commercial featuring stories of six powerful women who challenge gender stereotypes. The ad urges women to celebrate their roles as 'nayakas' of the world. Titled #TumHiHoNykaa, the film delves into the lives of an entrepreneur, a biker stuntwoman, a mountaineer mom, a rapper in a hijab, a transgender doctor and a mid-life chess-master, to highlight the power of their grit. Narrated by Ila Arun, the ad is empowering and projects the story of every woman who leads her life's own narrative. I particularly liked the last lines of ad, "Kahaani koi bhi ho, tum hi ho nayaka" – it's such a resounding reminder for every woman to embrace and cherish her place in the world. This is definitely an uplifting film with a stunning lyrical narration.
Campaign: #TumHiHoNykaa
Agency: Sideways