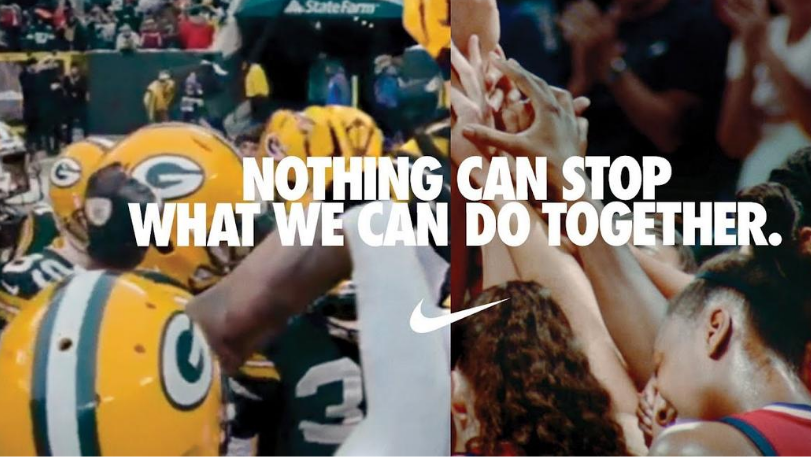 From Nike's new ad that won the internet to Amazon India's new spot inspired by slice of life moments and Coca-cola's refreshing film featuring George The Poet, here are the campaigns that Ritwika Gupta loved this week:
Brand: Nike
The NBA is finally back and to celebrate this, Nike released a campaign that gives hope to people in such trying times. Titled 'You Can't Stop Us', the ad utilizes a split-screen to seamlessly illustrate the parallels between sports and the social causes many top athletes stand for. Powerfully voiced by Megan Rapinoe, the ad features 53 sporting stars including Megan Rapinoe herself, LeBron James, Naomi Osaka, Eliud Kipchoge, Caster Semenya, Cristiano Ronaldo, Giannis Antetokounmpo, Serena Williams, Colin Kaepernick and Kylian Mbappé. It also features Indian women's cricket team. People are raving about how the ad is an editing marvel. It indeed is. To produce the film, Wieden+Kennedy searched through 4000 pieces of footage to find perfect shots that would underscore the commonalities between athletes. It is undoubtedly breathtaking but I'd also like to say that the ad's stunning edit does not overpower its inspiring message. It is very real and will resonate with all of us. From fighting against everything that is unfair to taking responsibility to make the world a better place, the ad touches all the right notes. It captures a range of emotions – be it success, failure or just simply how sport has the ability to bring us all together. The message of inclusivity and perseverance is excellently conveyed in this piece. At a time when sporting events are being cancelled or postponed, the film inspires people and sport lovers. Overall, the ad leaves a strong impact.

Campaign: "You Can't Stop Us"
Agency: Wieden+Kennedy
---
Brand: Amazon
Amazon India has unveiled a new campaign, titled "Inn Dibbon mein kya hai". The 1.5-minute ad has been inspired by slice of life moments, celebrating the resilience of customers in adapting to a new way of life. It features a montage of situations with insightful observations. While a laptop now is an online school for a young girl, a smart phone now is a medium to get together for family and friends. The question 'Inn Dibbon mein kya hai' is answered by the emotional connections these purchases stir. The film also beautifully weaves in Amazon's products, safety and delivery practices. It also demonstrates how Amazon has touched the lives of people. The ad acknowledges that life, as we once knew has changed and the meaning of things, too have changed. Beautifully penned, the film will surely strike an emotional chord with viewers.  
Campaign: "Inn Dibbon mein kya hai"
Agency: Ogilvy Bangalore
---
Brand: Coca-Cola
Coca-Cola had launched a new ad titled, 'Open Like Never Before', beginning with a manifesto written specifically for Coca-Cola by award-winning spoken word artist, George The Poet. The ad is created with the idea that we do not have to go 'back' to normal. Instead, we can all move forward and make the world not just different, but better. The ad talks about new possibilities discovered through lockdown and calls on us to be 'open, like never before' and to appreciate all that we have around us. The words of George encourage us to be 'open to change', to appreciate things from a new perspective and find opportunities in this 'new normal'. It is refreshing, positive and will resonate with a lot of people. It will perhaps also make us reflect on a few things. Coca-Cola had temporarily suspended all planned marketing activity in April but with this campaign, the brand offers a different outlook to what the new normal may look like. Even though the ad does not do much for Coca-Cola as a brand, there is a larger purpose in the film, which consumers may like and appreciate.
Campaign: "Open Like Never Before"
Agency: 72andSunny Amsterdam